The seemingly never-ending saga of Ernie Els' renovation(s) took a surreal turn Saturday as Els blasted the greenkeeping staff, the European Tour staff and even suggested that after trying to play to his baked-out greens, he could relate to complaints about his redesign work in a post-third-round meltdown for the ages.
Paul Mahoney said The Big Easy became the Big Displeasy and, "If his post round post-mortem went out on TV, the bleeper operator would be suffering from an acute repetitive strain injury.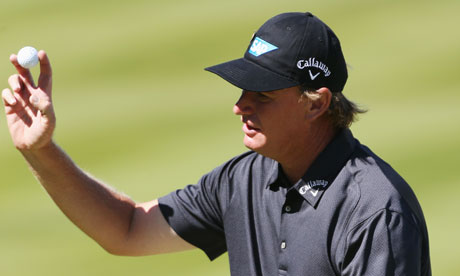 Lawrence Donegan noted that the Els outburst "has become an annual tradition here" and included Els' exact quotes. AJGA-eligible golfers, cover your eyes:
"I've asked them to put water on the bloody greens and then I spoke to JP [John Paramor – the European Tour's chief referee] coming up the 15th and he said we did water it last night. I said you have to triple that. You have a damn 30mph easterly breeze blowing so put fucking water on the greens. You don't have to be a rocket scientist to figure that out."

Somewhere in the European Tour headquarters building just a couple of hundred yards from where Els was speaking, the meter on the "bringing the tour into disrepute" fine machine was twirling off its axis.
Tony Jimenez for Reuters includes this part of the diatribe:
"How much money did we spend on the 18th? We built a dam there. Why the hell was the green not holding?

"My point is, you hit a driver and then a four-iron gets you in the middle of the green. What else must you do next? Must I be the greenkeeper here?," Els fumed.
Or maybe you didn't need to put that lake in front of the green with uh, that dam and pond players are now forced to carry?
"I'm a player, I'm not even supposed to tell them. Put water on a damn golf course? Surely they should know that? I can't control the wind and (it seems) I can't control the greens staff either."
Uh Ernie, uh, you uh, you were the guy who designed the...ah forget it. Keep whining...
"You've just got to play within yourself, you can't go playing wild shots or you are just going to get killed.

"It's like a major championship test. In two weeks' time at the U.S. Open, if you are just marginally off you'll get killed," said the triple major champion.

"We tried to bring that element in here but you don't have to kill guys."
So you wanted to have that element where the guys get killed, but don't get killed?!
Would this be a bad time to point out that needing to keep greens softer is usually a sign of faulty approach design? Oh wait, let's let Paul Lawrie say it since the Scot knows something about fast and firm golf. Martin Dempster reports:
"The course is getting really dry and bouncy and, because of the design of the course, it needs to be a bit softer," said the Aberdonian, who ran up a double-bogey seven after straying a yard out of bounds at the 12th.
Saturday, May 26, 2012 at 08:51 PM
34 Comments
|
in
Architecture,
Ernie Els,
European Tour