The tabloids continue to ignore Tiger's plea for privacy (shocking!), with Sharon Churcher and Caroline Graham of the Daily Mail offering the most extensive detail and interviews yet with an Orlando woman and her family. There is also a story on the same woman in News of the World rich with detail with the highlights summarized here at the Huffington Post.
The latest mistress was the subject of the previously reported National Enquirer story that was reportedly scrapped in exchange for the Men's Fitness cover story. (Amazing coincidence: the NY Post story that revealed this earlier in the week and then disappeared is magically back up!)
Mike Parker of the Daily Star reports on another mistress preparing to come forward and appears to be the only writer quoting her attorney:
Her attorney Michael O'Quinn confirmed: "She will address the media with her story very soon."

The as yet unnamed mistress claims their affair began in 2004, when she was 20 and continued after he married Elin in October of the same year.

Mr O'Quinn added: "We will not be confirming or denying any further details until after a press conference, which will happen imminently."
Doug Ferguson takes on what few in the golf media have been reluctant to touch: the ramifications for the game. This is an intriguing take:
"What's interesting to me about this situation is that while its bad in the short term, for golf, on a global basis, it has moved from being a sport to having iconic, celebrity status, and a whole host of other people are now interested," said John Rowady, president of rEvolution, a Chicago-based sports marketing and media agency.

"And it may be a sport that is not prepared for that kind of publicity."
Uh, you think? Look how they're coping down in Ponte Vedra:
PGA Tour commissioner Tim Finchem has been silent during all this. He hasn't made himself available for comment except for a statement in support of Woods' family and the player's request for privacy.

Asked if Finchem would take questions about concerns for golf's image or whether it would affect business, spokesman Ty Votaw said the tour does not comment on "hypothetical situations, conjecture and guesswork."
Steve Elling talks to the often-quoted Robert Thompson of the Bleier Center for Television and Popular Culture at Syracuse about the likely fan reaction. I don't think he knows just how conservative the world of golf is, but still...
"This is one of those things that some people will find completely forgivable, and in some odd way, some of them will take an elbow-in-the-ribs attitude about it. If he was the star of a Disney preschool show, that might be a different story.

"I think a lot of the 'this-is-going-to-ruin-everything' sentiment is overstated."

It won't ruin everything for everybody, obviously. As far as the makeup of the Woods fan base, he might have swapped a John Birch demographic for the John Daly crowd. Burp.
John Huggan says Tiger should move to Houston to once again hang out with Mark O'Meara and to take on a new entourage:
In addition to a prospective move to Houston, Woods also needs to "clean house" as soon as possible. Those in his immediate circle, the so-called friends complicit in his shadowy existence over the last few years, must be banished forthwith and forever. He may not have a choice in that matter, of course. Assuming that his marriage survives and wife Elin remains part of his life, it is safe to assume that she will want them gone. Tiger's boorish caddie – he of the "hilarious" on-course farting contests – his management company and his coterie of high school buddies must surely be wondering what the immediate future holds for them. With a bit of luck, these individuals will be the ultimate losers in this whole sad affair.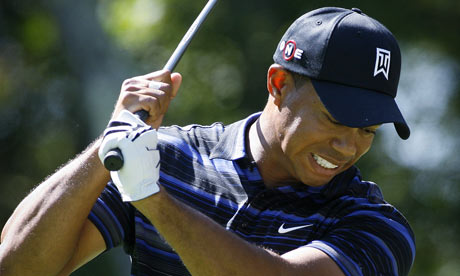 The Guardian's Paul Hayward writes:
The problem is that sport writes these fake narratives of human flawlessness. Correction. In the case of Eldrick "Tiger" Woods that myth was built by an industry of image architects, with the connivance of the golfer, for money, dude. For money.

It is the inauthenticity of the original Woods persona that fascinates, not the infidelities, which are interesting only as part of the celeb cycle of crash and burn. Since independence, the most powerful country on earth has searched for "the perfect American". They won't find him, or her. Not even behind the security gates of an upscale Florida community.
Kevin Garside in the Telegraph:
This watershed week offers a way out, an opportunity to cut the crap, to end the pretence of superhero, to start again as one of us. The chances are he won't take it, because he can't. The conditioning runs too deep. He cannot at the age of 33 undo a lifetime's work, say no to the tyranny of Tida, the mother of all matriarchs.
James Corrigan in the Independent isn't sympathizing with Tiger's pleas for privacy and explains why in convincing fashion:
I tell you what I'd quite like from them: some consistency. So when Woods is asked to describe in a press conference just how beautiful his baby is and how life-changing it has been to become a father he says: "Nope, sorry. That's my private life. Off limits." And when his sponsors ask for permission to use some of his family's old footage of Woods and his recently deceased father to promote their goods he says: "Nope, sorry. That's my private life. Off limits."

Yes, Woods did allow Nike to sift through his home videos and edit some touching scenes of Earl and Tiger for an advert which was screened on Father's Day with the message: "To Dad and Fathers Everywhere." This was 2006 and Earl had been dead six weeks. As Nike sought to bang out their drivers to Pop for $299.99 a pop, never has the RRP been merged with the RIP so shamelessly. As intrusion goes, this seemed pretty vile to me.

Where was his right to privacy then, or indeed in the times when magazines have been invited into his house – at a price – to take pictures of Woods, his wife and his children? Does a right to privacy mean that it is a sportsperson's right to claim privacy whenever he chooses to? If so, that would be one of the best deals on earth – a win-win situation if ever there was one.

Instead, we have a win-whinge situation. So when you have something positive to promote in your private life, you call in the cameras. Yet when something negative bursts into your home, because of your actions, you pull up the shutters and bleat about the fairness of it all.
Linda Shrieves in the Orlando Sentinel contemplates the perils of married life for the rich and famous and suggests:
There are perils and pitfalls for any marriage, but for the rich, famous and powerful, the temptations and opportunities for trysts are even greater. They can travel, they can spend a lot of money lavishing trips and gifts on a lover — and, if their marriage doesn't work out, they won't face financial ruin.

"Wealthy people crave stimulus," Israel Helfand said. "They are adrenaline junkies. The pursuit of happiness, for them, is more interesting than happiness."

Chased by beautiful men and women, they start to believe what their handlers are saying about them: that they are the greatest athletes, attorneys or politicians.

"They begin to believe all the hype about themselves — and they become like a 5-year-old," Israel Helfand said. "They think they are the center of the universe."
Which validates Tom English's Scotsman column premise:
If you want to understand why Tiger thought he was invincible, you start with his parents. The notion that he was special was bred into him from day one and barely a single person in his life has since told him otherwise. Not anybody who was allowed to hang with him for long, that is. He won major upon major and million upon million, he did things none of us had ever seen a golfer do before. He had the perfect game, the perfect wife, the perfect kids. He had an aura. He was untouchable.

When he swore and threw his golf clubs in anger, nothing much was said, because he was Tiger and you didn't criticise. When he was rude and arrogant and a poor role model, didn't matter, because he was Tiger and few people had the guts to put these things to him. When an American magazine heard talk of his philandering two years ago they didn't report it. Instead they did a deal with Woods for an exclusive photo shoot in exchange for their discretion.

His world, see. Everybody danced to his tune. He was the Chosen One, just like his father said. So he slept around and didn't ever think he'd get caught. He was so secure in fortress Tiger that he couldn't see how anybody could get to him. Fame and wealth were his ramparts.
I debated whether to post Jesse Washington's Associated Press piece on how the African American community is viewing Tiger because it's just loaded with landmines, but here goes...
The darts reflect blacks' resistance to interracial romance. They also are a reflection of discomfort with a man who has smashed barriers in one of America's whitest sports and assumed the mantle of the world's most famous athlete, once worn by Muhammad Ali and Michael Jordan.

But Woods has declined to identify himself as black, and famously chose the term "Cablinasian" (Caucasian, black, Indian and Asian) to describe the racial mixture he inherited from his African-American father and Thai mother.

This vexed some blacks, but it hasn't stopped them from claiming Woods as one of their own. Or from disapproving of his marriage to Elin Nordegren, despite blacks' historical fight against white racist opponents of mixed marriage.

On the one hand, Ebonie Johnson Cooper doesn't care that Tiger Woods' wife and alleged mistresses are white because Woods is "quote-unquote not really black."

"But at the same time we still see him as a black man with a white woman, and it makes a difference," said Johnson Cooper, a 26-year-old African-American from New York City. "There's just this preservation thing we have among one another. We like to see each other with each other."
You know if a white person said...ah forget it.
Jason Sobel of ESPN.com posted these Tweets today:

Bob Carney on reader email about the unfortunately-timed Golf Digest cover of Tiger and Obama.

Submit your Woods jokes here at Daily Comedy and read others.


Now there's an online Tiger/Elin game now. Don't ask me how to play it.

Connell Barrett offers the first Tiger Scandal Awards.

The Onion weighs in and unfortunately this entire saga is so strange there is only so much satirical jabbing they can muster up.

Mike Bianchi lists some of the top jokes and makes a tough, sad but ultimately legit point:
Can hardly wait to hear the PGA Tour moderator when Tiger comes into the media room after the first round of next year's Buick Open: "Tiger, can you go over your round for us, please? Let's start with your birdies and bimbos, er, bogeys." … Sorry, but I can't help myself. The Tiger jokes have gone viral on the Internet. Example: What's the difference between an Escalade and a golf ball? Tiger can drive a golf ball 400 yards. … And did you hear Phil Mickelson has contacted Elin to pick up some tips on how to beat Tiger? … And what do Tiger Woods and a baby seal have in common? They both get clubbed by Scandinavians. … And police apparently asked Tiger's wife how many times she hit him. She replied, "I don't know exactly, but put me down for a 5." … See what I mean? In one week, Tiger has gone from king of the world to course jester. …
Bianchi also links to the Whack-a-Tiger game:



And thanks to reader John for the Tiger Slow Jam mix, up to 615,945 views.


Saturday, December 5, 2009 at 10:01 PM
47 Comments
|
in
Tiger Woods Accident