Here's the transcript for Fred Couples' World Golf Hall of Fame press conference and Doug Ferguson's story suggests it was the slimmest of margins that got Couples in.
Couples was elected on the PGA Tour ballot with a record-low 51 percent. The minimum for election is 65 percent, although there is a clause that when no one gets the minimum, the leading vote-getter is elected provided he has at least 50 percent of the vote.
The reaction from two prominent writers was not in the least bit positive when it came to the Hall's voters. (For the record I voted and did not vote for Couples.)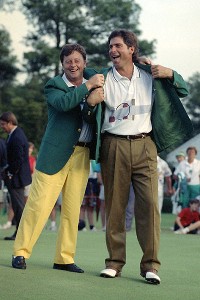 Golfweek's Jeff Rude poses a Q&A and asks if this dumbs down the hall:
No offense to Fred, whom I like, but someone getting in with 15 victories and one major does lower the previous unwritten benchmark, yes.

Couples, though, does get extra points for having been a television and gate attraction for years.

Expect more lowering of standards, particularly after Tiger Woods gets in after turning 40 in four years. At the moment, there aren't many players with a pile of victories who will turn 40 any time soon.

Sadly, if we keep this up, pretty soon Craig Stadler with 13 wins and a major will represent the new bar.

This is not, and never should be, the Hall of Very Good.
Bob Harig made a great case for Macdonald Smith, noting his Western Open wins when it was a major (and don't forget his LA Open wins when it was the premier professional event when Smith won it).But mostly Harig took the World Golf Hall voters to task:
This is in no way meant to knock Couples, who might have won far more than 15 times were it not for back problems that began at the height of his career. The way he still performs today when healthy is testament to his immense talents. Being a fan favorite and a well-liked player certainly doesn't hurt his inclusion, which was announced by commissioner Tim Finchem at the Tour Championship.

And that's the problem. You wonder about the makeup of the voting body that tends to skew its selections toward popularity and modern players and doesn't take the time to consider history.
Though Couples is over the 50-years-old threshold, many of the Hall's problems continue to stem from the eligibility of players at too young of an age. If you had to be at least 50 to get in, the question of Davis Love wouldn't have been brought up today. That still doesn't answer for O'Meara or Mac Smith or Venturi whose amateur or broadcasting accomplishments are probably overlooked by some voters.
Rex Hoggard makes the case for Couples getting in on his "icon" status and I would agree there is an intangible element that should be considered by voters, especially when you consider his appeal to golfers or the way he plays or his late in life competitive abilities. Though all the same were said for Macdonald Smith in his day, but again, how many voters could even pick him out of a lineup? And I'll confess, I only know a lot about him because of his great play in the L.A. Open.
Anyway, Couples was interviewed on ESPN about his induction:
Wednesday, September 19, 2012 at 10:56 PM
56 Comments
|
in
World Golf Hall Of Fame