He supposedly faced charges if he returned to South Korea at one point before his appeals process started, but now two-time PGA Tour winner Sangmoon Bae will return to his native country as part of the International Presidents Cup team. Then he will put his clubs away as he potentially enters his prime as a player to complete two years of mandatory military service. (Mark Cannizzarro did a nice job summing up Bae's story prior to The Barclays.)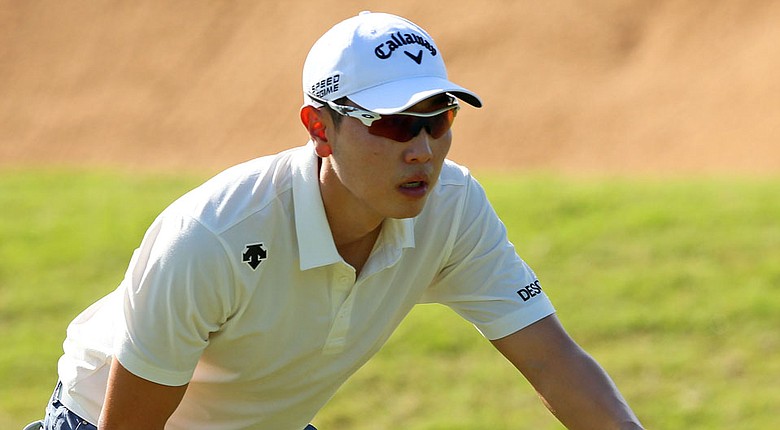 For now, he's just happy to be a captain's pick of Nick Price. From the press conference announcing his selection to the 2015 Presidents Cup team:
Q. Sangmoon, we know you've been through a lot this season with stuff happening off the golf course, but The Presidents Cup captain's pick today, what does it mean for your career at this stage, and how do you think the reception will be for you when you tee it up on that Thursday morning of The Presidents Cup in front of your home fans?

SANGMOON BAE: To be honest, I have a little tough situation right now. I think this shouldn't be a problem and just I want to try focus on my game and on The Presidents Cup in Korea. That is my home country and really excited to play and I will do my best. It will be a really great team. I'm really happy to play now.

Q. I have a question for both Sangmoon and Captain Price. Obviously with Sangmoon, his military service situation, has that cleared up? Do you know if Sangmoon will be able to actually play at The Presidents Cup?

NICK PRICE: As far as I understand, they will speak to the government, but I'm pretty sure he'll be cleared to play.

LAURA NEAL: Sangmoon, have you been given any indication on your status for playing?

SANGMOON BAE: Actually nothing changing right now, and I want say, it shouldn't be a problem. Because I already talked to all the Korean media, I've got go ‑‑ I will go to military service in this year after The Presidents Cup, actually after this season. But Nick Price just pick me up and I've got to play Presidents Cup, and I will do military service after that. So yeah, I think it shouldn't be a problem.
That's reassuring! Who's that first alternate again, Captain Price?
The sad part of this story--and let's be clear, it's a first world deal all the way--is the apparent end to Bae's Olympic dreams.
He has been one of the few players who has made clear that an Olympic medal would mean the world to him. But if he does go into the military for two years soon after his Presidents Cup appearance, it's hard to imagine he'll be able to have enough world ranking points or appearances to justify an Olympic appearance. But the South Korean military will have one amazing golfer on its side.