Alex Miceli reports on the U.S. Walker Cup team going to Latrobe to visit with Arnold Palmer and hear from the legend before other team bonding exercises.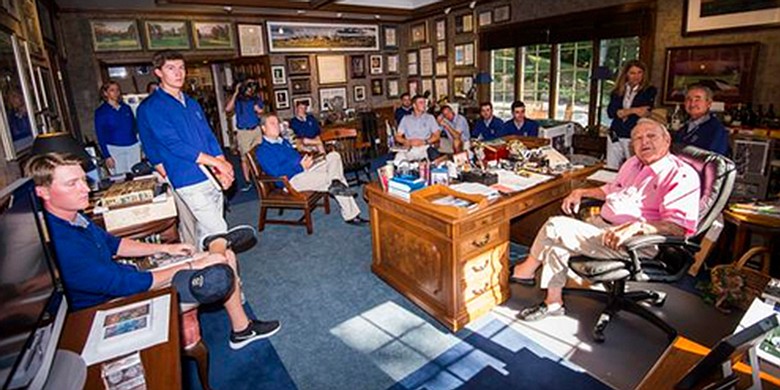 Palmer was, of course, accomodating.
"OK, boys. Ask me anything you want. Anything you want to talk about, let's talk about," Palmer said in an open-ended invitation when he met the team on Aug. 28, Miller said via conference call from New York.

"It was unreal," Miller said. "If I tried to plan it, it couldn't have gone better."
Ryan Lavner at GolfChannel.com with this about one element of the visit. Imagine the Queen tapping shoulders with a sword and bequeathing knighthood status. Only better.
Last Thursday, the group met for the first time as a team in Pittsburgh and stayed at Latrobe Country Club, where they received their apparel and went over a few other housekeeping items.

The next morning, the team toured Arnold Palmer's office and shed, and then met with the 85-year-old for more than an hour, listening to stories about Palmer's time on Tour and what allowed him to remain relevant even well after his playing days were over.

After a round at Laurel Valley, they ate dinner with Palmer and his wife, Kit, and had a team-building exercise in which each member was assigned a nickname by Palmer. "I expect one or two to stick," Miller said with a laugh. They played Latrobe the following morning, under Palmer's watchful eye, and then headed home after lunch.
It took some hunting, but I did manage to find a video of the nickname ceremony. Enjoy!
Wednesday, September 2, 2015 at 09:03 PM
Post a Comment
|
in
USGA