As far as brouhahas go, the PGA of America board's ouster of outgoing president Ted Bishop over a social media screw-up feels like it should transition from the absurd phase (banishment for life!) to the farcical (say, fast-forwarding Suzy Whaley to president...tomorrow!).
Except, there is one complication.
It seems few are willing to cooperate, as Jay Coffin highlights in a column pointing out the number of women who are refusing to affirm the decision to not only remove Bishop for his final month from the volunteer position as PGA president, but to expunge the past and future of Bishop even though he steered the PGA of America into a direction acknowledging half of the population relentlessly ignored by the organization. Could it be that these women recognize the excess of the decision? That on the list of sexist moments in golf, this comes no-where close to Fred Funk dawning a skirt or Wilson putting out blatantly sexist ads to sell golf balls? Or the R&A taking until 2014 to vote to accept women, kicking and screaming?
Golf Channel made attempts to reach several of the most respected women in the game and nearly all did not feel comfortable enough to comment.

Everyone else? Radio silence.

Mostly though, what I really wanted were strong women's voices for my daughter to hear. I wanted her to have a chance to find a new role model because someone stood up to a powerful organization to say enough is enough. It's an important issue to me as a father and it makes me wonder if it's a big deal to women. Right now, I'm not certain. Perhaps my moral compass needs to be recalibrated, but I expected more from women's leadership.
Actually, the silence could be seen as a reaffirmation of leadership, regardless of gender. Could it be they are quietly saying this isn't the right incident and right target to eradicate blatant sexism?
On that point, Tim Rosaforte reached out to Bishop's daughters, who spoke to GolfDigest.com exclusively. Both work in the golf business and put a brave face on what must be a bizarro circumstance to be dealing with in such a short time. Because regardless of how you feel about the man or is inability to come up with a non-sexist metaphor (twice!) on social media, he is a proud dad and husband whose daughters work in the golf business.
"I'm 32 years old, and never once in 32 years has he ever hinted or made a derogatory comment or a suggestion about women," said Ambry Bishop. "This is a tough day. He's done nothing but empower me and promote me to be the most successful person, type of person I'm trying to be."

It was a tough day for Ambry Bishop more as a PGA member than golf coach. She learned of her father's email through members of her team, all of whom, she said, were supportive. She talked about her father's support of girls' junior golf, her high school team and the college team she coaches.

"This is a tough pill to swallow," she said. "Yeah, looking back on it, he could have chosen better words. It's important for people to know that's not the type of person he is."

Davidson concurred. I spoke to her Friday afternoon, just after Bishop was impeached by a vote of the PGA's Board of Directors. "He's not a sexist person," Davidson said. "He doesn't make those kind of remarks." Davidson had a good handle on the type of personality that led to his demise.

"I love my dad, and I know he is an honest man that sometimes says things that later he's sorry for -- and I'm sure he feels that way now," she said. "But he does care what people think. This kind of stuff tears him down."
Rosaforte put the GolfDigest.com item into more context during a Morning Drive chat with Gary Williams and Damon Hack.

I also spoke to the Morning Drive team and shared my view that this punishment is not reflective of the crime, and that my views were shaped in part by the comments here or Twitter feedback. While you can disagree all you want with Bishop, and he and I had our share of big differences, he was a change agent for a stale organization. I tried to point out that it will be hard to attract unique personalities to these volunteer positions if this punishment remains the outcome.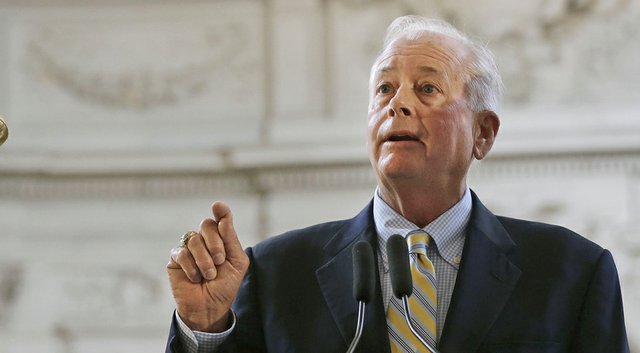 Alex Miceli also questions the PGA of America's decision and puts on his law degree-infused cap to question whether "this swift judgment truly was a fair judgment."
Bishop's past accomplishments or failures should not be part of the decision-making process. The single incident regarding Poulter was all that should have been judged. By any reasonable measure, the punishment didn't fit the crime.

Foolish – even stupid – statements need to be addressed. And there is no question that the reference to Poulter as a little girl was both, but to strip a person of his office and his legacy was too harsh.

If Bishop had been suspended for the monthlong remainder of his term, the message still would have been the same and he could have left the office with dignity.
Miceli also talked to new president Derek Sprague, who called it a "dark day" for the PGA of America. No disagreement there!

I can't disagree with Brad Klein's Golfweek.com assessment condemning Bishop, but as his colleague Miceli points out, were the actions take by the PGA of America board productive for combating sexism in golf? So far I'd say the opposite, that they've emboldened those who weren't even opposition to oppose any teaching moments that might come out of this.
Bishop took pride in stirring the pot, but too often the pot was a side dish that had nothing to do with what actual PGA pros do for a living every day. When you grandstand and indulge selfies in the face of a stressed rank and file, they begin to see through the boldness and construe it instead as narcissism.
The Telegraph's James Corrigan, who a day ago lampooned Bishop, sounds almost sympathetic to the man's plight after hearing of Bishop's permanent removal from PGA activities and the LPGA's statement celebrating the news.
This was as quick and as complete a fall from grace as any official in the game's long history. In a couple of clicks on to Twitter and Facebook - in which he lambasted Poulter for daring to criticise the Ryder Cup captaincies of Sir Nick Faldo and Tom Watson - Bishop signed his own P45, as well his own excommunication order from the game's corridors of power.

However, far from feeling any empathy with Bishop, a controversial, outspoken character who always polarised opinion, the LPGA Tour on Saturday welcomed his ousting.
Rex Hoggard says it was "strangely apropos that Poulter would play a bit part in Bishop's downfall considering the Englishman's checkered history on Twitter" and takes the opportunity to spread some blame here to social media.
While it seems unlikely Bishop's insensitive remarks would have been dulled had he said it, for example, during a radio or television interview, that doesn't change the reality that there are no emoticons that are able to flawlessly convey context.

"If it was a bit of banter, that goes on in the locker room all the time. This is the problem with Twitter. When things are not said face to face they get blown up," Padraig Harrington said.

"I'm quite sure Ian Poulter has been called a little girl plenty of times in his life and he has retorted. But clearly Ted Bishop is in an important position and you have to be careful what you tweet when you are in that position."
Hoggard is on site at the McGladrey Classic and talked to PGA Tour players who weren't wild about the PGA Board of Directors' decision.
The PGA board of directors probably forget how much capital Bishop built up with players thanks to his support of the PGA Tour's opposition to the anchored putting ban and for forging better relations between the PGAs. Hoggard also talked to many club pros/PGA members, and reports that while they weren't always thrilled with Bishop, they questioned pushing the president out with only a month to go and for life. Me too.
Saturday, October 25, 2014 at 11:21 PM
1 Comment
|
in
PGA of America