Jennifer Bogdan reports that the historic Atlantic City Country Club has sold to the Ottinger family, with current owner Caesars Entertainment continuing a partnership with the new owners. Thanks to reader Martin for this.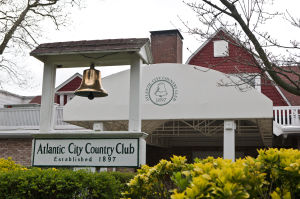 Atlantic City has undergome various redos and restorations, but remains interesting and the place where birdie and eagle were coined.
The club, which spent more than 100 years as a members-only facility before opening to the public, has hosted six national championships, and a host of celebrities and legendary golfers have walked on the greens. Among them are Sam Snead, Walter Hagen, Arnold Palmer, Howard Everitt, Nancy Lopez and Jack Nicklaus.

The par 70 course that measures 6,577 yards and has a slope of 133, rose to prominence after local golf legend Leo Fraser purchased it in 1946. He was responsible for bringing the first PGA Senior Tour event to the club in 1980.

Caesars said the sale will benefit members of its Total Reward program, who will now have access to preferred tee times and discounted pricing at all three courses owned by the Ottinger family. Details of the discounts were not released Wednesday.
Wednesday, April 16, 2014 at 11:58 PM
1 Comment
|
in
Architecture,
Golf History