We thought it was merely humorous that the current USGA President was innocently snubbed by a rough-around-the-edges U.S. Amateur champion Sunday, but now knowing what we know from Golfweek's Adam Schupak, Gunn Yang should have been hugging Tom O'Toole!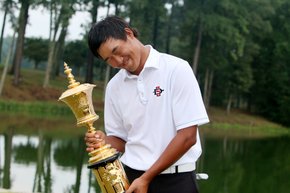 Schupak explains the odd circumstance following Sunday's weather delay when O'Toole, the final match referree, rushed on to the green and interrupted Yang to remind him his caddie Richard Grice could not stand behind him when putting .
With a look of chagrin on his face, Grice moved several steps away from Yang's line. O'Toole apologized to Yang for the disruption and retreated to the edge of the green, near fellow USGA executive committee member Dan Burton, chair of the championship committee. "I've told this guy three times he can't stand behind his player," O'Toole harrumphed, once he was out of earshot of Yang.

Later, O'Toole would recount one of those earlier situations.

"I noticed it during the first 18 this morning when he pitched on the third or fourth hole," O'Toole said. "(Grice) was slightly off (Yang's line). It was close but I didn't think it was a breach of the rule."
Schupak then goes on to point out how this could have gone bad in so many ways for Yang, and talks to O'Toole about the philosophy of rules officials trying to save players from rules breaches.

It's quite the conundrum for the official, don't you think?
Wednesday, August 20, 2014 at 01:08 AM
12 Comments
|
in
Amateur Golf,
Rules