New contract language phrase of the year: no kickabouts before a major.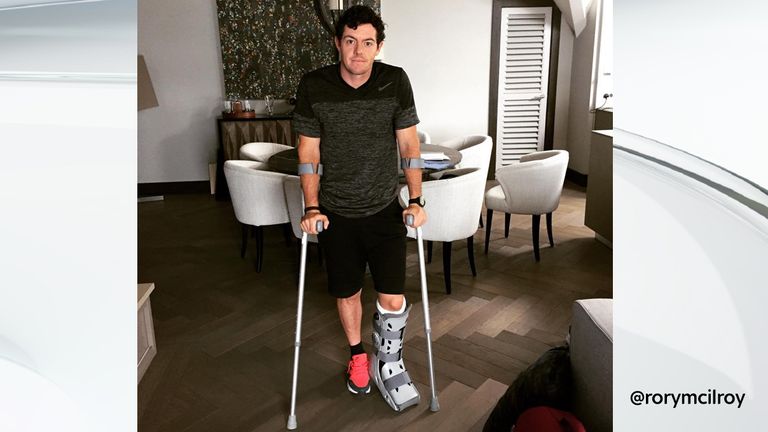 A Sky report on Rory McIlroy rupturing his left ankle ligaments during a "kickabout" with friends over the weekend.
He's not ruling out The Open at St. Andrews.
**Tim Rosaforte reports on Rory McIlroy's left ankle injury, saying the injury happened on a synthetic field on Bangor Island, and occurred when McIlroy was running. He did not go to kick the ball, lose his footing and go down in embarrassing fashion, according this management team.

And we talked about the news as it relates to The Open, which I would still agree is devastating for what was lining up as a showdown between worlds No. 1 and 2.
**From Steve DiMeglio's story on the sprain.
In his post, McIlroy referred to his ATFL (anterior talofibular ligament), one of three ligaments around the ankle. Dr. James Gladstone, co-chief of sports medicine at the Icahn School of Medicine at Mount Sinai Hospital in New York, said the rupture isn't in and of itself "a big deal."

"It isn't career threatening or necessarily time threatening. You could have a sprain and within two weeks be going strong," Gladstone said. "At other times it could ultimately require surgery. Typically most people who sprain their ankles don't need surgery. Only if people suffer recurring sprains would surgery be required."

Gladstone said the typical treatments include rest, ice and anti-inflammatory treatment.
Monday, July 6, 2015 at 04:31 AM
29 Comments
|
in
Rory McIIroy