Thanks to reader Ken for the reminder of Fuzzy Zoeller's lawsuit against Florida Today columnist Peter Kerasotis, who used satire to put words in Fuzzy's mouth. The suit came just five months after he'd made his infamous remarks about Tiger Woods at Augusta National.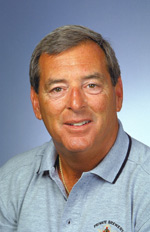 Mark Hyman had the story in Sports Business Journal, though I couldn't find a follow up on how the case turned out. I'm guessing not well, since satire is alive and well.
The golfer seeks unspecified damages from the defendants, claiming the column was an invasion of privacy and has harmed his "character, reputation, friendships, emotional state and financial interests." Lawyers for Zoeller and the newspaper did not return phone calls last week.

In court documents, Kerasotis and the Florida newspaper, who have asked the court to dismiss the suit, acknowledge that the columnist didn't interview Zoeller and that the golfer never uttered the quotes attributed to him. They include observations about amateur phenom Matt Kuchar ("You talking about the kid with the Howdy Doody smile?"), veteran Gay Brewer ("What kinda name is Gay for a man?") and Mark Calcavecchia ("Maybe if he won ...we can have spaghetti and meat balls at the Champions dinner next year.")
Maybe Tiger should call Fuzzy for some legal advice?
Thursday, November 20, 2014 at 02:44 PM
4 Comments
|
in
Golf Media,
Tiger Woods