Great minds think alike as the top three in the poll here (thanks for voting) were also selected by Captain Paul McGinley to round out the 2014 European Ryder Cup team. The poll only surprised me by how little you all think of Luke Donald's game, especially since he played well yesterday and, unlike Lee Westwood, played!
The only real shocker from the press conference at Wentworth? Jackets and ties from the inkslingers in attendance. Must be a requirement to be invited to lunch?
Anyway, a quick look at Paul McGinley's selection of Stephen Gallacher, Ian Poulter and Lee Westwood.

Jason Sobel highlights the team-first method McGinley used to announce his picks. Video of the announcement is included with the item.

Ewan Murray focuses on the Luke Donald omission.
"Luke was very, very disappointed and rightly so. My personal relationship with him goes back to the first shot he ever hit in a Ryder Cup because I was his partner."

Asked about Donald's response, McGinley replied: "Luke said to me: 'You know, Paul, I publicly backed you to be captain. Even though you haven't picked me, I still think you'll be a great captain.'"
Phil Casey has the selected player comments and it's interesting that Lee Westwood touted his first round lead at the PGA as part of his case.
Martin Dempster with the Scotland angle on Gallacher's selection to the first Ryder Cup played in Scotland since 1973, back when they went to golf courses of merit.
Bob Harig notes that Donald's lack of a top 10 since April could not have helped.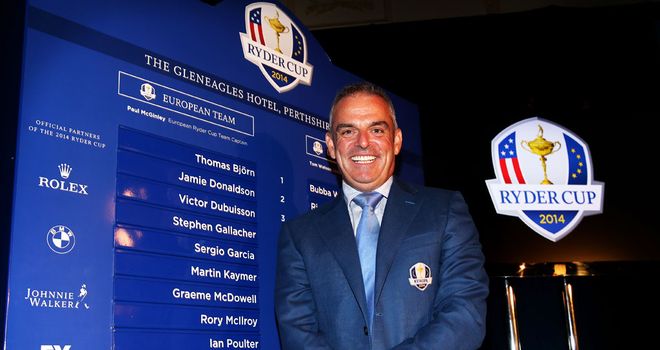 A Sky report suggests from McGinley's comments that a Poulter pick was even more inevitable than first thought.
In case you want to relive the announcement or slept through it like I did, Rob Bagchi covered it as it happened for the Telegraph and Nick Miller did the same for The Guardian.
The Telegraph with the full team in slideshow form.
The full press conference transcript is here.
Tuesday, September 2, 2014 at 09:30 AM
1 Comment
|
in
2014 Ryder Cup