It's taken me all day, frankly, to face up to the fiction that had brought such joy to humanity last August: Tiger Woods and Steve "Stevie" Williams purportedly patching things up on the 8th hole during the final round of The Open (at least according to Stevie).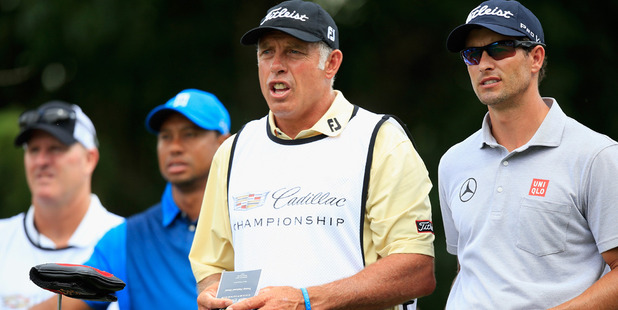 At the time you may recall I was a tad skeptical since I followed the group from the practice green to the time Tiger got in his car and did not see the witty, jovial banter of the two former and wildly successful player-caddy partnership hucking it up while each was trying to win an Open. Well Tiger was, Stevie was lugging Adam Scott's bag.

Now comes the heart-wrenching news from Stevie confirming on Australia's Fox Sports Golf Show that indeed, Tiger is still not really speaking to him unless he absolutely has to.
From a New Zealand Herald report:
"I haven't sorted anything out with him. There's been a lot of ... this, that and the other ... but the hatchet hasn't been buried.

"It's just personal things and a difference of opinions on how things went down ... and I need to sort that out with him."
And I know Tiger just can't wait to get this sorted out. Something tells me this is still a stumbling block.
Meanwhile, there's hope they can maybe chat things up at Bay Hill if Adam plays, as Tiger is aiming for a return in Orlando next week, writes Bob Harig.
Tuesday, March 11, 2014 at 04:30 PM
1 Comment
|
in
Tiger Woods