Global Golf Post's Steve Eubanks says the PGA of America did "what bureaucrats do" in announcing a task force to study the Ryder Cup issues facing Team USA and takes them to, uh, task.


He points out that Paul Azinger has already provided the model, but he doesn't appear to be a priority for the PGA.
They're calling it a "task force" because that sounds muscular and decisive but have no illusions, this is deflection, a committee created to beat back criticism and kick the proverbial cup down the road.

Asinger didn't hear a word from the PGA until Tuesday afternoon last week when news broke of the possible task force.
Eubanks, a former PGA of America member, says the organization is "incapable of making the kinds of changes Azinger proposes" and ends with this, uh, zinger...
"The PGA's Ryder Cup problem is not one of communications or optics or who makes the most putts. The problem is cultural and systemic. And, unfortunately, that is not something a blue-ribbon panel is ever going to change."
I wasn't nearly as tough as Eubanks but it sounds like we've been comparing notes on the strange treatment of Azinger post-2008 along with our takes on the unnecessary "task force."
My discussion with Damon Hack today on Morning Drive: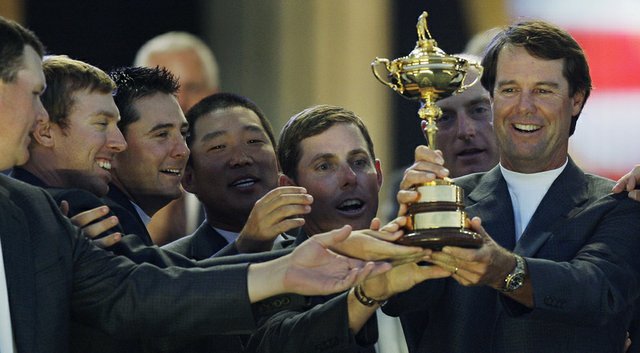 **Add Alex Miceli to the no-task force chorus. He endorses Paul Azinger for the 2016 captaincy.'
Does the U.S. really need a task force? Or should the Americans restore what had been working previously?

Azinger is the key. He concedes that if he were to return as captain, he might not use the pod system. He also would want full control so that he could implement a system not only for 2016 but that would endure.

The Europeans call it a template, and it has served them well.

We don't need a task force. We need an innovative thinker with a proven track record.

The choice seems clear. Make Azinger the captain, appoint Steve Stricker as vice captain and captain-in-waiting and add Minnesota's Tom Lehman as another vice captain.
Monday, October 13, 2014 at 09:47 AM
8 Comments
|
in
2014 Ryder Cup,
PGA of America