Bob Harig talks to some of the five families leadership about the progress of 2016 Olympic golf and the USGA's Mike Davis gave the best answer I've read in some time about the format's purpose and sustainability.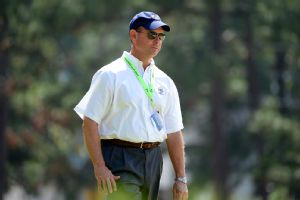 While no one expects at change in 2016, he at least signaled that the International Golf Federation will examine some tweaks before presenting the IOC a vision for the 2020 games and beyond.
"I think one of the things the IGF will look at in the future is can we somehow get match play involved, can we get a team aspect, can there be a way that maybe men and women could play together. But first we want to have a great Olympics in 2016, and then our board will look at that and I think it's something we'll explore."

Davis is leaving Buenos Aires on Saturday to meet Dawson in Rio and view the course. Both are scheduled to be at an IGF event next week in Orlando, Florida, during the PGA Show.

He said he would love for there to be more than 60 players per event, but the IOC was concerned about having too many players, due to the challenges of housing so many of them throughout the Olympics.

That dilemma took on an interesting twist when at first the IOC balked at the players using caddies during the competition. "Could you imagine them having to carry their bags?" Davis said.
Oh but it would have been more athletic!
Friday, January 16, 2015 at 03:52 PM
21 Comments
|
in
Olympic Golf