So 20 rounds were recorded in the 60s which set a first-round record and tied the most for any round. I'll be sleeping in, but could you easterners please just drop me a note and confirm a normal Eastern sunrise Friday, please?
Of course it's wonderful that the guys were allowed to play golf. The weather will be thanked to help justify the last decade of defensive golf brought on by changes small and glaringly awful, but it was pretty apparent that the speed and receptiveness of the greens made the real difference Thursday. Because on television there sure looked like there was a lot of wind, and in recent majors the slightest breeze had turned greens silly. So even with a SubAir system that could dry them out, it sure looks to me like the committee played it safe. Good for them.
We had fun on the live blog, so come join us Friday.
Here's what the scribes said.

Lede Watch

Doug Ferguson for the AP, and therefore, the remaining newspapers in most of America:
There aren't many days like this at Augusta National: Sunny and warm, with barely a breeze. Greens nice and soft. Pins stuck in some pretty inviting spots.
A day for going low.
Rex Hoggard writing for TheGolfChannel.com:
Thursday at Augusta National, henceforth known as old-timers day, was a perfect respite for scoring, pimento cheese sandwiches on finely clipped turf and strolls down memory lane, be the memories magical or of the mental baggage variety.
Lawrence Donegan in The Guardian:
The Augusta National golf course opened its arms to the world's best yesterday – offering a bucket load of hope instead of a barrowful of pain – and Chad Campbell walked gratefully into its benign embrace, followed quickly by Padraig Harrington and Tiger Woods.
James Corrigan writing for The Independent:
On the day that Augusta at last recovered its roar, Tiger Woods just about remained King of the Jungle. As the light was eventually dying on an enthralling first round so the world No 1 was signing for a 70, which left the him five shots behind the leader, Chad Campbell. And even allowing for a final-hole bogey, it could have been an awful lot worse.
And I like Larry Dorman's NY Times lede best:
Of all the unlikely possibilities to come out of the first round of the Masters on Thursday, Chad Campbell finishing with consecutive bogeys for a 65 might have topped the list. But when a perfect day for scoring at Augusta National Golf Club coincides with a benign course setup by the competition committee, anything can happen.

The Paddy Slam Is Alive And Well

Bob Harig says Paddy was spared an off course family drama that might have derailed his round. No worries, it was just a rash.

Kevin Mitchell tells a story about Paddy's dad and wonders if son will be like dad.


The Americans Are Back! Well All But Two Of Them

For a day anyway...according to Michael Walker.

Mark Soltau on leader Chad Campbell and his five birdies out of the chute:
Here's how he started: a 7-iron to two feet on one; a two-putt birdie on two; a sand wedge to five feet on three; a 2-iron to 18 feet on four; and a 7-iron to 15 feet on five.

"It did, absolutely," Campbell said, when asked if he thought about matching the course record. "Just on the back nine. It's always in the back of your head."
James Lawton on Lefty's frustrating opening day.

And unbylined AP story shares this about John Daly, still parked outside the gates selling merchandise:
After his weight, always a struggle for the 5-foot-11 Daly, ballooned to 280 pounds, he underwent Lap-Band surgery in February. A silicone band was placed around the upper portion of his stomach, shrinking its size and limiting how much he can eat. He's lost 42 pounds so far, and has gone from wearing XXXL shirts to extra large.

He's on a high-protein diet, and what he does eat has to be chewed and chewed and chewed so it will be soft enough to swallow. Alcohol? Daly said he'll have the occasional sip of a drink or a beer, but that's it.

"It takes me about an hour to drink one beer, just sipping on it," he said. "I drink a little bit, but not much."

Larry Mize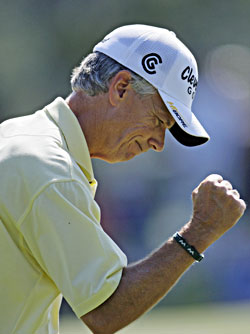 Thomas Bonk on the miraculous 67 from the 1987 Champ:
When Mize was 10, he went to the Masters and collected tees from Jay and Lionel Hebert.

When Mize was 14, he volunteered and hung up numbers on the Masters scoreboard at the third hole.

When Mize was 28, he won the Masters, chipping in at the 11th hole to beat Greg Norman in a playoff.

When Mize was 49, he missed the cut at the Masters for the seventh time in eight years.

When Mize began his 25th Masters with a first-round 67 on Thursday, it was the most surprised he's been in his 50 years . . .
Gary Van Sickle reports:
Mize had an explanation for why he and Norman and other experienced players fared well in the opening round. "We're still competitors, we love to compete and we love this place," he said.

"Greg showed last year at the British Open, he can still contend. At a place like this, experience is always a good thing. It's good anywhere but maybe even more here. We are just old guys fighting as best we can."

Greg Norman
Tim Dahlberg on The Shark's impressive opening 70...or not so impressive to the Shark himself.
"I had a lot of opportunities, really could have shot a nice, mid 60s score today," Norman said. "I didn't."

In another time, that would have eaten him up and caused him a sleepless night. But his expectations have been tempered by age, and even a botched short birdie putt on the 18th hole didn't keep him from smiling his way through an interview in the same room where 13 years ago he had to explain a shocking collapse in the final round of a tournament he had all but won.

Seve

While we're on the 1987 Masters stars, Bob Kimball reminds us that CBS is airing Jim Nantz Remembers Augusta: Seve at the Masters, Sunday at 1 pm EST.
Geoff Ogilvy
David Dusek on Geoff Ogilvy's bogey-bogey finish that understandably left him in no mood to talk.


The Young Ones
Cameron Morfit explains how Rory, Ryo and Anthony blew their chances at better scores.


The Amateurs

Jack Newman shoots and even par 72 and writes for GolfDigest.com...

By the time I got to the course Thursday, however, I knew things were different. It started with the security guards I've been talking to all week. Instead of joking like they have every other day, they were pretty serious. "You can go sir" was all they said as I entered parking lot. You knew everyone was getting down to business.

Drew Kittleson files a diary entry for Masters.com after his 78.

Dave Kindred on Steve Wilson's day.
And with a minute before he was due on the tee, he "got caught up in something," the caddie Martin said. "Then I saw Watson looking back for us. I said, "Steve, c'mon, we better go.'"

That would be one of Wilson's playing partners, Tom Watson, the winner of eight major championships. The immortal waited on the tee for the amateur gas-station owner.

"I was running to the tee then," Wilson said.

Not a good idea to be DQ'd from your first Masters, even if running to the tee contributes to a case of trembles that never ended. "Your hands are shaking," he said, "and you don't want anybody to see them."

The Thrills, The Birdies: Praise Our Lord And Savior, Billy Payne

Steve Elling says it all started right with the first tee moving up, and reviews the numbers.

Adam Schupak notes that short hitters even got in on the action.
We wanted roars. We got them.

On a warm, sunny day with wind a non-factor, birdies returned in bunches at the Masters.

Benign conditions combined with soft, receptive greens and accessible pins made the big leaderboard at 18 turn to a sea of red in the first round. A record 38 golfers broke par at Augusta National.
Gene Wojciechowski makes no sense in this lede. He acknowledges that roars were "unlikely" and then says some of us have been wrongly whining and complaining. Isn't there a Cubs game to cover?
Hear that? It's noise -- lots of it -- and it's coming from an unlikely source: 2604 Washington Road ... otherwise known as Augusta National Golf Club.

The roars returned to the Masters on Thursday and not a nanosecond too soon. For once it was nice to listen to something other than whining and complaining from those who wrongly think this course and this tournament have been lobotomized.
Jim Achenbach filed this note about hole locations for Golfweek.com's blog (sorry, no Permalink...):
Thursday's pin sheet revealed that 11 of 18 holes had a flagstick located five paces or less from the edge of the green. One pace is supposed to be three feet, so I decided to check them out.

The pin sheet said three paces on both No. 2 and No. 16.

Three paces? That's nine feet. To me, the distance looked more like six or seven feet. These two hole locations were disturbingly close to hazards -- a bunker on No. 2 and a pond on No. 16.
Jim McCabe profiles the fifth hole as the last remaining spectator secret spot.
The fact that nary a soul could be heard yelping "get in the hole" made for an even more enjoyable day up there at a high point of the property.

Historically, Magnolia ranks as the fifth-hardest hole with a field average of 4.27 since 1942. With ideal scoring conditions in Round 1, the numbers were not quite that high (there were 11 birdies, just 19 bogeys, and a field average of 4.083 to rank ninth), but it's not as if Magnolia sat there defenseless.

Notes and Awards
GolfDigest.com's Round 1 Birdies and Bogies.

Bob Carney offers a roundup of the Golf Writers awards dinner.

Imagery

The SI team's photographs are posted here.

Golfweek offers up their fast moving slide show, with a Chrissie sighting included.

Augusta.com breaks their photos up. Arnold Palmer's opening tee shot is here. The first round leaders are here. And the rest of the round 1 shots are here.
Thursday, April 9, 2009 at 08:36 PM
8 Comments
|
in
2009 Masters