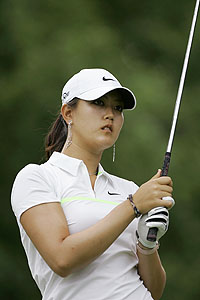 Ron Sirak
takes an interesting look at
Michelle Wie's
first round 9 and ESPN.com dresses it up with video.
Wie made a series of mistakes on No. 9, the first being that she elected to hit driver off the elevated tee instead of 3-wood. Wie has struggled with the driver for nearly two years now -- missing shots low and left as well as high and right -- and she blocked this one into the right rough.

She compounded the mistake off the tee by being too aggressive with her second shot, trying to advance it too close to the green instead of opting to pitch out sideways. The second shot ran through the fairway and into the rough at the base of the steep hill leading up to the ninth green.

Playing from the rough, she hit a shot that came out low, skidded across the green and ended up in the rough about two yards over the green. That's not a good place to be. It's virtually impossible to keep the ball on the green from there, without some luck or trickiness.

Trying to barely nudge the ball onto the fringe, Wie moved it only about 30 inches and left it still in the rough right on the edge of the fringe, now laying 4. At this point it was Julieta Granada's turn to play from the rough also behind the green. It was also at this point that Wie's brain shut down and she stared at her feet waiting for her turn to hit again.

What she missed while looking at her toes was that Granada played her shot sideways and it trickled down onto the safe shelf. Wie then took her putter and played her fifth shot straight down the sliding board, across the shelf and off the false front.

Her first chip from below the false front was not hit hard enough and rolled back to her feet. Her second pitch ended five feet from the hole, from where she two-putted for a 9.

Friday, June 27, 2008 at 07:50 PM
5 Comments
|
in
LPGA