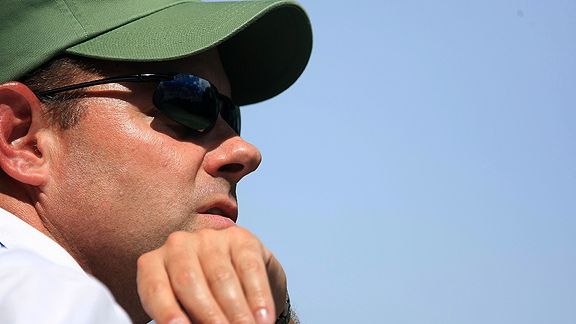 Jason Sobel interviews Mike Davis about Bethpage and one of the more interesting subjects is the current USGA's notion of trying to prepare the course conditions to play similarly each day, instead of the old mentality of starting at a point and, weather permitting, letting the rough grow and the conditions speed up over four days. Obviously there are compelling cases for both sides, though if it means debacle-free tournaments, the current approach is obviously more attractive.
But on the other side of things, you'll see Bethpage probably play a bit more consistent than it did in 2002, with respect to our intent of not making it harder every single day, which I think was the case back in '02. The rough got higher every day, the greens got a little faster, maybe firmer, so that shouldn't happen this go-round.

Q: Well, if it's not the USGA's belief that the course should be set up more difficult for each progressing round, is it possible that we could see Bethpage actually play easier Sunday than it does Thursday and Friday?

A: I think it could. To a large extent, it's going to depend on what Mother Nature gives us; if it's windy, then obviously it will play tougher. But yes, that is a definite possibility. I think if you look back at Torrey Pines last year, you'd find that Sunday was actually the easiest of all four days and that didn't just happen out of coincidence. There was a mindset that on certain holes we really wanted to give the players some opportunities to score, give them a little bit more risk-reward, and I think that certainly bears out in how they played.
And Sobel asked Davis about players he seeks out, player input in general, and this about the debate over Bethpage's design lineage. Mike should run for office with an ability to answer like this!
Q: I know there's been some debate about this, but is the USGA sticking with the idea that Tillinghast was the original and sole designer of Bethpage Black? A: Yeah, on the materials that we have put out, Tillinghast has been the architect of record. I think we have also said we don't really want to get in the middle of that debate, but having said that, we have certainly seen drawings that Tillinghast did of Bethpage Black. We know that [Joe] Burbeck had a big part in the construction, but I think that we're going to try to stay out of that argument. If asked, we certainly would want to give Tillinghast some credit. Certainly, Burbeck during the construction should get some credit, and I think Rees Jones during the renovation should get some credit.
Tuesday, June 9, 2009 at 01:08 PM
1 Comment
|
in
2009 U.S. Open,
Course Setup