It's a toss-up what's most impressive about Jiyai Shin's second Ricoh Women's British Open win. Nine shot margin? Or coming less than a week after winning a wacky 9-hole playoff a continent away? In a summer she took a two month break for hand surgery?

Actually I am most impressed by her pro-links attitude. While many of today's better-ever Hogan and Snead's in their white belts complain about what links golf does to their precious swings, Jiyai merely made a tempo adjustment according to this unbylined AP story.
''When I won at Sunningdale, it was a totally different kind of course, but I finally think I've got the right tempo with my swing for links golf,'' Shin said.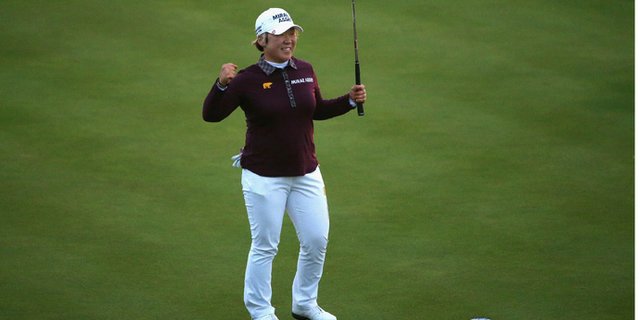 James Corrigan has a lengthy game story and also notes this about Shin's impressive victory:
What made it all the remarkable was Shin's two-month break this summer following surgery to remove a broken bone in the palm of her left hand. As if to prove South Korea's dominance, Shin's compatriot Inbee Park was runner-up. Creamer finished third after playing the last four holes in four-under, courtesy of an eagle and two birdies.
Alistair Tait wonders if the win means we might see even more domination in 2013 from Asia's finest:
Asian golfers currently dominate the Rolex Women's World Golf Rankings. They hold eight of the top 10 positions. Lewis is second behind Yani Tseng, with Norway's Suzann Pettersen is No. 6. Shin is No. 10 but will move up after this win.

Given this year's majors and the world rankings, the pertinent question seems to be: Who will be the next non-Asian major winner? Indeed, with the Evian Masters becoming the fifth major next year, Asia's dominance of the big events could deepen. No one would be surprised if all five next year fell into Asian hands.
Sunday, September 16, 2012 at 11:39 PM
20 Comments
|
in
LPGA