While the tournament formerly known as The Dinah gets ready to start this week under yet another name--the ANA Inspiration--Bill Fields files a nice remembrance to ESPNW recalling how the tournament evolved and its most famous tradition came into play.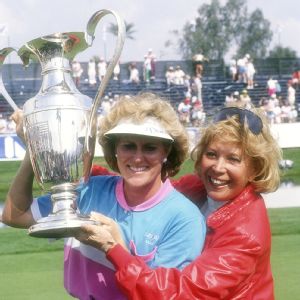 There was also this, which is a reminder that the purse was once the biggest in women's golf before the event became a major:
LPGA legend Mickey Wright came out of retirement in 1973 to win the event that was then -- and still -- referred to by many as "The Dinah" even though the entertainer's name was controversially removed from the title in 2000. Wright's victory presaged a trend: Just as most of the finest male golfers have tended to win the Masters in their careers, the best female golfers of their eras have prevailed at Mission Hills.
Monday, March 30, 2015 at 11:12 PM
22 Comments
|
in
LPGA