Not much came out of the "boys-will-be-boys" European team press conference, but Francesco Molinari did establish himself as one of the classiest golfers on the planet by revealing that he wanted to concede the 18th hole to Tiger Woods. With the matches decided, the celebration ensuing and chaos having overtaken Medinah's home hole, this was no longer a competitive landscape.
Bob Harig on that scene and understandable celebration after Martin Kaymer's putt:
The chaos on the 18th green carried on for several minutes. Dozens of people from the European entourage were there, as well as media conducting interviews. If it didn't matter, perhaps Woods and Molinari should have walked off, Woods getting the point and the match ending in a tie.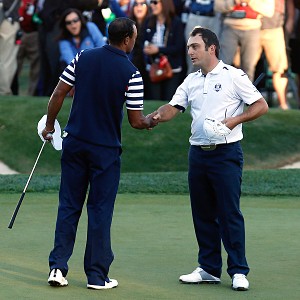 With over 1600 votes in our instant poll, it's a virtual 50-50 dead heat between those saying the ending was just fine and those wishing Europe had conceded the match to Woods to finish an amazing cup off in a 14-14 tie.
Harig noted the significance of this:
Only twice in Ryder Cup history has the event ended in a tie, and, although the circumstances were far different, you can bet that the Great Britain & Ireland team was thrilled with the 16-16 score in 1969 even though the Americans retained the Cup.

That was the famous "Concession" when Jack Nicklaus conceded a putt to England's Tony Jacklin on the final green. Had Jacklin missed the short putt, he would have lost his match to Nicklaus and the U.S. would have won. Instead, they halved the match and the overall Ryder Cup ended in a tie -- with the U.S. retaining the Cup.
I've tried to consider Captain Olazabal's thinking, and the only reason I can come up with for continuing to play the last half of the 18th hole was due to something in the Captain's agreement about finishing all matches.
But according to Molinari, that was not what his Captain suggested:
You know, I thought about giving him the halve on the fairway, but then the Captain was there, the Chairman was the there, they told me, it's not the same, winning or halving, so get focused and do your best, and that's what I did. So I just tried to win the hole, to win the tournament, basically.
He's right, winning and halving are not the same. Winning is winning and the Europeans are to be commended for clutch play.
However, halving in this instance as the result of a goodwill concession probably goes down as one of the great acts of sportsmanship in golf history.
Monday, October 1, 2012 at 10:49 AM
75 Comments
|
in
2012 Ryder Cup