Day two of the match play is complete and your sweet sixteen is set: Snedeker, Rory, Kaymer, Kuchar, Westwood, Watney, Hanson, Jimenez, Laird, Lawrie, Stricker, Mahan, Wilson, Dustin, Senden and Moon.

Thursday's AP match notes (in an itty-bitty font size) include items on Hunter Mahan's stunning 9 birdies in 15 holes, Dustin Johnson's rout, the Lawrie-Laird Scottish showdown and Hanson's easy win over Ernie Els.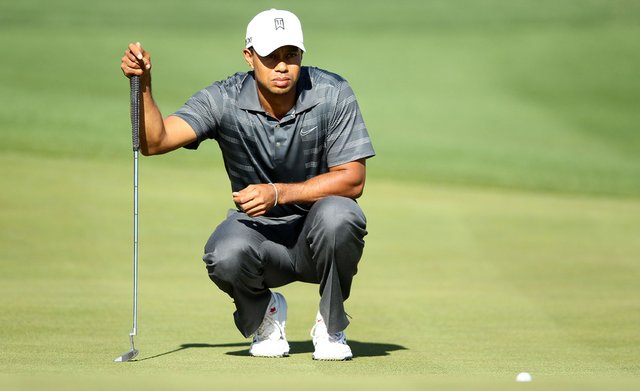 Jim McCabe with round 3 predictions and tee times. Gary Van Sickle's day three picks. Alex Myers with his day three picks.

As for day two's most prominent loss, travel agents were overwhelmed by calls from media outlets trying to get their folks out of town following Tiger's defeat at the hands of Nick Watney. From Doug Ferguson's game story:
In what is becoming a troubling trend for Woods, he missed the birdie putt so badly that it never even touched the hole, giving Watney a 1-up victory Thursday in the Match Play Championship.

It was the third straight time that Woods, a three-time champion in this event, failed to get out of the second round.

"I didn't miss a single shot coming in, which is good. And that was fun, to hit the ball that well," Woods said. "Unfortunately, I just didn't make a putt when I needed it."

Woods missed three putts inside 10 feet over the last six holes, none more important than the last one.
Jeff Rude thinks Woods was partly a victim of Nicklaus's unpopular Dove Mountain greens.
The greens here on the Jack Nicklaus design are wild and hilly. They are tricky because of all the slopes and grain and valley effect. Figuring out a putt can be like taking a science exam.

Woods did not pass.

He missed seven putts inside of 15 feet, all but one for birdies. Five of the misses were in the range of 5-10 feet. The longest of the three birdie putts he made was 6 feet, on a 335-yard driveable par 4; the two others were tap-ins on par 5s. His longest make was on a 14 1/2-foot par save at the fifth.

"They're hard to read," he said for the second day.

They seemed to baffle him from start to painful finish. After a terrific drive and 188-yard approach shot at the 480-yard 18th, he missed an uphill 5 1/2-foot birdie putt that would have won the hole and extended the match.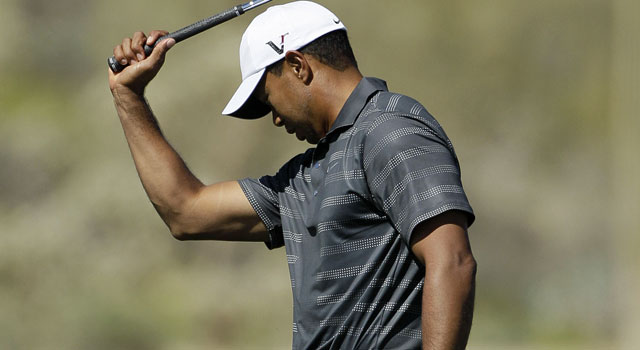 Steve Elling observes that Tiger needs his A game to win these days.
In fact, if there's anything we've learned over the past 2 1/2 years, it's that Woods can no longer win with his so-called B Game. It's been a talking point for months, though mostly in the form of locker-room whispers, and it was underscored again this week when he barely escaped his careening, opening-round match with a 1-up win.

In fact, if he putts the way he has in his two PGA Tour starts -- which included missing five times from five feet or closer in the final round at Pebble Beach -- he's going to have trouble winning matches for pocket money at his home club in South Florida.

"I should be able to fix it in about a day," Woods said tersely.

Um, with all due respect, we're going on, like, three years. At least compared to what we've grown accustomed to seeing, anyway.
Robert Lusetich couldn't help but note the artistry of Tiger's post round analysis.
"I hit the ball well all day today. Unfortunately, I just did not make enough putts to extend the match."

This is his standard fallback position when there are bigger picture questions begging for answers.

Baffle his questioners with the minutae of mechanics.

But what does it all mean, Tiger?

Maybe not much?

Maybe it's just that he doesn't like this course — and he's not alone in that — and wants to get back to the comfort of Florida, where next week he tees it up at the Honda Classic?

Maybe being back on Bermuda greens is the elixir?
Thursday's highlights:
Thursday, February 23, 2012 at 09:33 PM
35 Comments
|
in
2012 PGA Tour,
Tiger Woods,
WGC Match Play