Yes the 4 pm Central start means East Coasters can get home just in time for the Captains speeches while Pacific Time zone fans will just have to DVR Golf Channel's live telecast (you can also watch at RyderCup.com or on the Ryder Cup app).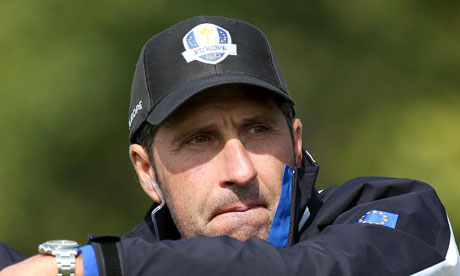 However, The Guardian's Scott Murray reminds us, the ceremonies have been the source of some fantastic moments.
In 2004, the freewheelin' Hal Sutton went one better, forgetting how many children he had. Having thanked his fourth wife Ashley for providing him with three kids, Halimony was forced to quickly backtrack as Mrs Sutton held up four fingers as a prompt. That she didn't configure those fingers in two groups of two is to her credit. Sutton, clearly not at the races, spent the rest of the week gadding about in an outsized cowboy hat, and pairing Tiger Woods with Phil Mickelson. The US were thrashed.

But perhaps Nick Faldo's efforts in 2008 did the most to give the opposing team a boost. He referred to Soren Hansen as Soren Stenson, suggested Padraig Harrington had hit more practice shots than there are potatoes in Ireland, and told Graeme McDowell it made little difference whether he came from Northern Ireland or the Republic.
Thursday, September 27, 2012 at 04:35 AM
14 Comments
|
in
2012 Ryder Cup