Brian Keogh's source in the Rory McIlroy camp says the lad practiced Saturday and will speak "honestly" about his embarrassing WD during Friday's second round of the Bear Trap Classic.
According to a friend, who was speaking on condition on anonymity, the world number one will speak honestly about his implosion when he gives a media conference on Tuesday morning ahead of the WGC-Cadillac Championship at Doral in Miami.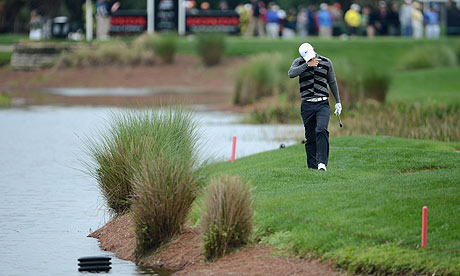 **It's been moved to Wednesday.
Meanwhile Tiger offered some advice for Rory through the reporters who asked him about the incident, reports Ewan Murray.
Advice for McIlroy soon arrived from Tiger Woods, a man who knows a thing or two about negative publicity. "He's just got to be more – just got to think about it a little bit more before you say something or do something," Woods said.

"It can get out of hand, especially when you get into social media and start tweeting and all those different things that can go wrong."
And James Corrigan offered this interpretation of Tiger's comments when pointing out this chain of events that McIlroy will be forced to address.
In other words, do not tell the truth. The saddest part of this farce could be the ending of McIlroy's innocence. He is too honest for his own good. If he had told the journalists who interviewed the defending champion immediately after his withdrawal "I have so and so wrong with my body" then there would have been no outcry. Yet he did not and there was.

McIlroy was asked three times if a physical problem had forced his premature exit. Each time he replied "no". "I'm not in a good place mentally," he said.

Then the story changed to a sore wisdom tooth, before a picture was released of him munching a sandwich moments before he headed for the car-park. Cue ridicule mixed with a layer or two of outrage.
Saturday, March 2, 2013 at 11:01 PM
51 Comments
|
in
2013 PGA Tour,
Rory McIIroy,
Tiger Woods