By the time you read this they'll be well into round 2 in Dubai, nonetheless an entertaining game story holds up any day of the week. First, Lawrence Donegan reporting on day one for The Guardian:

Not only did he find the middle of the fairway, he did so some 50 yards in front of his playing partners, Colin Montgomerie and Niclas Fasth, great players both but made to look at times like club pros in comparison.

Montgomerie, in particular, bore a look of humiliation. The Scotsman holed a birdie putt on the 4th green - their 13th - to pull level with Woods on four under par, yet took seven shots more than the world No1 over the final five holes. He looked inconsolable afterwards, although he might have been gladdened to hear that Woods enjoyed his company. "There are certain guys I always enjoy playing with and Monty is one of them," Woods said. "He usually drives the ball on a string but he missed a couple today."

Wow, I almost felt bad for Monty there. Nice going Lawrence.
Oh and this priceless:
Poulter's reputation for saying what is on his mind was established long ago - it is what makes him such an appealing figure - so the game's historians are unlikely to dwell too long on this latest furore. One person who is unlikely to forget in a hurry, however, is Tiger Woods, who took time out of his busy schedule to pass comment on Poulter. "So he's No2 in the world rankings now." The world No1 is not a fan of overtly confident players, even those who claim to have been misquoted, and relishes every opportunity to remind them of their station in life.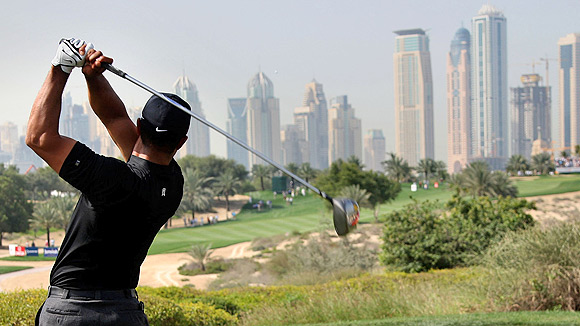 Meanwhile
Bob Smiley
has been sent to Dubai for ESPN.com and
files an entertaining take
on the sights and sounds. Love the photo that went with the story too (left).
The one rule that no one seems particularly worried about (except for Tiger's caddie Steve Williams) is the fact that almost everyone in the gallery has cameras. And not the little cameras people hide in their pockets in the U.S. I'm talking about big ones with 12-inch zooms. The most egregious rule breaker was the guy next to me on No. 10 who filmed Tiger's tee shot with both his video camera and still camera … at the same time.

But to be fair, what can you expect when the crowd is almost 100 percent tourists? Unlike every other tournament in the world, no one here is actually from Dubai. People from India and England make up most of the crowd, but over the course of the round I pick up German, French, Chinese, even Russian. According to Ali, a Dubai-based Brit I meet along the 13th hole, golf is gaining popularity in Dubai, but at the end of the day most Arabs find golf "completely boring."

The comment reminded me of my taxi driver from the airport. When he asked why I was here, I said, "to watch Tiger Woods," which was met with the surprising answer of "Who?" "Tiger Woods?," I said. And then, not believing I had to add it, "The golfer?" Finally, it clicked. "Ah. Yes," he said, then kept driving. It wasn't exactly the exciting response Nike, Gatorade and Buick expect to be generated by their biggest spokesman.