Today's LA Times Special Section Front Page (click to enlarge)This should be the final Woods accident clippings edition but after reading various accounts, it appears the decision to avoid the police Sunday, hire a criminal defense attorney and offer an incomplete statement is only raising more questions both in the press and law enforcement circles.
TMZ.com is reporting that the Florida Highway Patrol apparently is focused on obtaining a search warrant to seize medical records from the hospital to determine if wounds Tiger sustained are consistent with a car accident or domestic violence. They also are getting conflicting stories:
One big piece of evidence showing probable cause ... sources tell us Tiger's wife, Elin Nordegren told FHP troopers she went looking for Tiger in a golf cart, came upon the accident and then used a golf club to break the window to gain entry. That's a very different story from what she first told Windemere cops shortly after the accident -- she never mentioned a golf cart. Nordegren told Windemere police she had walked out of her house, saw the crash, went back inside to get a golf club and returned to the vehicle.
Also startling from a media perspective was this series of questions posed by AP's Fred Goodall in the main wire story, most definitely not column setting:
Even with his first public comments on the 2:25 a.m. Friday accident, Woods left several questions.

— Where he was going at that time of the night?

— How did he lose control of his SUV at such a speed that the air bags didn't deploy?

— Why were both rear windows of the Cadillac Escalade smashed?

— If it was a careless mistake, why not speak to state troopers trying to wrap the investigation?
golf.com's Michael Bamberger talks to several lawyers and concludes:
Tiger Woods's post-accident strategy, legal and otherwise, is now becoming clear: say as little as possible. And do whatever he can to make sure his wife, Elin Nordegren Woods, does the same.
And he shared this from attorney Bill Wallshein:
"The public is expecting the state to do a thorough job here," Wallshein said. "Woods is in a Catch-22." Had he answered investigators questions, Woods would have given information that he regards as private to, in essence, the public. He also would have opened himself to possible perjury charges had he made untruthful statements. But by not answering investigators questions, he risks increasing their desire to dig deeper. The bottom line, though, is that there are no serious injuries and only minor physical damage. The legal upshot will likely be nothing more than a traffic ticket.
No one nailed it better than Steve Elling in a must read column explaining why Tiger needs to confront this publicly, do it now and move on.
With every passing hour that he remains holed up and mostly unresponsive, public sentiment is turning against Tiger Woods, a guy with a Teflon image, a Q-rating that's off the charts and a public persona that has made him a role model to millions of impressionable fans.

The tide of sentiment is growing into a tsunami, even among the striped one's faithful.

It has come to this: Woods is being excoriated by visitors to his own website, where his evasiveness and stonewalling regarding the details surrounding his mysterious late-night car crash and alleged extra-marital relationship have turned the site into a free-fire zone
After sharing some of the more interesting site posts, Elling notes this about the Team Tiger support and response:
Woods employs an armada of managers, spokespersons and website writers -- more than any other sports figure I can think of. Off the top of my head, between his charitable foundation, personal spokesman, his IMG management and such, I can think of a half-dozen different founts of potential information at his disposal. Either they aren't giving him the counsel he seemingly needs, he's not listening, or he's getting bad advice and choosing to follow it.
And he makes several killer points to wrap it up, but none more powerful than this:
There are a trillion examples in sports where honesty, or at least some degree of full disclosure, has bought a prominent athlete some currency with the public. That path eventually led to forgiveness. Even for the likes of Kobe Bryant. Andy Pettitte came clean on the steroid front and survived just fine. They all faced the music, but Tiger is turning a deaf ear.
That said, Elling then points out in a blog post why it's unlikely we'll see Tiger this week at Sherwood.
Lawrence Donegan of The Guardian offers this about a possible appearance this week:
Whether or not he will be able to hold back the tide of speculation that has engulfed his carefully nurtured reputation over the last three days remains to be seen. He is due to make his first public appearance since the accident at a press conference on Tuesday in southern California, at his annual golf tournament, the Chevron World Challenge, at Sherwood country club.

In normal circumstances, his meeting with the media would concentrate on the event – it raises funds for his charitable foundation – and the state of his golf game but, assuming Woods does not withdraw because of his injuries, it now threatens to rival Michael Jackson's funeral as one of the most watched cable news events of the year.
James Corrigan on the email from tournament organizers still don't know Tiger's status for this week:
Organisers of the Chevron World Challenger admitted yesterday they were still in the dark as to whether Tiger Woods would be playing in California this week. And seeing as the world No 1 is the host of the event this was an unprecedented situation.

But then, the game of golf never has known anything like the furore created by The Great Tiger Car Crash Mystery.
Frank Nobilo at Golf Channel also weighed in with some interesting thoughts on what this will mean for Tiger on the course (not much), of course (a lot) and this week (not sure).
Besides Tiger's statement (check out Deadspin's take on it) and the release of the 911 call Sunday and new images of the Escalade, the Florida Highway Patrol released a less-than-cheery-sounding statement.

But in keeping with the say-nothing theme, agent Mark Steinberg reiterated to CNBC's Darren Rovell that his client doesn't have to say anything and won't:
"We have been informed by the Florida Highway Patrol that further discussion with them is both voluntary and optional," Mark Steinberg, senior vice president and global managing director of golf for IMG, told CNBC.

"Although Tiger realizes that there is a great deal of public curiosity, it has been conveyed to FHP that he simply has nothing more to add and wishes to protect the privacy of his family."
And I know you were worried, but Tiger has Nike's full support:
"Tiger and his family have Nike's full support," the statement said. "We respect Tiger's request for privacy and our thoughts are with Tiger and his family at this time."
Randell Mell tells us more on Tiger's attorney, Mark NeJame:
NeJame, whose name didn't emerge in the investigation until Sunday, appears to be more than a criminal defense attorney. He has proven an effective spokesman for clients under intense media scrutiny.

NeJame was described as "media savvy" by Orlando Weekly Magazine when it first ranked him among the 50 most powerful people in Orlando a few years back. When Orlando Magazine put him in its 50 Most Powerful People listing in 2005, it touted him as having a client list "that includes public officials who find themselves in hot water."

This past year, NeJame represented Jonathan Speegle, who was accused of pushing his girlfriend, Nichole Hammond, to her death over a balcony at the Orlando World Center Marriott Resort on New Year's Eve. All charges were dropped. NeJame once represented Cindy and George Anthony, the parents of Casey Anthony, who was charged with first-degree murder in the death of her 2-year-old daughter, Caylee
John Hopkins of The Times contemplates Tiger's recent on-course issues and drops this tidbit:
Now, though, Woods is in the Age of Mystery and Scrutiny. The mystery surrounds his marriage, which is rumoured to have been in trouble for some months. There have been stories of confrontations when Elin has tackled her husband.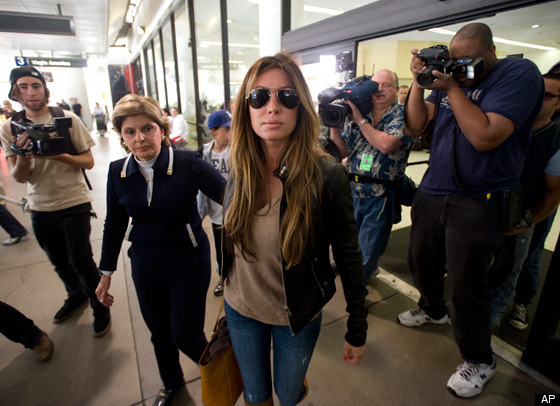 As for Rachel Uchitel, it was just your basic low profile arrival at LAX. Based on the National Enquirer's first response to her denials, attorney Gloria Allred, hired by Uchitel, is going to have her work cut out for here.
Finally, beyond the emotional and physical bruises this has inflicted on Tiger, The Times' Simon Barnes gets to the heart of why this is so intriguing to the public and why the incident is both revealing and potentially deadly to Woods' earning power:
But for a dozen years Woods has presented himself to the world, and been represented by just about everyone he has come into contact with, as someone from another order of being. He and those around him have conspired to hide his humanity.

Why should anyone do such a thing? Because there's money in it, obviously.

Whatever you do, whatever you think, whatever you say, never, never, never rock the corporate boat.

That is what Woods has made himself: an expression of the central importance in life of the corporate dollar. So he has made his millions and the companies around him have made their billions — and it has all come about by presenting the world an illusion. A pseudo-Tiger, a false vision of a perfect being, so perfect that scarcely an atom of his real personality — any personality — is discernible.
**In the above-linked John Hopkins story, it appears content that originally appeared was deleted online but did make a syndicated version of the story in the New York Post.
Now, though, Woods is in the Age of Mystery and Scrutiny. The mystery surrounds his marriage, which is rumoured to have been in trouble for some months. There have been stories of confrontations when Elin has tackled her husband.
The full version in today's Post, courtesy of reader Tuco:
Now, though, Woods is in the Age of Mystery and Scrutiny. The mystery surrounds his marriage, which is rumored to have been in trouble for some months. There have been stories of confrontations when Elin has tackled her husband about alleged misdemeanors. One is thought to have occurred at the Open at Turnberry last July, where it is alleged that about $16,500 worth of damage was done to the house where Woods was staying.