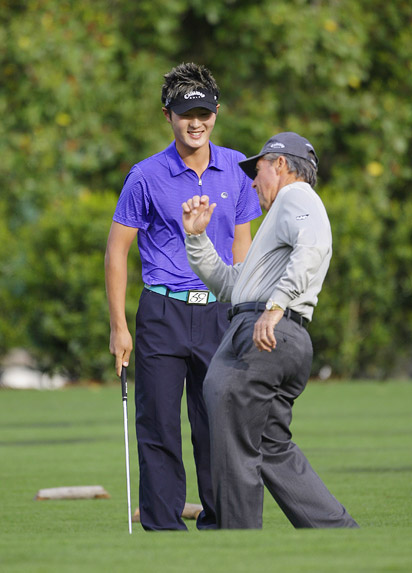 Wright Thompson files an excellent ESPN.com profile of Gary Player and Danny Lee's IMG-coordinated bond contrasted experiences at last week's Masters. (Shockingly, Lee announced his signing with Cleveland's finest today.) Besides some priceless stuff about the Player "brand," Thompson shares this anecdote about Lee's back nine 47 Friday.
When we left Danny, he was cruising on the eighth hole. On the next hole, the wheels began to fall off, a double-bogey, a little taste of his what's to come. Friday, he starts strong, eagling No. 8, birdieing 9 and then coming to the hole that would be his undoing: 10. He six-putts from about 10 feet. Twice more coming home to an 81, he double-bogeys, unraveling on national TV. "Now he's just spooked," IMG's Kevin Lynch says after the second double-bogey.
A 6-putt?
More disturbing is the IMG presence all week in Lee's life talking about "Danny Lee Inc." and this...
For now, in the last days of one life, it's hard to get him to focus on serious business discussions; he's more likely to slip out of the room to play video games.

"He's kidlike," Yim says. "He likes cartoons."