Sure looks to me like there were a lot of scribblers happy they didn't have to stay for a playoff based on the spirited reporting. Here goes, starting with Doug Ferguson's game story.
Lucas Glover steadied his hands for a 3-foot par putt on the 18th hole, an anticlimatic finish to five dreary days at a U.S. Open filled with more delays than drama.

The unlikely champion turned to soak up a beautiful sight beneath gathering clouds Monday at Bethpage Black.

"I just looked at the scoreboard to make sure this was really happening," Glover said.
Larry Dorman in the New York Times:
The United States Open concluded its rainy, muddy and chaotic five-day run at Bethpage Black on Monday, and it turned out to be more about grit than glamour, more grinding than grinning.
Cameron Morfit on Glover walking away from golf last fall and how that may have resurrected his career.


Steve Elling on Glover and how memories of Dick Harmon choked up the champion up after the round.
Sean Martin talks to caddy Don Cooper about the misunderstood Glover and their strategic approach to No. 18.

Golfweek posts video of this exclusive post round chat and this video of Alex Miceli's reaction along with more on Glover.

Here's his post-round interview in the press center.

The SI group kicks around this week's event and focuses mostly on Glover, with some chatter at the end about Bethpage's prospects.

Bill Pennington is with Phil Mickelson after the round and takes us inside the locker room to give some insight into how he's handling his 5th U.S. Open runner-up finish.

Gene Wojciechowski says Phil didn't blow this one and he won't dwell on it long.

Thomas Bonk on the men who almost won the Open and the wide array of reactions to losing.

Gary Van Sickle on Tiger's quick exit and his issues with slow poa greens.

Brad Klein goes inside NBC's broadcast center to explain how the final round telecast was produced.

John Strege on a call David Duval made to his sports psychologist last week that probably helped his cause.

Strege also posts some miscellaneous notes.

An AP story on Hunter Mahan's horrible break at No. 16.

Ryan Ballengee wonders if New York is on the verge of becoming majorless for a while.

Tom Dunne with some miscellaneous thoughts about the week.

Mark Soltau puts together the best quotes of the day.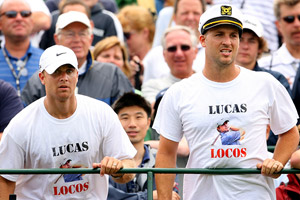 Michael Bamberger dissects face gestures and player jargon.
Dave Kindred on some of Lucas Glover's fans. Bob Harig talks to the same guys, who sported special shirts and oh yeah, they're related.

Golf.com offers a 3-d photo gallery.
And finally, I didn't see much on the decision to move the 18th tee up, but there have already been plenty of comments about how the decision was somehow a mistake in setup tactics because Lucas Glover hit 6 iron off the tee. I can see the hole location being debated, but let's not forget, it's just a really bad hole.