They'll be slicing and dicing this one for a while.
From Tiger's post round take, to Yang's dynamic personality and epic shot on 18, to the gamesmanship or lack thereof, and to that silly rough around the greens to the CBS exec who insisted on showing us a Michael Vick clip as the leaders reached the terrifying 16th, the 91st PGA that was looking like a typical Tiger coronation turned into one for the ages.

Get ready to scroll and click...
Lede Watch - Reporter Division

Doug Ferguson filing for AP:
In a year of spoilers at the majors, Y.E. Yang was the biggest of all. He toppled the mighty Tiger Woods.
There's also some great video at the link of Yang hoisting his bag before Alex Miceli puts his grubby mitts all over the Wannamaker.
Unbylined from Seoul's Gook-Min Ilbo newspaper:
바람의 아들' 양용은(37.테일러메이드)이 한국인 최초로 메이저골프대회를 제패하며 한국골프의 역사를 새로 썼다.
Now that is one tight lede.

Larry Dorman in the New York Times:
Y. E. Yang, ranked No. 110 in the world, took on No. 1 Tiger Woods and never blinked.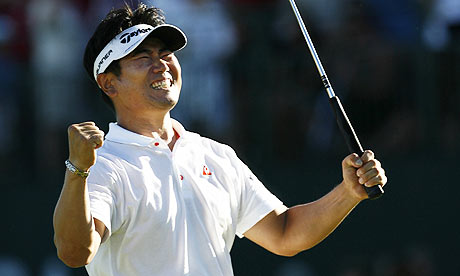 Lawrence Donegan, writing for The Guardian:
The final day of the 2009 US PGA Championship at Hazeltine yesterday provided the epic battle everyone had predicted and a challenger to Tiger Woods that no one could have foreseen.
Mark Lamport-Stokes for Reuters:
South Korean Yang Yong-eun entered territory where no Asian male had gone before when he upstaged Tiger Woods by winning the U.S. PGA Championship by three strokes on Sunday.
Mark Reason in the Telegraph:
Y E Yang became the first Asian man to win a major and he did it by beating Tiger Woods down the stretch. That's a bit like Manny Pacquiao knocking out Muhammad Ali in the 15th round.
Derek Lawrenson in the Daily Mail:
A major championship year notable for delivering surprise results came up with the biggest of the lot when Korean Y.E Yang beat Tiger Woods to the US PGA title to become the first Asian to win one of the four glittering prizes.
Karl MacGinty in the Belfast Telegraph:
Tiger Woods' search for a 15th major victory will have to go on after world number 110 YE Yang stormed to victory in the 91st US PGA Championship.
James Corrigan in the Independent:
Asian golf was last night celebrating a historic first victory in a male major as YE Yang was crowned the USPGA champion. But for the rest of the world it was the defeat of Tiger Woods, and the destruction of part of his aura, which was sure to attract the more sensational headlines. Believe it, this was also a historic day in the Tiger legend.
And my favorite fittingly comes from the hometown paper. Tad Reeve in the Pioneer Press:
Hazeltine National Golf Club can stop fretting about Dave Hill's cornfield-and-cows crack four decades ago. After Sunday, it will be better known as Tiger Woods' unofficial burial ground.

Lede Watch - Columnist Division
Gary Van Sickle writes for golf.com:
And so ends the Year of the Buzzkill. Korea's Y.E. Yang made sure the major championship season concluded just as it began-in disbelief, disappointment and discombobulation.
Gene Wojciechowski goes all Jack Buck on us for ESPN.com:
I can't believe what I just saw.

I can't believe I just saw Y.E. Yang win the PGA Championship. I can't believe I just saw Tiger Woods lose it.
Peter Dixon for The Times:
It seems churlish to mention it at such a time, but the 2009 season will not go down as a classic in terms of the major championships. What odds would you have got on a fourball made up of Angel Cabrera, Lucas Glover, Stewart Cink and Yang Yong Eun waltzing off with, in order, the Masters, the US Open, the Open and the US PGA Championship? Pretty good ones is the answer.
Bob Harig for ESPN.com:
The lesson is simple. It has just taken a while to grasp. For all of the consternation over the lack of challengers to Tiger Woods, we have failed to look in the proper place.

The biggest threats come from those who are household names only in their own households, who are given odds of prevailing that are longer than Lake Superior, who somehow muster the moxie at the moment when others melt.
John Hopkins, writing for The Times:
The world of golf has turned on its axis as a result of Yang Yong Eun's stunning victory at Hazeltine.

Y.E. Yang - The Winner
Y.E. Yang's press conference where his personality came out despite the potential for filtering from his agent. And his Honda Classic presser from earlier this year, or as Tiger called it, the win in "West Palm." Still a Buick man at heart.
Steve Elling opens his piece with an early year anecdote about the self-effacing Yang that speaks to his wonderfully original personality.
Michael Buteau on caddie A.J. Montecinos a sobbing Young Ju Yang, wife to the champion.
David Dusek on what's in Yang's bag, including the 19 and 21 degree hybrids which appeared to be oh so handy. Wonder if he clears the trees on 18 with a traditional 3 iron?
Randell Mell writes for GolfChannel.com:
Yang, 37, will forever be South Korea's version of Francis Ouimet, the former American caddie who took down legendary Brits Harry Vardon and Ted Ray at the 1913 U.S. Open in one of the greatest upsets in history. His victory with Woods in the field at the European Tour's HSBC Champions Tournament in China in 2006 makes him golf's only Tiger Tamer.
The SI conglomerate of golfing nation brands debates the impact of Yang's win with guest Ty Votaw,who quietly reminds us that new Kapalua sponsor SBS is going to be pretty happy next January. This was also interesting:
Not sure you can say "Golf in Asia was already big." Maybe so in Japan, where 8 percent of the population plays golf, and maybe in Korea, which has 46 players on the LPGA Tour. But in most other parts of Asia, and especially in China, golf is growing, but not big. In fact, golf in China is considered more of a leisure activity than it is a sport. Y.E. Yang's win and the Olympic news could change that perception overnight.
Tiger Woods - Shocking Runner Up Division
Tiger's press conference where some suggest he's sounding like a man in denial, which I can see. But I also think he's sounding like a real gentleman who declined to blame his win on really chintzy hack-out rough next to the greens.
A Golfweek video package shows what it was like to follow Tiger and Yang in those 15-deep crowds.
Thomas Bonk writes for GolfDigest.com:
His body language spoke volumes. And let's just say the rigid posture, the tight-lipped expression and the straight-ahead look pretty much screamed out loud.

Tiger was not happy and he wasn't going to spend any more time around this place than he needed to -- which would mean, well, no time at all. Woods was going places, fast. The private jet back to Florida was probably already revving its engines on the runway, waiting for him to jump in, plop down in the leather seat, sit back, close his eyes and spend the next several hours thinking about how he had lost the PGA Championship to Y.E. Yang.
Cameron Morfit for golf.com on the post round exit:
After Woods bogeyed the last two holes to lose to Yang by three shots, he met with the media and blamed his faulty putting, then went to the parking lot and hugged his wife, Elin, who handed over their 7-month-old son, Charlie. After a lengthy car-seat transfer from Elin's courtesey Mercedes into Tiger's Buick, Team Tiger's motorcade left Hazeltine.

No truth to the rumor that their headlights were on.

A large crowd watched from a barricade by the parking lot, stunned at what had transpired over the final nine. Yang: 34. Woods: 37. It was as if we were waiting for Tiger to lean out the driver's side window and yelp, "Just kidding!"

Yang shocks Woods! It reads like a headline from The Onion.
Rich Lerner's wrap up essay for Golf Channel:
Over the course of a long career, this was going to happen; he was never going to run the table. He only made it seem that way, to his everlasting credit.

He's still the surest, safest bet in sports. He's still well ahead of pace to break Jack Nicklaus' record.

And the next time he takes a two-shot lead into a final round, he'll be as much of a favorite as he's always been. But not invincible.

Padraig Harrington - Who Won't Be Selling Wedge Game Videos Anytime Soon
Dave Kindred on the 8 on 8 and the post round discussion that lasted 30 minutes.
Here, someone asked about an eerily similar meltdown just last week when he twice hit shots into the pond by the 16th green at Firestone Country Club, handing that tournament to Woods. "You folks do ask some questions, don't you?" he said. "As I said, these things happen. But I'm not going to mull over them."
Jon Krawcynzki features this bizarro quote about the 8 in his AP story:
"It was a difficult tee shot and it was obviously a difficult second shot after you hit it in the water and pulled it left," Harrington said. "I had been changing my chipping action a little, and I probably was more into what I was doing rather than trying to get the ball up-and-down, and you know, I hit a bad shot. So these things happen."
Philip Reid with a Tiger gym sighting and a Q&A with Padraig that is disturbing on a level I can't begin to describe. Favorite hole, the 5th at Pebble Beach!? Never paid a green fee? Dream foursome: Obama, McCain and gulp, Hugh Hefner?

The Others and Miscellaneous Notes, Quotes and Anecdotes
AP Notes on Phil, Glover, qualifiers for next year, Sean O'Hair's super fast round (really) and Jim Furyk.
Peter Dixon on another missed opportunity for Lee Westwood.
Randell Mell on Fred Couples hoping that Amy Mickelson returns to golf at the Presidents Cup.
And because I know CBS just forgot, here are the final Presidents Cup teams on points.
Low club pro Greg Bisconti files his final diary piece for GolfDigest.com and reveals that he had a little speech prepared for a Tiger win. I'm sure CBS would have loved that!
Mark Soltau's lipouts compiles the best quotes of the day.
Weinman and Johnson's birdies and bogeys include this follow up on the Irish Bookmaker Paddy Power:
Bogey: Irish Bookmaker Paddy Power -- The betting agency puts out a press release stating it took a major hit. Not on those who backed Yang (who was 150 to 1 at the start and still 16-1 on Sunday), but because it had offered an early payout option on Woods after he took a four-shot lead after 36 holes. The bookmaker said it lost $2.1 million pounds to those who cashed in early, commenting, "It takes a special kind of dimwit to turn what should have been our best ever golf result into our worst."

The Golf Course
Tad Reeve talks to Hazeltine super Jim Nicoi, who overcame 6 inches of rain in the Friday and Saturday before the tournament and several more scares during the week, including Sean O'Hair Sunday chasing the crew.
David Dusek talks to Geoff Ogilvy who gives the PGA and Hazeltine a big thumb's down for the silly rough around the greens.
Ogilvy said that the 2004 PGA Championship at Whistling Straits was the most enjoyable PGA Championship he's ever played.

"It's probably the least likely place where we play where they could ruin the setup," he said. "There are some very long tees we didn't play last time, but as far as propagating and harvesting absurd rough, which they seem to have done the last two years in the PGA, I just don't think Whistling Straits is a place where they are going to do that. I really enjoyed that PGA, but the others ones have been harder to enjoy because if you miss the green by a foot, you can have nothing."
Come on, Tiger found his ball on 17 and 18 just inches off the fringe!

Andrew Both also featured this from Ogilvy:
"The difficulty of your shot, in my opinion, should be (dictated by) the position it's in, not the lie it's in.

"I don't like how you can hit it in the same spot and one guy's got no chance and the other's perfect.

"Every player in the world comes off and says it's not the way of forwarding golf yet they keep doing it.''
Imagery
SI's final round images, GolfDigest.com shares the best of Getty Images. Golfweek's slideshow, minus music I can make fun of.
And finally, Dan Jenkins' Tweet O' The Day and hopefully not his last of 2009...