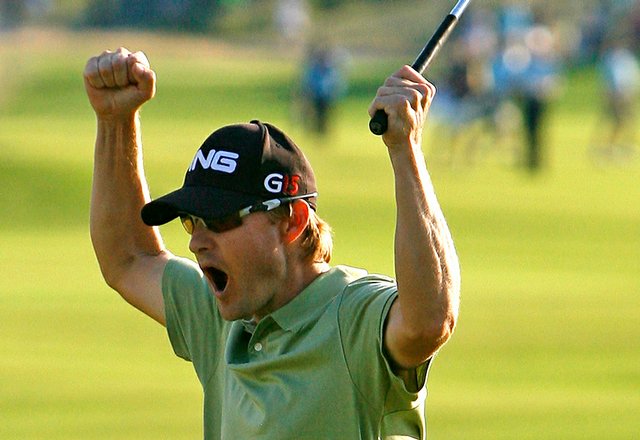 There's some nice reporting to check out on Heath Slocum's upset win at The Barclays. The scribblers surely had plenty of time to whip up some fun lines, since twosomes of the world's best took four and a half hours to get around Liberty National. I doubt it was because they were busy sketching out the architectural details. More likely all of the lift, clean and cheat drops to get away from the catch basin divot clusters.
That said, Ernie Els said "it's just a wonderful place to play golf." Remember that next time they go to Wentworth and everyone's wondering how Ernie could mess up such a great place.
Anyway, about Heath. From Doug Ferguson's AP story:
In the third year of these playoffs, the FedEx Cup finally has a winner that resembles a real underdog.

He qualified for these playoffs with two points to spare – he was No. 124 out of 125 players who advance to this postseason bonanza. His victory moves him to No. 3 in the standings, assuring him a spot in the Tour Championship and a shot at the $10 million prize.
Steve Elling writes:
Ladies and gentlemen, your underdog in the FedEx race has arrived, straight from the tiny Panhandle burgh of Milton, Fla., where characters like Boo Weekley and Bubba Watson also hang out.

There's a reason Heath doesn't have a colorful nickname. He's more of the accountant, librarian type, not tobacco-spitting extrovert like Weekley or a ball-vaporizing masher like Watson. If those guys are the strawberry and chocolate in a carton of Neopolitan ice cream, Heath is the vanilla.
And Jason Sobel shares a nice anecodate about Vicky Slocum before putting the win in perspective:
Even so, surging from that number to a victory at The Barclays is the equivalent of a sub-.500 club in a team sport earning a playoff series win. He is golf's version of the 1975-76 Detroit Pistons, who went 36-46 before scoring an opening-round postseason victory, or the 1985-86 Toronto Maple Leafs, who were 25-48-7 in the regular season, but also advanced. Speaking of playoffs, Slocum's final-hole putt avoided a five-man overtime with Woods, Els, Harrington and Stricker -- a quartet that has combined for 97 career PGA Tour titles and 20 major championships.