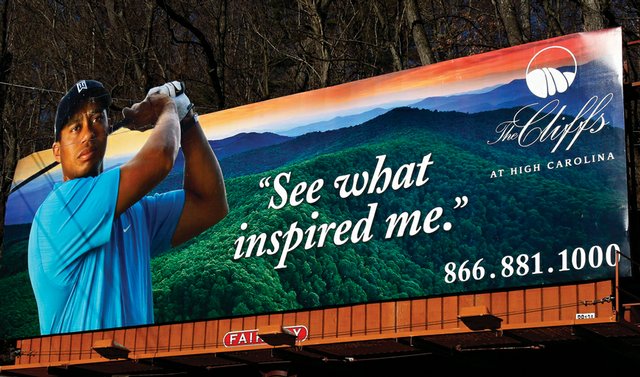 Gene Yasuda and Bradley S. Klein look at different elements of the Woods marketing empire, including the prospects for his design projects. Namely, The Cliffs in North Carolina.
In a promotional spot videotaped that day, he says: "With a wife and two kids, your perspective on life changes. I want to have my kids experience something like this. I want to be able to bring them up here and feel safe, feel secure and enjoy running the trails and being a part of nature like this. Because your priorities start changing and evolving once you have family, and I want to be able to come up here as often as I can."

The words ring empty now. So, too, does his development.

Even before Woods' life unraveled with an admission of infidelity, the battered economy made sales at High Carolina negligible: As of September, 29 lots had been sold for $29.2 million.

High Carolina officials didn't respond to repeated interview requests from Golfweek, but all indications are that the project has stalled. Executives at The Cliffs Communities, which owns the development, haven't announced how, or if, they'll change their marketing strategy. But any route they take could be challenging, considering what has been an almost singular reliance on Woods.
Jason Sobel makes the not-unreasonable point that Tiger really didn't enjoy playing golf anymore.
From temper tantrums after sprayed tee shots to profanity-laced tirades based on shifting wind directions, from faraway stares as awestruck fans chanted his name to a general look of utter disdain while playing the game, the No. 1-ranked player helped formulate my idea from inside the ropes. Finally, I understood what was eating at the man, why he looked so miserable while he so often dominated.

Tiger Woods no longer enjoys playing golf.

This theory is more relevant now than ever before, because it serves as an explanation for why his current self-imposed exile has continued into what would have been his first appearance of the PGA Tour season at Torrey Pines, and might extend longer than most of us realize.
The reader comments are worth reading...if you'd like to see just how insane some folks are.
The SI Confidential this week kicked around the Tiger-public relations effort and the gang draws the conclusion that Tiger's calling the shots and his desire for secrecy has made the situation far worse than it would have been had this been handled better.
Rick Lipsey, writer-reporter, Sports Illustrated: If Tiger and his team had dreamed up a worst-possible scenario for most every step of this mess, it wouldn't have been as bad as what's unfolded. If Tiger had issued a one-sentence "I'm going into rehab" statement, the rehab would've ended up as a non-event. Instead, the hoodie images get beamed around the world. As Farrell said way back, it's not the transgression that kills you, it's the cover up.

Shipnuck: Rick is correct is that this obsession with secrecy keeps hurting Tiger. He's always been a control freak and this story became uncontrollable a long time ago.

Van Sickle: Heads should roll at IMG, which continues to show that it has little interest in or understanding of the world's media. In their defense, the best spin doctor in the world couldn't diffuse this mess. It would be like trying to hold back Lake Michigan with a spork.

Lipsey: I disagree. A terrific adviser could have steered the TW ship differently and this whole thing would've been over, or on the relative backburner.

Michael Bamberger, senior writer, Sports Illustrated: I think Tiger's "strategy" of saying nothing will prove to be brilliant for him. He's rejecting all convention. In his silence he is saying what we've long suspected: I'm not doing any of this for you. Now it's confirmed. His attitude has always been take no prisoners. When he comes back, I'm guessing we'll see even more of that.
On a lighter note, Stephanie Wei couldn't help but notice that a PGA Tour rookie's Facebook photo looked eerily similar to a now infamous shot.
And finally, Mel Gibson continues to talk about Tiger...