Nice to see the scribblers focusing their day after reflections on the players, the historical context of Phil's win, Lee Westwood's sportsmanship and Tiger's performance.
One last lede, from the hometown paper's David Westin in the Augusta Chronicle:
Phil Mickelson had plenty of thrills left in his game after all. The chill bumps came later during an embrace with his wife, Amy, who is battling breast cancer and made a rare appearance to watch her husband win the 74th Masters Tournament and his third green jacket.
It doesn't really matter in the big scheme of things, but Phil moves to No. 2 in the world.


PHIL
Scott Michaux on the three-time champion:
The last year has been a draining blur for the Mickelsons with surgeries and treatments and daily medications that sap the energy out of a firecracker of a woman.

But their indomitable spirit prevails and continues to lift them to extraordinary moments like Sunday.
"We're just kind of figuring out the new normal," she said. "Hopefully we'll get back some of the old normal at some point."

The old normal has never left Mickelson inside (and not-infrequently outside) the ropes. His gambling nature remains a hallmark of his game.
Doug Ferguson for AP:
So, a tournament that started with the focus on a man who com mitted serial adultery, ended with a victory celebration that was much more family friendly.
Richard Williams in The Guardian:
It has always been easy for a European to snigger at Phil with his college-boy lope, his permanent goofy smile and his white-bread aura, and to dismiss Amy as the archetype of the perfectly formed, orthodontically corrected blondes who parade alongside their husbands at the opening ceremony of the Ryder Cup every other year. It has taken a dose of serious misfortune to make us realise that the Mickelsons are more than Barbie and Ken in golfing gear.
Rob Hodgetts for the BBC:
Phil Mickelson is the man Tiger Woods vowed to become.

Mickelson proved that you can be a class act and still win. The contrast between the pair could not be more stark.

Woods, emerging from a self-imposed break following his sex scandal, said at the beginning of the week that he would mend his ways. That he would be more aware of those around him, that he would treat the game with more respect. If wins came along, fine, but they would be irrelevant if he was not a better man. The jury is still out as to whether he has begun to change for the better.

But Mickelson is the total package. A family man, loved by fans for genuinely engaging with them, a brilliant player, an accomplished winner.
Ron Kroichick notes this:
Along the way, Mickelson showed that early-season form doesn't matter as much as comfort on Augusta National's sloping fairways and tricky greens. He posted only one top-10 in his first seven starts this year, then abruptly hopped to life when the stakes were highest.
Garry Smits has a similar thought:
To put a fine point on it: Augusta National lets Phil be Phil. Unlike a U.S. Open or British Open set-up (the two majors he hasn't won), Mickelson can afford a few mistakes that can result from the gambles he likes to take.

If the gambles happen at Winged Foot in 2006, it costs Mickelson a U.S. Open. At Augusta National, he scrambles and makes miracles happen.

"I am very relaxed at Augusta National because you don't have to be perfect," he said after his 72nd hole birdie put the finishing touches on a 16-under-par 272, three shots clear of Lee Westwood. "I hit a lot of great shots, but I made some bad swings and I was able to salvage par. I was able to get the ball, advance it far enough down by the green, where my short game could take over. That's why I feel so comfortable here."
Phillip Reid writes:
As Billy Foster remarked afterwards, his man Lee Westwood forced to play second-fiddle, he thought he had seen the greatest player – in terms of genius and creativity – when Seve Ballesteros was at his height. Now, he has revised those thoughts: Phil Mickelson, in his view, is The Man!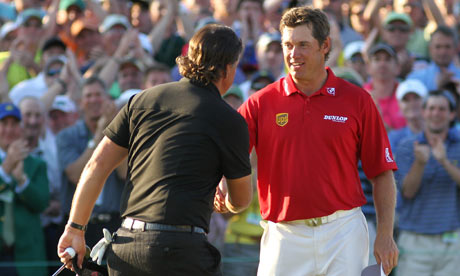 PHIL AND LEE
Lawrence Donegan in The Guardian:
Very few who watched Phil Mickelson's final-day 67, a mesmerising combination of the outrageous and the simply fantastic, could argue that the wrong man won and the self-aware Englishman was not about to make such a case. "Fair and square," he said of the left-hander's third victory at Augusta National. "Sixty seven generally wins major championships when people are there or thereabouts going into the last round. Phil hit good shots when he needed to around the back nine. That's what great champions do."
James Lawton on Westwood's class:
He didn't unravel this time, he just slugged it out with a man who, when the golfing muse settles on his shoulders, is capable of producing some of the most arresting, improbable shot-making we are ever likely to see.

Indeed, Westwood took defeat at the highest level of the game in the manner to which over the last few years we have become accustomed. He took it as another of those blows that can make a man who may be destined, one day, to be a champion strong at the latest broken place.
And finally, Clay Travis tweeted this image of Phil going through the Krispy Kreme drive thru Monday morning…in his green jacket!


TIGER
Randall Mell on Tiger:
For a guy who so rigorously guards his privacy, the intensifying scrutiny must be grating as he makes his way back from the public disgrace of his sex scandal. This, after all, is a guy who hated the excessive analysis of his golf swing. Imagine what the probing analysis of his character, integrity and very soul must be doing to him.

Woods' seven days in the public eye at the Masters must have felt like a lifetime.
Bill Simmons at ESPN.com weighs in on Tiger and Masters observations:
The first: After Tiger birdied the 72nd hole, Jim Nantz said that Tiger had "somehow managed a 69 out of all of this," followed by me giggling like Beavis and Butt-Head for the next 30 seconds. Tiger's week at Augusta couldn't have ended any other way.

The second: After Phil Mickelson's winning putt, when he was hugging his cancer-stricken wife and both of them were crying, I glanced over to the Sports Gal -- the same person who once cried during a 30-second Michael Jordan commercial -- and, of course, she was crying, only she decided to sum up her feelings by saying, "I hate Tiger Woods."

The third: Ten minutes after the tournament ended, Masters chairman Billy Payne hopped off his high horse, stood in front of the fireplace at Butler Cabin and greeted the CBS audience. I always find myself ignoring whatever he's saying and staring instead at the cabin, which looks like it was hastily put together by "Saturday Night Live" set designers between commercials after the final putt. Over the fireplace (which never has a fire going), sandwiched between bouquets of red azaleas, there's a color portrait of a golfer from the 1930s or 1940s (I think it's Bobby Jones) finishing a swing while wearing a hot yellow sweater. You can also kind of see a plant. And there's a beige door over Payne's left shoulder. It's one of the least interesting cabins ever.

And yet, the cabin always turns Nantz to jello. This year, Payne made his opening remarks and brought in his "good friend Jim Nantz," who came in sheepishly for a handshake. Payne congratulated him on a "great week and a wonderful, wonderful 25 years" while continuing the handshake, then putting his left hand on Nantz's hand for an emotional two-handed handshake. Nantz immediately responded by putting his left hand on Payne's right arm and said, "I appreciate that, what a day this was," and for a second, I thought they were going to start making out. Which, by the way, would have been awesome.
He also has some tough words for Billy Payne.
James Corrigan on Tiger's week:
On the Tuesday another affair emerged; on Wednesday the Augusta chairman Billy Payne scolded him in a prepared statement; on Thursday all the talk centred on the ill-considered Nike advertisement which featured his dead father talking from beyond the grave; on Friday arrived pictures from one of his mistresses' nearby striptease acts; on Saturday he was pilloried on the US's most famous entertainment show; on Sunday the American networks felt obliged to apologise for his cursing. And then came what should be the most important factor – the golf.

Little wonder Woods was surly in his post-round interview, saying in reference to his on-course strops: "People are making way too much of a big deal about this."
Brian Murphy says Tiger is "as pissed off as ever."
Just days after pledging to be reborn a warm and fuzzy golfer, Tiger Woods left Augusta National on Sunday evening prickly, angry, fussy and cranky. Nowhere near that list were the words "warm" or "fuzzy."

This, after a nearly miraculous week of golf, taking five months of inactivity and a spin-cycle of a ride through sport's most publicly humiliating wringer of a sex scandal, and coming out on the other side with a tie for fourth at the Masters, a brilliant 11-under total score, and damn near scaring an epic run at a green jacket.

He should have been, like all of us, blown away at how well he played, overly grateful for an overly receptive gallery, and focused on the concepts he has preached since he started showing his face in public the last month: being centered, being balanced, having fun again, and worrying less about winning and more about being a better man.
Mark Lamport-Stokes on Tiger's behavior and where he might play next:
The May 6-9 Players Championship at the PGA Tour's headquarters in Florida is a virtual certainly, given its status as the unofficial fifth major at the venue where he made his first public apology following his stunning fall from grace.

Also likely is the Jack Nicklaus-hosted Memorial tournament in Dublin, Ohio from June 3-6 where he typically plays.

The April 29-May 2 Quail Hollow Championship in Charlotte, North Carolina is another possibility and Woods has until the Friday before that week to commit to the event.

Wherever he does play next, the world number one will not have the luxury of the tightly controlled environment at Augusta and he could well experience his first on-course heckling since he became engulfed in his sex scandal.

Should he be heckled by the fans, he will have to negotiate yet another severe test of his ability to keep his now notorious tongue in check.

It will also help if he can start regularly hitting the ball straight again.
CNN Opinion Research says Tiger's favorable ratings are at 39 percent after the Masters.
Fewer than four in 10 Americans have a favorable view of Tiger Woods, down a few percentage points from the previous month, according to a new national poll released Monday.

The CNN/Opinion Research Corporation survey indicates that 39 percent of the public views Woods in a positive light, down four points from March, when 43 percent had a favorable view of him.

"His ratings seemed to have slipped most among men and higher-income Americans," said CNN Polling Director Keating Holland. "The reason for the differences is unclear. It's probably not his participation in the Masters this weekend, since in an earlier poll only one in five said that Woods should wait longer before returning to professional golf. And it wasn't his fourth-place showing in the Masters, since most interviews were conducted before the results were known."

Whatever the reason, Woods' public image has dropped a long way. Until recently, Woods was one of the most popular figures in America, with favorable ratings exceeding 80 percent.
And Golf Channel provides quotes of the week.