Phil Mickelson has a shot at moving to No. 1 in the world Sunday, no small thing as Sam Weinman notes.
On Saturday at the Players, it seemed inevitable. Mickelson shot 66 to move within striking distance of the lead. The man he is chasing was again muddling through another frustrating tour of TPC Sawgrass. Technically, the 39-year-old Mickelson needs to win at the Players and have Tiger Woods finish outside the top five to seize the top spot in the world ranking. But in many respects, that mantle seems to have already been passed.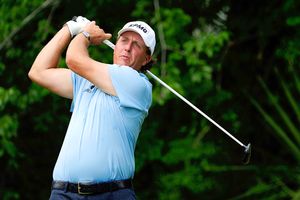 Bob Harig points out that Phil is suggesting he is still riding a high from the Masters, despite the belief of most media members that he's just prepping for the U.S. Open.
And had he played the par-5s better during the first two rounds, Mickelson could be right there with Westwood battling for another big tournament title. Instead he is five strokes back, tied for 11th.

"There's no letdown," Mickelson said about the Masters. "It's still something I reminisce about. It was such a fun week. I could look at that tournament and that final round and get momentum from it.

"And it helped me here, helped me this week. It was the first thing that Bones and I talked about in the car today. It was the coolest tournament to win."
And as Jeff Rude documents, Phil is either positioning his brand with East Coast readers, or he just really likes the fries at Five Guys. For me, In-N-Out still makes the better and much cheaper burger. Though the mushrooms are a nice touch at Five Guys.
Phil Mickelson shot 66, despite a closing bogey, and apparently got himself into Players contention. Then it was time to eat.

"I'm going to do the same thing I did the last five days – go to Five Guys burgers," Mickelson said after making seven birdies. "Sixth day in a row. I can't stop going there."