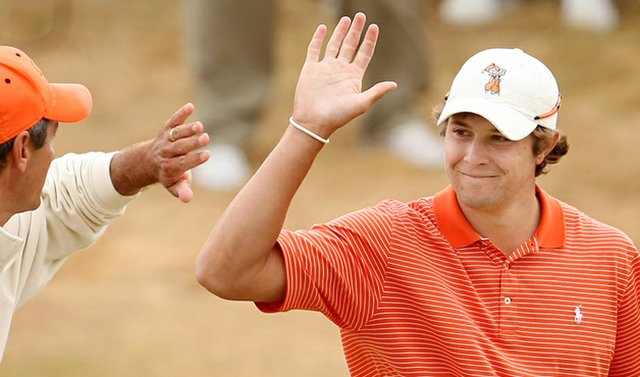 Tim Booth writes up the outstanding U.S. Amateur final, but doesn't quite capture just what a dynamic and well-played match it appeared to be.
Ryan Lavner captures the joy of the Uihlein family after Peter's 21st birthday win over David Chung.

The golf course looked fantastic on NBC, perhaps a product of a few more production touches saved for the weekend and someone in Orlando not cranking up the green saturation. It also appeared to play better and in an odd twist, Chambers Bay may actually be better off hosting events in June instead of August when there is more moisture in the soil.

From the post round press conference with Mike Davis, Tom O'Toole and Jim Hyler of the USGA:
You know, Chambers Bay came in so incredibly dry that we'd never had any ‑‑ this course is pure sand. If you dig down six inches, if you dig down a foot, if you dig down five feet it's sand. And what's interesting is you could have never gotten another course with any type of other grass like this here you could have kept it like this for months on end and the grass is just dormant.
What we've learned is you've got to have moisture down six inches, 12 inches, 24 inches to get a consistent dry where it doesn't go from really good to literally baked out, unplayable in a matter of minutes.

That's what we learned. So Tuesday night what we ended up going with the superintendent and our agronomist said recharging the greens, we essentially flood the things, absolutely flooded them. So we got water down 12 inches, 16 inches, 24 inches, and that allowed Chambers Bay to, essentially, you know, dry out on a much more even keel basis.
As for the green question, Hyler was asked and answered this way...
Q. It was obvious during the week on the TV the course was a good deal greener than it is in reality. I wondered what your reaction to that was? Were you disappointed by that?

JIM HYLER: We noticed on the broadcast I think the first day or whatever it was with the TV, I looked at it and said that's not what I'm seeing outside. We found out that something was going on with the local feed.

Other parts of the country it was exactly what we were seeing. I'm not sure what the technical issues were, but other places it showed up just like you see it outside. So we had sort of the same thought, but it got straightened out, I think.
Asher Wildman also notes the impressive attendance for the week, which came through on television for Sunday's final match.