Doug Ferguson, reporting from Shanghai where Adam Scott finished his round on a high note and then faced questions about the status of caddie Steve Williams following the loopers' controversial comments.
"Didn't distract me too badly in the end today," Scott said after a birdie-birdie-eagle finish for a 69, leaving him three shots behind Fredrik Jacobson going into the final round of the World Golf Championship.

"Look, anything with Tiger involved is a story," Scott said. "I value Steve's contribution to my game and to have him on the bag. While he's caddying, I hope he can caddie for me."
Lee Westwood wins an award for Best Excuse To Say Nothing In A Non-Supporting Role:
Westwood, Geoff Ogilvy and Ian Poulter were among those who walked away when the topic shifted to Williams and Woods.

"I've had an ear infection for two weeks and I couldn't hear a lot of what was going on," Westwood said sarcastically. "So it would be wrong for me to comment on anything."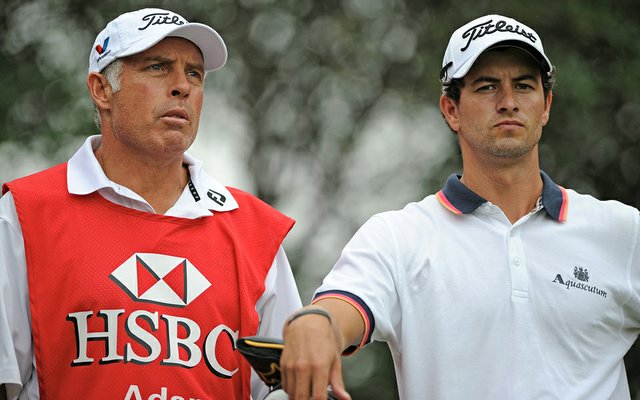 Alex Miceli featured more post-round comments from Scott and Ernie Els.
"I don't think it should be awkward for me," Scott said of being between Williams and Woods. "I'm the guy stuck in the middle, but I don't really have a gripe with either guy. So it's for them to sort out between themselves."

Which is the larger point. Williams still has not sorted out his anger issues with Woods, and they are bleeding into his current employment with Scott and potentially jeopardizing Scott's career.

Ernie Els called it "an awkward situation" for Scott and Williams.

"Adam just wants to have the best caddie, and he just wants to concentrate on his game," Els said. "He's just come through a tough time with his game. It looks like he's got that hunger back, and he's got the best caddie in the world on his bag. I'd just like to see them blossom."