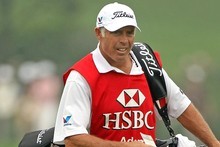 Joanne Carroll has several vital details in the Stevie scandal, including the word that Williams only attended because Adam Scott asked him to go.
And we do seem to have different takes on which version of a--hole was used (or was it ar--hole..inquiring minds want to know!).
When asked if he used the words "black a***hole" he initially denied using the racially motivated language: "I did not say those two words."

However, he refused to clarify exactly what he did say on stage at the event, attended by more than 100 top players, caddies and golfing officials.

"Things get taken out of context," he said.
Regarding the context, these comments from Greg Turner probably best sum things up.
However, former New Zealand No1 Greg Turner said he did not think Williams could survive the media backlash, particularly in the United States.

"I can't see this ending well. There's some things you can't get away with and this is one of them. I have been trying to think of a context that might have been acceptable but can't come up with anything. I think this is a pretty big one," he said.