Plenty of great reads from an eventful Masters Monday, and while many writers were traveling, it appears the club shocked some (and left little room for kneejerk analysis) with its announcement of a new ticket selling policy.
John Boyette filed an item on the stunning news. The price increase is also interesting:
The yearly application process for existing series badge holders will also move to the Internet. More details will be announced later this year. With the new system comes an increase in cost. Ticket prices for Monday, Tuesday and Wednesday practice rounds will cost $50 each, up from $36 for Monday and Tuesday and $41 for Wednesday. Tournament round tickets are $75 each; currently, a series badge good for all four days costs $200.
Still the greatest bargain in all of sports.
Players
Kevin Garside on Lee Westwood and Ross Fisher suffering a scare when a cockpit fire broke out in the private jet shuttling them from Houston, causing an emergency landing. He includes photos from Westwood's tweets.
"We were a couple of minutes out of the airport," Westwood said. "It was a bit scary. It never looks good when you can smell smoke and you turn round and see the pilots have put the masks on.
Steve Elling's report includes photos from Westwood's tweets.
Ron Sirak says this may be Tiger's most important Masters ever
He does not need to leave town April 10 with a fifth green jacket to quiet the doubters, but if he does not have a competitive performance, such as a top-10 finish, the questions will become even more plentiful and certainly more pointed.
John Huggan and Steve Elling bicker about all things Augusta and talk about why the Europeans have not won in 11 years.
Elling: It's inexplicable, really. I was just eyeballing today's freshly minted world rankings. Europeans have five of the top six spots. Mickelson is the lone Yank in the six-pack. You have to figure it's going to happen soon. Luke Donald, anyone?

Huggan: It does. Because for those 11 years they have had to beat both Tiger and Phil on a course that suits -- or suited -- both of them. Plus, never underestimate the home-court advantage Uncle Sam's nephews get in three of the four majors every year.

Elling: I agree only to a point on the last part. Yeah, the fans were pulling against Seve in 1986, but they get behind the foreign players, too. Although I am not sure Westwood would agree after the ride he took last year alongside Phil. With all that Phil had going on in his life personally, he was a massive sentimental favorite.
Lawrence Donegan with an excellent profile of Graeme McDowell who is, as usual, refreshingly frank.
"At the minute I am going through a normalising period, trying to adjust to everything that goes with being a top player in the world, from the media to fan interaction," he says. "My priorities are back to playing golf and setting my targets. I'm determined not to be one of those guys who wins one major and then disappears. I want to win more and the Masters would be a good place to start."
Colin Byrne is caddying for Edoardo Molinari but he shares this fascinating observation about KJ Choi's bag this week.
It is not a revelation that winning tournaments is directly linked to how you putt, but this is particularly so with the treacherous nature of Augusta's greens. If you get a 30-foot putt slightly wrong the chances are you are going to be 15 feet away from the hole for your next. Therefore leaving yourself on the right side of the pin cannot be overvalued.

Which raises a further question, of how you get your ball to stop on the correct, or uphill, side of the pin? The same gentleman who impressed Woods so much last year has changed the make-up of his bag to be able to stop his ball on the "right side" of the pin. This year KJ will carry hybrid clubs as high up the bag as six-iron. This is a common feature for lady golfers, but most unusual for competing male golfers.

KJ thinks it could give him the edge. The hybrid will fly the same distance as the iron but should stop more quickly due to its higher trajectory.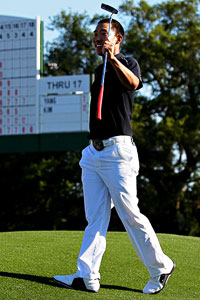 Anthony Kim shares his deepest thoughts with Jason Sobel, and now that Kim has his game back, he's a major contender. He's also got this superstition.
I don't have many superstitions, but I don't buy stuff before the event. I mean, you can play badly or something happens, you get sick -- now you have all this stuff that reminds you of missing the cut or withdrawing. Not that I've won that much -- I've won only three times -- but after I win, I just go order a bunch of stuff and give it all away to my friends.
Jim McCabe files notes on an array of fun topics but leads with Rickie Fowler having been asked to turn his hat around by Augusta National member Ron Townsend, complying on the second request.
Craig Dolch looks at the rookies and besides Fowler at 35-1 despite zero PGA Tour wins, likes his chances of contending along with a few others:
I also think Woodland might surprise in his first Masters showing. The Transitions Championship winner hits it long and putts it well -- perfect combinations at Augusta -- but he still has a learning curve after giving up college basketball just eight years ago.

Arnold Palmer Invitational winner Laird also hits it a long way, so he could contend for a while. Jason Day is another rookie who may play well this week, but he has another piece of history going against him besides his first-year status: No Australian has ever won the Masters.
Ron Kroichick looks at Nick Watney's chances after his last major ended with an 81 at Whistling Straits.
Richard Gillis reports that Butch Harmon has ruled out a win for Rory McIlroy and isn't too keen on Lee Westwood's chance because he lacks imagination around the greens.
"To win at Augusta you have to have enormous creativity and imagination.

"When you look at who has been successful historically, (Jack)Nicklaus won six and (Arnold) Palmer won four times, both were great putters.

"You come forward to the modern era and players like (Seve) Ballesteros and Jose Maria Olazabal who won two each, Tiger has won four and Phil has won three. These players all have truly great short games."

History, Flora, Fauna

Bob Harig files a fun account of Phil's epic shot last year on 13 and talks to both Mickelson and Bones about it.
"I can quote exactly what Phil said to me," Bones said. "It was one of those moments."

They quickly went through the scenarios. Bones wanted to make sure the stance would be OK; that Mickelson pulled enough club; with K.J. Choi making 5 up ahead, he reminded Lefty that he led the tournament by one stroke.

"So I said, 'Phil, do you still want to go here?'" Bones recalled.

"He said, 'Listen, if I'm going to win this tournament today, at some point I'm going to have to hit a really good shot under a lot of pressure. I'm going to do it right now.'"

Mackay said, "You get out of the way at that point."
Chris Gay profiles Kathryn Murphy, who was Clifford Roberts' executive secretary for almost four decades. It's not often you get to read Brad Faxon and Gene Sarazen mentioned in the same sentence. It also means Ms. Murphy worked for a long time!
It wasn't uncommon for Murphy to fill ticket requests for Masters participants. Some golfers, such as Ben Crenshaw, Fred Couples, Brad Faxon and Gene Sarazen, were nicer than others.

"Ben Hogan was the best. He'd never ask for tickets," she said. "Some of them you just couldn't accommodate. Some of them you had to say no to."

Murphy never was able to watch much tournament action herself. She kept up with the Masters on a TV in her office.

Though the tournament lasts just one week a year, Murphy remained busy the rest of the time the club was open. For 38 years, she enjoyed it all.

"It was very interesting," she said. "There was always something going on. It was never boring."
David Westin on the joys of playing the Masters and staying at the club as an amateur qualifier.
Ben Crenshaw, who is playing in his 40th Masters, played as an amateur in 1972 and 1973.

"These are different times and I can't answer for them (the current pros who didn't play as amateurs), but I can just tell this: My two amateur years were incredible because I got to stay on the grounds," Crenshaw said.

He stayed in the Crow's Nest his first year, along with most of the other amateurs that year.

"I think we had eight," Crenshaw remembered. "We amateurs were a team. I had just started traveling to some national amateur tournaments. We just couldn't believe we were here in the first place.

"The second year, I stayed on top of the old tournament headquarters over by the golf shop with Vinny Giles," Crenshaw said. "We ate every meal here at the club. It was special. I loved it."
Bill Fields, formerly a photographer and now a writer, gets nostalgic thinking about past Masters as he prepares for this one.
Seeing the Greens of Charlotte, Ron and Ron Jr., talented writers both, in the press room typing shoulder to shoulder. Absent friends who were there every spring with me, such as British photographer Phil Sheldon. Wishing my Dad, lover of azaleas and, in his last years, golf, would have gotten to see the place just once.

Scraping frost off the rental-car's windshield and wearing gloves and a ski cap in 2007. The awful smell of whatever-that-was the year it rained so much.

Sitting once not too far from Herbert Warren Wind in the observation stand at the 12th hole in one of his last trips to the Masters, thinking about all the golf he had seen and how much he cared about his craft.
Jim McCabe on Al Geiberger, making a return to Augusta after a long absence to play the Par-3 Contest with son Brian on the bag.
And finally, Dan Jenkins will be hosting a Twitter chat on Sunday (as will others according to GolfDigest.com's menu of coverage planned for the week). Darren Carroll recently blogged about photographing Jenkins for the Backspin issue and talks about what went in to getting Dan to pose for certain shots.
Meanwhile, I already have my Jenkins question planned for Sunday. Still want to see if he's a BCS guy after his Horned Frogs didn't get a chance to play for the top spot. Though by Sunday, hopefully there will be a lot more to talk about than TCU football.