With almost too-good-to-be-true leaderboard after 36-holes, sensational play and the likelihood of a thrilling finish, we've learned something very crucial about the renovated Augusta National: it's best if the course is just slightly soft with healthy rye grass overseed.
Sure, that would make Bobby Jones furious, but with the reduction in fairway width combined with modern green speeds for contours barely able to remain playable, the first two rounds have shown that a softer, slightly slower golf course just works better. The only thing that could bungle this event is an over-the-top weekend setup designed to rein in scores, but I don't think that'll happen for two reasons:
The committee seems to have found its footing and setup the course very nicely the first two days. Maybe it was a nod to pace of play disaster looming with a large field and today's turtles, but even if it was that, hopefuly they've gotten over the three days of a "test" before relenting to the demands of a nostalgic public for a Sunday eagle-fest.
I'm beginning to wonder if this mythical "switch" we hear about exists. The one where they can adjust conditions to their liking with the Sub-Air and mowing brigade. It's been a while since we've seen Augusta super firm, and with all of the turf on the course this year stopping balls from running down hazard slopes combining with years of thatch buildup and soil structure changes, it seems most areas are retaining water just enough to play softer and slower than normal.
But again, after what they've done to the width of the place and where green speeds are relative to the contours, a little softness is a good thing for Augusta National.
Ledes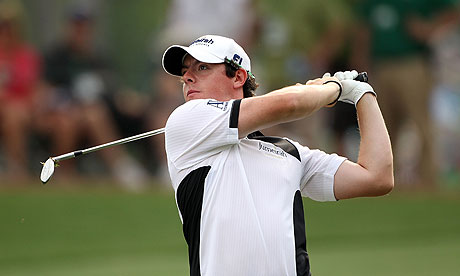 Lawrence Donegan in The Guardian:
History beckons at Augusta National for Rory McIlroy and so does the most fraught weekend of his young life. The 21-year-old Irishman will begin the third round of the 2011 Masters with a two-shot advantage but he will be pursued by a phalanx of the best talents in the modern game.
Bill Pennington for the New York Times:
The second round of the Masters on Friday might have begun as another chapter in Rory McIlroy's American coming-out party, but it closed with an event more familiar to the Augusta National grounds as Tiger Woods made another sudden and memorable charge up the leader board.
Rory McIlroy and Jason Day made the Masters look like child's play over two days, trading flawless rounds that gave them hope of becoming the youngest player in a green jacket since Tiger Woods.

They still face a long weekend at Augusta National and now, a once daunting figure.

Woods came roaring back to life late Friday afternoon with a 31 on the back nine that featured a daring shot off the pine straw and an 8-iron he carved around the trees on the final hole for his ninth birdie of the day, and his best round at the Masters in six years.
Steve DiMeglio for USA Today:
The kids didn't back up in the second round of the 75th Masters on Friday.Neither did 51-year-old Fred Couples.

And a vintage Tiger Woods reappeared on an electrifying, humid day at Augusta National Golf Club as roars echoed through the mighty pine trees and a slew of red numbers, lined up to the right of some of the game's biggest and brightest names, drenched the white scoreboards peppering the course.
Derek Lawrenson for the Daily Mail:
Rory McIlroy stepped on to the first tee at Augusta National and thrillingly answered the question that lay at the heart of the second round of the Masters.

Would he stumble badly on day two, as he did at the Open at St Andrews last July? On that occasion, he followed an opening 63 with a horrible 80. What would happen this time, following the 65 on day one that led to paeans being sung in his honour? Well, how does a three under par 69 to lead by two strokes at the halfway stage sound?
Kevin Garside for The Telegraph:
It is a demand we make of mortals later in the cycle. For those who threaten to reset the parameters of what they do, who flirt with another dimension, the question comes with the territory. Can you do it Rory? Are you good enough to walk through the gates of nirvana to claim the biggest prize in golf?

McIlroy takes a two-shot lead into the Masters weekend. The peleton forming behind is gaining marquee riders. Tiger Woods went to six under par with three to play. Lee Westwood, too, is a gathering storm, spearing an eagle at the 15th to go five under.
Phillip Reid for the Irish Times:
How you know when your time has come? Yesterday, as a gentle breeze brushed through the towering cathedral pines at Augusta National Golf Club to whistle destiny's call to a son of Ulster, Rory McIlroy – determined not to get ahead of himself – sought to orchestrate his own fate. Invariably, it meant hitting one fine shot after another. Putting the pieces together, bit by bit.

And, as this 75th edition of the US Masters provided us with a cast of characters that mixed the old guard with a new breed, it was McIlroy – all of 21 years of age and seeking to become the youngest winner since Tiger Woods made his breakthrough back in 1997 – who assumed the principal role in the quest for the Green Jacket.
The Three Muskateers
Gary Van Sickle on the McIlroy, Day, Fowler show Friday.
One of the cutest pairings in Masters history turned into one of the most efficient as the Musketeers — 21-year-old Rory McIlroy, 22-year-old Rickie Fowler and 23-year-old Jason Day — played together and combined for a 36-hole total of 23 under par. If the Masters were a three-man team event, they'd be running away with it.

"Being around good golf helps," said Fowler. "I was just trying to keep up with those guys. I thought we'd have a great time, and we went out and did that."
Scott Michaux on what the youngsters face this weekend:
Despite 14 major titles , Woods has as much to prove this weekend as anyone. The young guns he inspired with his 1997 Masters win at age 21 were just 7, 8 and 9 when he romped to a 12-shot victory.

Despite their ages, McIlroy, Day and Fowler have all experienced weekend pressure at majors and/or the Ryder Cup, but never with Woods in the mix.
Paul Mahoney on Rory's impressive play:
McIlroy hit 10 out of 14 fairways and 15 of 18 greens in regulation in for a 69. He has not three-putted once and has dropped only one stroke in 36 holes. "It would have been nice to be bogey-free, but I'm happy with where I'm at, and my game feels really good," he said.
Jeff Babineau talks to Padraig Harrington about his neck and Rory:
"You're always ready when you're going to win," Harrington said. "Yeah, I don't see why he can't win. If he does, there will be another name thrown in to that list of players who can win the most majors. He loves being there. At age 21, he should view this as a great opportunity."

Then, thinking about the possibility of a 21-year-old winning at Augusta, Harrington added, "He could play here for the next 50 years."
Karl MacGinty says that Fred Couples is certainly high on Rory's chances:
And as Holywood youngster Rory McIlroy raced to double-figures under par by playing the first nine holes of his second round in three-under yesterday, Couples candidly admitted: "He was my pick at the start of the week.

"I love the way Rory plays and he certainly has the game for Augusta National. Looking at that scoreboard right now, he looks as if he's going to be very hard to beat."
Julian Linden on a confident-sounding Jason Day:
Day conceded that his lack of experience in the majors could work against him over the weekend but said he would not change his aggressive approach and the fact he would paired with McIlroy again was comforting.

"I'm not going to back down because I've got lack of experience," said Day, bidding to become the first Australian to wear the winner's green jacket.

"I'm just going to go out there and try and stick to my game plan and not worry about the score. Like Rory said before, you have to play the course, you're not playing the leaderboard."
Rocky Woods
Ron Sirak on Tiger's 66 and his prospects for the weekend. Tiger's, not Ron's.
Maybe so, but Woods has not known success since late 2009, the last time he won a tournament on any tour. He has rarely been part of the conversation as he has adjusted to another golf swing. It didn't hurt that he needed just 26 putts, another part of his game showing signs of life.

Talk of completing his comeback is premature, however, and he knows it.

"I'm three back. So I played myself back in the championship," Woods said. "We have still got 36 more holes. We have a long way to go."

Added Foley: "You're going to start seeing him playing shots that he hasn't hit in a long time. He's already put the pieces together. Now he's going to go play golf, and it will be fun to watch what happens from here."
Jeff Rude on the spring in Tiger's step:
And you could sense a sense of peace. After he flared a drive 35 yards right of the fairway on 11, so far right he had a clear shot on the other side of the pines, Woods noticed a man wearing the same style shirt as his.

"Nice shirt," Woods cracked, drawing gallery laughter.

As for his current position, Woods refused to get carried away. More than once, he said this: "There's a long way to go."
Robert Lusetich reminds us of the competitive friction between Woods and young Rory.
Several times, McIlroy has repeated that Woods "isn't as dominant as he used to be."

Before last year's Ryder Cup, Woods was asked about McIlroy's comment that he'd like to draw his name in the singles.

"Me too," Woods said.

They don't dislike one another, but they're both competitors.

And in this game they're playing, there can only be one winner.
The Has-Been Long Bombers
Cameron Morfit on yesterday's news, the Woodland, Quiros, Vegas group. Quiros still has his sense of humor. It helps to be in the third to last group Saturday.
He even smiled about the group's atrocious play on the par-3 12th hole. In between clubs from 156 yards, Woodland lost an 8-iron right and into the water, took a drop, hit his third into the back bunker, barely nudged his fourth out of the sand and onto the back fringe, and chipped in for 5. Quiros hit into the same bunker off the tee, left his second shot in the sand, got his third out and two-putted: 5. Vegas, who missed long and left, chipped way past the hole and two-putted for a 4. The three players took a total of 14 shots, five over par, on one hole.

"No, nobody said a word," Quiros said when he was asked if anyone cracked a joke on the 13th tee. "But you can see Gary Woodland's face and my face, too; it wasn't the proper moment to say a joke."
If it's any consolation, Tiger had this to say about one of yesterday's news, reports Scott Michaux:
"It's no problem for me hitting over 300 yards, but there are guys who flight it 320," Woods said. "I thought Dustin was long, and I've played a number of times with him, but Dustin, he's got nothing on Gary. When Gary steps on it ... it's like, 'Whoa, are you kidding me?' His ball is flat, when you think it should be coming down it, it just continues to fly."

Woods was most impressed by one shot on the 16th hole at Bay Hill when Woodland's drive failed to carry the lip of a bunker 335 yards from the tee.

"He's all bent out of shape that he couldn't carry it and he said, 'I've lost the ability to carry 340 now,'" Woods said. "Like, sorry, I had never seen that shot. That's the new game. That's what I've said all along, these guys who have played other sports, these guys are both really good basketball players and they both have been able to dunk, and they both have been able to play hoop. And then they decide to play golf instead. So it's neat to see these guys transition into our sport with their power."
The Asians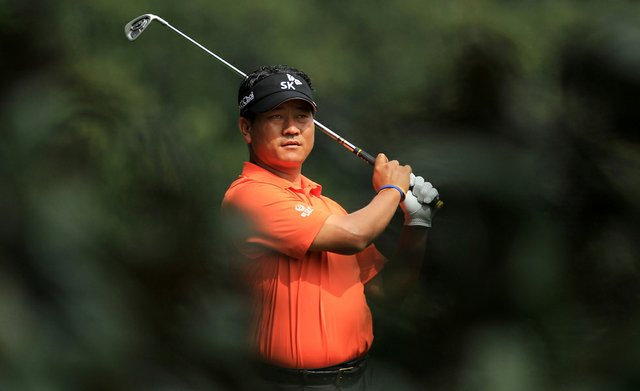 Nick Masuda quotes K.J. Choi, in third after a 2-under 70, as saying his move to more hybrids replacing his 6-iron on down is typical of his personality.
"I think my personality is that I want to try – whatever is in my mind, I have to get it out. I have to try it and test it out. That's just the type of person I am," said Choi. "I think the worst thing you can do to yourself is wanting to do something, but not having the courage to do it. And I don't want to be the type of person that regrets not testing something out when I feel that it's right."
Masuda also with this note on Y.E. Yang's shoulder, which could hurt his chances:
For the second straight day, a poor drive on No. 17 left Yang scrambling to avoid falling further down the leaderboard. Asked if his three-putt on the par-3 16th hole affected him moving onto the 17th tee, Yang wasn't ready to go that far.

"I don't think it affected me psychologically," said Yang. "I have had stiffness in my left shoulder that makes it tough toward the end of the round."
He's also got a food issue, reports John Steinbreder.
Breakfast of Champions? As a rule, Y.E. Yang is a continental breakfast man, having his pre-round repasts at the clubhouse before heading out to the course. "Muffin or a bagel," he said. "No eggs and no meat." But the South Korean tweeted before his second round of the 2011 Masters that he had a rice curry instead.

Why?

"Fortunately, my whole family is here this week, and a few friends, too," he says. "My wife brought over a lot of Korean food and cooked for us. We are a big family, and I eat quite a lot. So, we ran out of Korean food yesterday. My wife had to improvise as a result and made some curry with some rice, sort of an Eastern-Oriental type of breakfast."
The Other Aussie
Jim McCabe, in a notes column, on Geoff Ogilvy's second straight 69 that included a double bogey at the par-5 second hole.
On the scorecard, the secret would be the birdies at six and seven and the bogey-free 33 coming home, but truthfully, the tall and lanky Aussie owes it to a personal comfort zone.
"I've worked out the golf-life balance," Ogilvy said.

Having outplayed playing competitor Phil Mickelson (70-72 – 142) for two days, Ogilvy is just four off of Rory McIlroy's lead, his best-ever standing through 36 holes in this major. But Ogilvy isn't looking too far ahead, and that includes putting any thought into the chance to become the first Aussie to win the Masters.

"That's probably not what I'm going to be thinking about when I'm out on the golf course," Ogilvy said.
Other Players
Dave Shedloski on the bizarre situation involving Matt Kuchar's ball disappearing in the bank on 12, followed by the post round pre-scorecard signing video review of where his caddy touched the grass, even though he'd already been given the green light to do so by TWO on site officials.
Kuchar and Bennett were whisked to Masters Tournament headquarters before Kuchar signed his card to determine if a two-shot penalty should be assessed. After more than 20 minutes of videotape review and discussion, it was decided that Bennett was merely trying to help identify the ball, not test the ground or improve the lie if Kuchar might choose to hit it.
"I was pretty confident with two rules officials there," Kuchar said later. "My caddie and I may not know all the rules, but we know what to do and not do in a hazard."
Rex Hoggard also reports on another incident in which Ryan Moore was cleared.
Mark Lamport-Stokes shares some advice Charl Schwartzel received from Jack Nicklaus about playing Augusta.
Asked what sort of advice he had gathered from the 18-times major champion, Schwartzel replied: "He told me that some flags we used to go for were ones he never went for.
"But conditions also change those sorts of things. On (hole) 12, he said he never went outside of the bunkers. Always aim it at the bunkers and if it's long, you're never going into the bush so that was his line.

"That was a particular hole that always sticks with me so that is always my line."
Doug Ferguson talks to Amy Mickelson about her appearance walking with Phil.
"We love this place," she said. "This place has been a part of some of the most special days of our lives. And it feels normal to be back, which is even better. I'm trying not focus on how I feel because I still have some ups and downs. But when I look back to year ago and see how far I've come, it's just tremendous."
As for her man, he drove the ball better but the short game let him down, blogs Randall Mell.
After deciding against putting two drivers in his bag Thursday, Mickelson did just that on Friday. He put the longer-shafter driver back in his bag and said he relied on it heavily. After hitting just four fairways in the first round, Mickelson hit nine on Friday. He needed 33 putts on Friday, four more than Thursday.
Legends Division
Bill Fields on 51-year-old Fred Couples at -5 following at 68 Friday.
"It's not out of the realm of possibility," Watson said of Couples' chances. "It can work... Freddie know the golf course very well. It's just ... Jack [Nicklaus] said it right, he said this a young man's golf course as far as nerves and putting on the greens. Length has its advantage, though. That makes some of the par 5s into par 4s. Freddie's got the advantage."

When Couples won at Augusta in 1992, he turned back 49-year-old Raymond Floyd, about which Couples quipped Friday, "I'm glad I won. I'm glad he's not the oldest winner of this thing."

What if Couples could pull off the improbable over the weekend?

"I'd be gone," Couples said. "It'd be the biggest upset in golf history."
Bob Harig quotes Joe LaCava about what makes his boss so good at Augusta.
"He's still got plenty of length. He can step on it if he wants to. And he's got a good attitude. I think you have to have an easy- going attitude around here."
Couples made a run at the Northern Trust Open title earlier this year at Riviera, another of his favorite tournaments and courses, actually holding the lead early in the final round before tying for seventh.

A four-time winner last year on the Champions Tour, he's played just two 50-and-over events this season, his best finish a tie for fifth at the Toshiba Classic.

"He's a great lag putter which you have to be here," LaCava said. "He can hit it high and soft which is big on these greens."
golf.com posts video of Freddie's post round interview.
In his media watch column, John Strege notes these comments from Curtis Strange about the prospects of a Couples win.
Strange on Fred Couples again contending, at 51: "That doesn't surprise me at all. Jack Nicklaus won at 46. That's like 56 now. The players are in better condition. The equipment is a whole lot better than it was in '86. I think the senior tour has helped. They stay in the game. They stay competitive. They stay sharp. And Freddie Couples has done just that."
That was a generic answer to a specific question, this one about Couples. Is Couples, with an ailing back that prohibits him even from practicing, in better condition at 51 than Nicklaus was at 46? Does Couples play and practice, given the constraints of a chronically ailing back, more at 51 than Nicklaus did at 46? The answers are probably no and no.
Michael Buteau points out that Couples and Ryan Moore--with Ecco and True Linkswear shoes respectively--are the only players to have gone to "street" style shoes despite the trend Couples ignited last year.
Many professional golfers, who swing their clubs as fast as 125 mph, have been reluctant to switch to spikeless shoes for fear of losing traction while hitting shots. Other players are also under contractual obligations, limiting their choice.

"Guys are wearing what they're told to wear," Moore, who is tied for 14th after an opening-round 70, said in an interview. "You don't get to choose as much as people think."
Ian Woosnam, battling a rheamatic disease, may have played his last Masters according to this unbylined BBC item.
As he waited to take his tee shot on the eighth, Woosnam was forced to sit down and on a small portable seat he carries that helps to alleviate his back spasms.

"The seat is not a bad thing to have because it does not weigh anything, especially yesterday when it was five-and-a-half hours to get round," he added.

"I think we were almost five hours today - it's too slow really."
Dave Kindred says Ben Crenshaw is thinking of ending his Masters playing days.
Crenshaw's 77 on Friday, after his first-round 78, wasn't good enough to make the cut. At age 59, he may decide his playing time is done here. In the moments after the round, it seemed clear he could leave the work done as it has been done and have no regrets. "I've had a wonderful life just here at Augusta," he said. "My God, I spent a lot of my life here and have had a lot of great moments that are life-giving to me."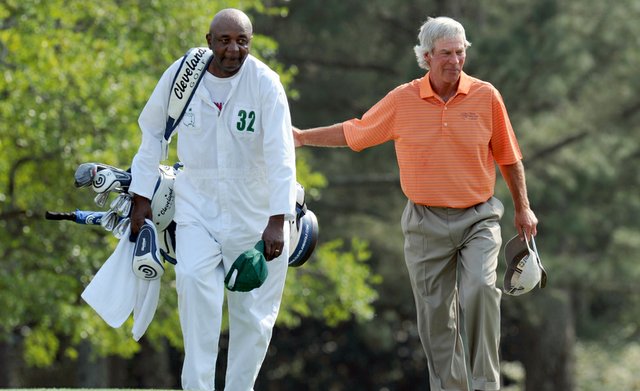 Alex Miceli on the conclusion to Crenshaw's round:
With the wind blowing his pant legs, Crenshaw made what could be his last putt as a competitor in the Masters. As the relatively straight 8-foot birdie putt hit the bottom of the cup, Crenshaw smiled and the two – player and caddie – walked up the green to the scoring hut, the 5-foot-9-inch Crenshaw with his hand on the shoulder of the 6-5 Jackson.

"The people were so gracious today and so sweet to Carl," Crenshaw said. "They're so heartfelt. They're seeing something that's not going to happen again. He's a huge part of this place."
The Lone Amateur
Ryan Herrington said it was close, but Hideki Matsuyama is the lone amateur to play on the weekend.
While guaranteeing himself the low amateur medal, Matsuyama didn't do it without some angst. Bogeys on his last two holes to finish at one over after two rounds forced him to spend a restless afternoon watching to see if leader Rory McIlroy would cause the cutline to move lower and end his week early. Thankfully for Matsuyama it never did.
Sean Martin says that Matsuyama's performance as the only amateur to make the cut validates the Asian Amateur event started by the Lords of Augusta, not that this was on Matsuyama's mind in light of world events.
Like the rest of the Japanese players at Augusta National, Matsuyama is playing in the shadow of the unthinkable tragedy in his homeland. He is a sophomore at Tohoku Fukushi University in Sendai, one of the country's hardest-hit cities.

Matsuyama was with his university's golf team at a camp in Australia when the quake hit. His second year at Tohoku Fukushi was scheduled to start in April, but postponed until next month because of damage from the earthquake and tsunami.

He said the damage to Sendai is "indescribable," which made him unsure if he should play the Masters. He decided to play, "not only for myself, but for the people who have made me who I am. Doing my best here is my obligation to them."
Flora, Fauna, Wagering And Blinding White Spruce Pine Quartz
Rex Hoggard on the badly-defaced, double fairway 11th hole playing as the toughest on the course, and also the goofiest.
The 505-yard par 4, which was lengthened by 35 yards in 2002 and 15 yards four years later, is playing the toughest this week with a 4.415 stroke average. In fact there have only been six birdies there all week compared to 10 double bogeys or worse.

"It's a par 5 length then it's probably a par 5 green," said David Toms, who hit driver 4-iron into the 11th on Friday. "It's a tight hole, you just can't beat it off the tee. It's like making four birdies if you make four pars. It's a great hole."

Toms is halfway home to his goal this week following back-to-back pars at No. 11.
Guy Yocom looks into some of the online bets you can place and finds that not only can you bet on the Masters in America, the always intriguing head-to-head matchups popular at the Open are also available here.
The odds on the Woods vs. Graeme McDowell matchup on Friday was interesting, if only to belie the notion that Woods has fallen adrift as a "public team" -- one who drew a lot of reflexive betting action in his direction. For Friday's second round, Woods was listed at -170, McDowell +135.

A bit of Googling reveals that the legality of online sports wagering within the U.S. is up in the air. Some say yes, some say no, but all agree there has been little enforcement. And credit cards do clear at the site we looked in on.
Mike Walker explains how Augusta gets its bunkers so white.
The Spruce Pine Mining District in northwestern North Carolina is famous for its feldspar and quartz, and since the 1700s feldspar has been mined there. When they mined the feldspar for aluminum, they just discard the quartz. That's the stuff Augusta National uses for its bunkers. What we call feldspar sand is a waste byproduct of the feldspar mining process, Coleman said, and there's likely not any feldspar in it.

But just because it's a waste product doesn't mean it's junk. The quartz created by this mining process is extremely pure, which is why those bunkers really pop on your HDTV.

"That's why the bunkers are so white," Coleman said. "Spruce Pine quartz is the best in the world, and the quartz created from the feldspar mining process is so white and so pure."
And finally the media seems it is receiving appropriate treatment in some parts of Augusta, reports James Corrigan:
Chris Evans is here for Radio Five Live. The golf fanatic had an interesting experience when he returned to the rented house he is sharing with his fellow commentators after the first day.

His colleagues were asleep when Evans came in, but were soon woken by the burglar alarm. But that was nothing compared to the recorded voice which followed.

"Freeze!" it bellowed. "The police are on their way. Do not try to escape or you will be shot..." Evans went to bed and it was left to the producer, Graham McMillan, to sort it out. He found all his men, but one wasn't in bed. "I think he was in the panic room," said McMillan.