I've been doing these clippings for a few years now and Masters Saturday typically produces less content due to different deadlines and low Sunday web viewership. That, combined with a peculiar day that saw some great early scores followed by the leaders not doing much, has left us with a little less to chew on heading into Sunday's finale.
Still, there was plenty of good stuff even if writing about the golf course appears to be forbidden!
(Reminder: The live chat here starts at 11 PT/2 ET right after the thrilling conclusion of the 1975 Masters. Weiskopf holds a one shot lead over Nicklaus and sits four clear of Miller.)
Ledes
Doug Ferguson's game story for AP:
It was a roar that defines the Masters, so loud it startled even Tiger Woods.

Rory McIlroy, who already dazzled the crowd with a shot through the pines to the back of the 17th green, raised the putter in his left hand as the birdie putt turned toward the hole, then slammed his right fist when the ball disappeared into the cup.

The cheer was so clamorous that Woods, who had settled over his shot in the 18th fairway, had to back away. After all these years of crushing the hopes of so many others, the four-time Masters champ finally felt what it was like on the other end.

That moment — and right now, this Masters — belongs to McIlroy.
Phillip Reid for the Irish Times:
You don't get a stampede around Augusta National, it's much too civil a place for that. Yet, as Rory McIlroy continued his quest for a maiden Major title by retaining his lead after the third round, there were significant moves made by the young and the old to make the 21-year-old Ulsterman cast a glance or two over his shoulder heading into the final day.
James Corrigan, writing for the Independent:
The fist pump said it all. Rory McIlroy has the opportunity to join the legends today when he takes a four-shot lead into the last round of The Masters. Europe's 12-year wait for a Green Jacket looks set to reach a quite glorious conclusion this evening.
Larry Dorman, filing for the New York Times:
Rory McIlroy of Northern Ireland moved one step closer to ushering in a new era in golf on Saturday at the Masters, shrugging off the immense pressure of playing with the tournament lead, distancing himself by four strokes from his closest pursuers and closing in on his first major championship.
Lawrence Donegan of The Guardian:
If history tells us anything it is that the course of a Masters tournament can change with the swiftness of a blink. But when the final round of the 75th version of Bobby Jones's annual invitational begins on Sunday, Rory McIlroy will surely never have imagined a more tantalising chance of winning his first major championship.
An ESPN.com highlight video is here and if you are looking to alter your level of consciousness, Andy North is analyzing the highlights.

Rory

Brian Keogh reports that Padraig Harrington sees Rory on the cusp of golfing immortality, with a particularly bold prediction.
Sensing that a victory by his Ryder Cup team mate would open the floodgates to multiple major wins, Harrington said: "I don't see why he can't win. And if he does win, there will be another name thrown in [to the debate] about the guy who is going to win the most majors in a career. So, it's a big step for him at the weekend in that sense.
Steve Elling on Rory's Vincent Chase-like setup this week.
McIlroy is staying in a rented home near the course with three boyhood pals from his home course in Holywood, Northern Ireland, and it seems to be a nice pressure valve for him, Schwartzel said.

"Yeah, I've seen him every night and we have had some good meat at the ISM house," Schwartzel said of the management firm. "Maybe that's the key. He has a couple of mates out there and looks like he's just cruising."

For a bunch of rambunctious boys in their early 20s, it sounds like they have mostly stayed out of trouble, excepting the neighborhood lady who yelled at them for throwing a football in the street.

"We'll probably go back, get some dinner and hang out," said Ricky McCormick, 21, one of the three amigos staying with McIlroy. "He's just really relaxed."

When the menu for the night was posed, one of McIlroy's pals cracked, "Asparagus."

Hey, it's Masters week, and at least they picked the right color.
Christine Brennan on Graeme McDowell joining Rory's entourage Saturday.
One of McIlroy's best friends, U.S. Open champion Graeme McDowell, missed the cut here and joined McIlroy's gallery Saturday.

"Actually he just texted me and told me he loves me. I don't know what that means. I don't know if that's him or the beer talking," McIlroy said, laughing.

"No, it's great to see him out there and I appreciate his support. He's going to know how I'm feeling. He's a major champion and he got it done last year at Pebble (Beach). Hopefully I can emulate that feeling and get a major myself."
And now this temporary halt to the Rory coronation, John Strege reminds us that no lead is safe at Augusta.
On seven occasions, those trailing by four or more entering the final round of the Masters have rallied to win, most notable among them Nick Faldo in 1996. Leader Greg Norman was up six on Faldo entering the final round and lost by five.
John Huggan on reasons to root for Rory, if it wasn't apparently enough already that he's a likable fellow who is the object of many UK writer mancrushes:
I mean, what's not to like? McIlroy, the product of staunchly working-class parents who worked a multitude of jobs to give their only son every chance of making it in golf, is immensely amiable and approachable and, despite the riches that have come his way so early in life, refreshingly modest. He knows that, despite his precocious physical talents, his all-round game remains a work in progress.
Chris Gay on Rory's eye-opening stats, none more impressive than 80% of his greens hit in regulation and no three putts.
The Four Backers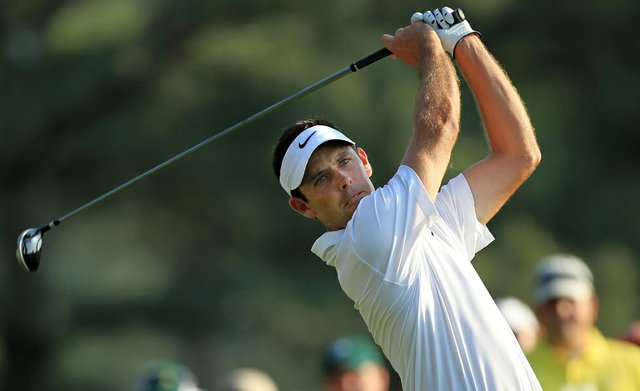 Four golfers are four back and each offers reason to think they could hang around and make things interesting Sunday.
Sean Martin on Charl Schwartzel and the strength of his game, as shaped by his father.
George Schwartzel helped his son build a simple, technically-sound golf swing that is lacking in quirks. He remains his son's only teacher.

"When your dad's as good as that, you tend to get the basics right very early," said Schwartzel's manager, Andrew "Chubby" Chandler. "His basics are great. He's got a very pure golf swing."

Charl seeks advice from his father only when he's home in South Africa. His father doesn't travel outside their home country often, and they don't use email to trade tips and video. Schwartzel likes it that way.

"I don't make it complicated," he said. "It's difficult enough as it is."
Jeff Babineau on Angel Cabrera's shocking return to the leaderboard after a missed cut last week and a four month hiatus to aid an injured wrist.
His lone positive result in six events this season: a tie for seventh at the opposite-field Puerto Rico Open last month, when a majority of the world's top players were in Miami competing at the WGC-Cadillac Championship.

But he has kept plugging along, working diligently on his game with mentor Charlie Epps and trying his best to to shake off the rust. On Saturday, he drove the ball well and his power came in quite handy, helping set up short-iron approaches that led to birdies on four holes and helping him overpower the Augusta's vulnerable par 5s by getting home on two and in a greenside bunker at a third.

"I didn't play for about four months, so I'm just getting my groove," he said. "I'm just practicing a lot."
Day drew a chuckle in the interview room Saturday evening when he noted the youth movement in men's golf, that "it seems every year they are getting younger." Like McIlroy, Day was drawn to golf as a boy when Woods began to dominate the game in the late-1990s.

"When Tiger came along, he pretty much changed the game," Day said. "Everyone turned into athletes. We are not fat slobs anymore. He has pretty much changed the game for the good. It just shows how good the coaching is, the science behind the game, and how confident some of these young guys are coming up now."
Bob Harig on Adam Scott, the other Australian hope vaulting himself into the picture with a long-putter aided 67.
Scott, who has 14 worldwide victories but has never been much of a factor in majors, tied for the day's best round with a 5-under-par 67 despite bogeys on two of the last three holes. That put him in a tie for sixth, five strokes back. Ogilvy, who won the 2006 U.S. Open, is another stroke back, tied for ninth.

All of them, no doubt, have a green jacket on their minds for personal reasons.

"Thinking about the Aussie duck thing would happen after I won," Ogilvy said. "'Oh, I'm the first Australian.' That's probably not what I'm going to be thinking about when I'm out on the golf course. But obviously it would be a really nice thing for Australia for it to happen, for sure."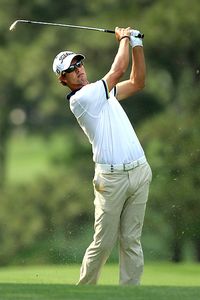 Rex Hoggard looks at the Aussies besides Scott:
Geoff Ogilvy was next, limping out in 39 strokes but rallying on the second nine to salvage a 73 and a tie for ninth place.

Jason Day, however, may be Australia's best hope on Sunday. Following birdies at Nos. 2, 3 and 5 the 23-year-old edged into a Grand Slam lead for the first time in his young career.

On Thursday, Day noted he wanted the Masters masses to yell his name like that of playing companion McIlroy. For much of his front nine they wouldn't stop.

"We're walking up (No. 6) and he looks at the leaderboard and says, 'Holy crap, I'm leading.'" Day's caddie Col Swatton said.

Holy crap, indeed.
If you saw Day's caddie carrying the bag like a rank amateur Saturday, Rex Hoggard explains why.
Walking up the second fairway the strap on Day's staff bag broke, leaving his caddie Col Swatton just one option – carry the 50-pound bag like a suitcase. Day, however, was not affected by the malfunction, birding the second and third hole to take the lead over playing companion Rory McIlroy.

"Jason turned around and asked, 'What are you doing?'" Swatton said."He was like, 'Man that must be heavy, but I've got to keep going. I'm playing really good.'"
Billy Byler on amateur Hideki Matsuyama's ridiculously good 68.
Matsuyama plans to return Monday to Tohoku Fukushi University, where he's a freshman. Matsuyama said his college, in Sendai, Japan, was damaged by the March 11 earthquake, but he didn't know the exact situation.
He will learn more next week. And he will take with him a grand experience.

"I'm very glad to be able to play at this beautiful a place. That's one of my impression," he said. "And I thought the greens are very hard."
Tiger
Ron Sirak says it's all about the putter for Tiger:
Tiger, it seems, is trapped in his own version of Groundhog Day right now: He shows a glimmer of hope; follows that with a disappointing performance and then is asked questions to which he has no answers -- other than coach speak. "I'm hitting beautiful putts," he said, sounding like he was trying to convince himself of something observation doesn't seem to support.
Gene Wojciechowski likes what he's seeing with Tiger despite Saturday's round.
To all those who say Woods won't win a major this year -- or win anything this year -- it might be time to tap the delete button on those predictions. Woods is nearer a breakthrough than anyone realized.

I say this with a straight face. I say it despite knowing that Woods was eight strokes worse on Saturday than he was on Friday, when he shot 66.

But the swings look less mechanical than they had from Bay Hill or Doral. For huge chunks of the first three days of this tournament, Woods appeared to be playing golf, rather than giving himself on-course lessons.

This is the course he knows best. And in the last six years, he's finished no lower than sixth. So a Sunday run to Top Five Land is a probability, not a possibility.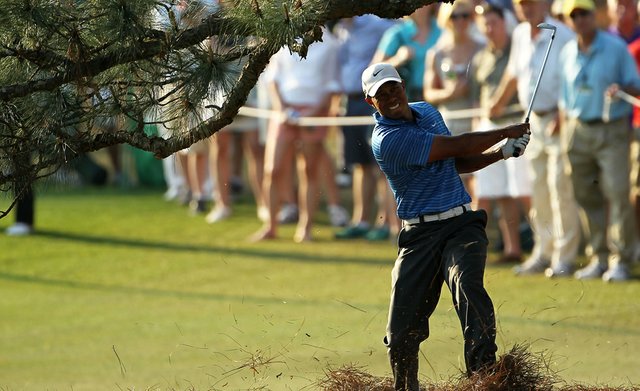 Jeff Rude is still wondering about Tiger's swing.
Just when you think his swing is on the verge of being second nature, he hits a block flare as he did on No. 4, short and right, similar to the one he rinsed in a first-round loss at the WGC-Accenture Match Play. Or he pulls a drive like the one on 17 that, of all things, hit the Eisenhower tree.

I didn't even know the Eisenhower tree was in play for Woods. Short hitters, yes. Woods, no. But he hit it Saturday and the ball fell straight down, onto the pine straw, from where he had to squat and make a flat swing en route to a scrambling par.

When did he start imitating an old president as a golfer? Is the Eisenhower tree even in Steve Williams' yardage book?
Michael Bamberger on the scene in Tiger's gallery:
A year ago, Phil Knight, the Nike king, was walking the hills here, as part of Tiger's support team, like Tiger needs a support team. A year ago, Saturday Night Live was killing him in a skit. A year ago, he had his own Nike spots. Now he's a supporting player in group ads. A year ago, he was trying to save his marriage. What a difference a year makes. Now he's looking for his putting stroke.
Speaking of that gallery, Thomas Boswell says it's lacking in energy:
When Woods misses putts, and on Saturday he missed every type known to suffering golfus humanicus, he agonizes like a slain lord but the crowd lets out such a tepid moan that, sometimes, you barely hear it.

This isn't judgment. It is just reportage.
The Other Americans
Mike Lopresti files a few notes on the unprecedented American showing.
The ugly Americans. Some of their scores, anyway. The highest U.S. player is Bo Van Pelt in eighth place, the first time in history no American was in the top five going into the last round of the Masters.
And on Phil Mickelson, at -3 after a final round 71:
"I struggled getting the right speed, which historically I've been able to read these greens very well," he said. "And I feel like I know the breaks on most of the putts but I just have struggled getting it going.

"It was there for the taking … The greens are more receptive than they have ever been."
Dave Kindred on Fred Couples salvaging his round after a rough start.
He'd be at McIlroy's throat if he hadn't decided Saturday afternoon, for the first time all week, to try more than he could do. Near enough the eighth green to go for the par-5 in two, Couples "tried to hit some low, hooking wood up there, and I can barely hit a straight wood shot, let alone try that." He pulled it left into junk, after which ensued "a comedy of errors." He hit his third over the green, his fourth short, and three-putted from there for a double. Birdies from 15 feet at the 15th and eight feet at the 16th brought him back to even for the day.
And finally...one more reminder, at 11 PT/2 ET the Live Chat kicks off and the person who correctly guesses Jim Nantz's pun in honor of the champion wins a plant from the Butler Cabin Botanical Conservatory!