The
R&A
must have taken media dining up a notch Saturday, because the coverage was stellar. Or, maybe the wicked weather and the field separating itself a bit helped. Either way, enjoy...
Ledes
About the only predictable part of this British Open is the weather.

The biggest surprise is the list of contenders for the claret jug.

The weather was wild again Saturday, shifting from a raging wind to a gentle sea breeze, from a driving rain to brilliant sunshine, and leaving most of the field wet, tired and feeling as though they got the short end of the draw. That's not unusual.
James Corrigan for the Independent:
Darren Clarke continues to roll up the putts, roll up the cigarettes and roll back the years. And if he can conjure another performance in the sweetly struck style of yesterday's 69, they will at last roll out the Open's red carpet to hail the big, genial Irishman.
Kevin Garside for the Telegraph:
We are getting used to Northern Irish heroes walking into sunsets. But few would have cast Darren Clarke in the role of leading man at the 140th Open championship.

At the close of a foul day, with the sun casting apologetic shadows across Royal St George's, it was Clarke, one shot to the good, who stood between the Claret Jug and the American hordes.

Yes they are over here, over excited and overdue. The leaderboard resembled the Kent coast in wartime Blighty, awash with Yanks talking big and eyeing up the prettiest prize in golf.
Tom English for Scotland On Sunday:
A METEOROGICAL schizophrenia took hold of the Open championship, half the third round being played in a tempest and the other half in the kind of weather you might expect on the Kent coast in summertime.

The early starters played through cataclysmic conditions, but all the rain and all the wind had died and gone away by the time Darren Clarke came strolling up the 18th hole to rapturous applause, his large frame casting a shadow on the fairway, his name atop the leaderboard, looking down on all others.
Lawrence Donegan for the paper most likely to have given Rupert Murdoch raging hemorrhoids:
Rain, rain everywhere, and plenty of it fell on Darren Clarke and Dustin Johnson. But if the big man from Dungannon and the imposing son of South Carolina got wet they did not get swept away on a Saturday at Sandwich that made a fool of the know-all at the clubhouse bar, Mr Conventional Wisdom.
Peter Higgs for the Daily Mail:
Darren Clarke can complete one of the most endearing and unlikely comebacks in the history of golf in the British Isles if he claims the 140th Open Championship at Royal St George's on Saturday afternoon.
Unbylined Belfast Telegraph (Karl MacGinty?):
Darren Clarke, who played his first Open Championship 20 years ago and has looked on as so many friends and rivals have lifted the famous trophy aloft, leads by a shot with 18 holes to go at Sandwich.

Video
Saturday Highlights from ESPN:

The Numbers
Brett Avery with the stat roundup heading into Sunday and the numbers do validate the impression that early golfers Saturday got the bad end of the draw.
Thanks to slashing rain and gusting winds marring much of the 140th Open Championship, the third-round scoring average at Royal St. George's of 74.690 was appreciably higher than the first (72.032) and second rounds (72.974). The day's first six groups, teeing off between 8:55 and 9:45 a.m. (local time), averaged 77.182. The last six groups, including the top contenders, teed off between 2:15-3:05 p.m. and combined for 72.333. For 54 holes the field is at 72.908, nearly three strokes over par.

Darren
As if Darren Clarke doesn't have enough on his mind Sunday, Brian Keogh reports that he stands to "pocket a cool £2 million bonus from Newcastle United owner Mike Ashley if he lifts the Claret Jung at Sandwich today.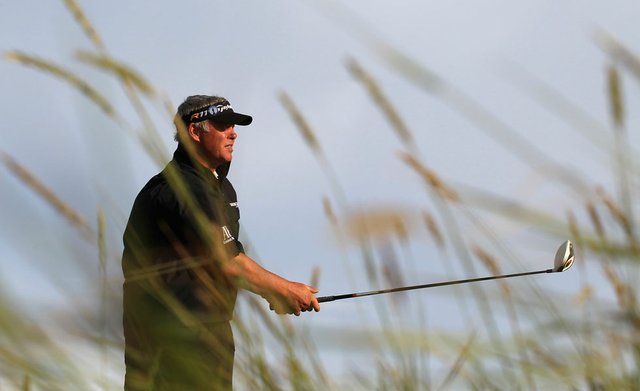 Alistair Tait asks whether Clarke is feeding off of post-Rory inspiration:
Clarke first met McIlroy when the reigning U.S. Open winner was just a boy. Clarke took the young lad under his wing and mentored him. So the inevitable question came up – has Rory's success given Clarke a new lease of life?

No.

"He's half my age. In terms of inspiring me; it's a different era."

Clarke has worked hard with sports psychologist Dr. Bob Rotella this week. He had to. A closing 75 in the Scottish Open wasn't exactly the best preparation for playing in the Open Championship. He also took a lesson out of the notebook of former Ryder Cup player Ken Brown.

"Ken Brown once said 'don't let your attitude affect your swing,' and my attitude has been very good this week."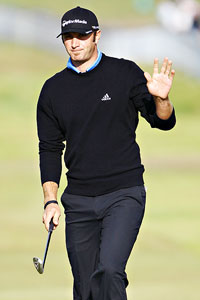 Dustin
Bob Harig on the role Joe LaCava has and will play for Johnson Sunday:
LaCava downplays what benefit he brings to Johnson as he heads into the final round at the Open Championship in the final group with Darren Clarke. But his steadying presence and experience certainly can be of value.

"Obviously it's good to have a guy that's got a lot of experience," Johnson said of LaCava. "I mean, first of all, we get along very well, and I think a key to having a good caddie is getting along well and then also trusting him, and I trust him. We've done very well so far, and hopefully we can do a little better."
Bill Fields says DJ is a links golf fan:
Johnson, who first experienced links golf when he came to Scotland and played in a tournament at St. Andrews when he was a member of the Coastal Carolina team, enjoyed the style of play from his first taste. "You've got to hit different kinds of shots," he said. "You've got to cut it, you've got to draw it, you've got to hit it low, you've got to hit it high and I enjoy that. You've got to control your golf ball, which I think I do a very good job of. I'm not surprised that I'm close to the lead. I'm just really enjoying playing this golf."
Scott Michaux thinks we need to watch Johnson's attacking style Sunday and how it may be to his advantage.
"Although there's a lot of holes you can play along the ground off the tee, most of the holes on the front you have to carry," said Mickelson. "So his length is allowing him to take advantage of the holes that are reachable with the wind, and he's making birdies."
For some reason Johnson's success this week comes as a surprise to the local media that doesn't consider his brand of attacking play fit for links golf. Any doubters must not have been paying attention last year when Johnson was inside the top 10 and the lowest American on the leaderboard before making a hash of the last two holes to finish tied for 14th at St. Andrews.
Rickie and Rory

Sean Martin says an early arrival has helped Rickie.
Said Rory McIlroy, who competed against Fowler at that Walker Cup and played alongside him for the first three rounds this week, "He's such a natural player and he's got a lot of feel, so he controls his ball flight very well."

Fowler arrived in England on the Saturday before tournament week to give himself more time to acclimate to the time change and conditions. Last year, Fowler didn't get in the Open until the week before. He played that week's John Deere Classic, then took the charter flight to St. Andrews, not arriving until the Monday of tournament week. The extra time paid off this year. Playing Royal St. George's last Sunday allowed him to see the course with a south wind, the same wind that blew during the second and third rounds.
John Huggan can't help but marvel at the bizarre irony that Californian Rickie appears more at home on a links than Northern Ireland's Rory McIlory, as evidenced by Saturday's play.
Ever since they first came together at Royal County Down for the 2007 Walker Cup, they've made quite the pair. But somewhere along the way things have gotten a little confused. It's the one born in Ireland who has the high ball game "made" for America and the "hit and stick" of the PGA Tour; the other hails from California but is increasingly more at home, bouncing along on a seaside links. In other words, based on the respective trajectories of their shots, they should be switching tours, with Rory McIlroy playing stateside and Rickie Fowler in Europe.
Paul Kelso noted another contrast between the two lads Saturday.
Where Fowler was controlled and took his chances, McIlroy was wild off the tee, missing both left and right, and wasteful with his short game. He can't have been helped by apparently being underprepared for the weather.

He chose to start without a waterproof jacket and by the time he deigned to put one on, in a lashing rainstorm on the second green, it wasn't just his clothes that were leaking.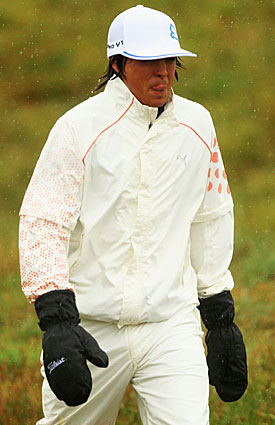 Steve Elling talks to Rickie's housemate this week, who says the lad is lapping up the weather.
Nobody disputed that notion. His housemate for the week, former Masters champion Zach Johnson, said Fowler might be mentally poised to finally get over the victory hump given his appetite for this style of play.

"Rickie loves this stuff over here," Johnson said. "He loves links golf, shaping shots, imagining things. Bad weather makes him perk up. He says, 'Let's take it on.'"
Speaking of Rory, Keogh says his chances ended on 14 Saturday when the U.S. Open winner drove it out-of-bounds.
McIlroy pulled his cap down over his eyes at the finish but his shoulders were already slumped after than body blow at the 14th.

Admitting he lost heart there, he said: "You've done so well for 13 holes to keep yourself in it, and then to hit you've got half of Kent on your left and you hit it right, it was a bit disappointing. Yeah, it was a tough one to take."
The Amazing Tom Watson
Bill Fields says the "round provided a classic example of an elite, veteran golfer keeping his wits about him and not trying to force things."
"There's an old saying, 'Swing with ease into the breeze,' " Watson said. "A lot of times you can see these young kids out there trying to hit it really hard into the wind. That doesn't flight the ball into the wind very well. You can flight it by swinging it a little bit easier, and that will take the height off the ball. In my case, I can't hit it hard, so the ball is flighted naturally. So it's good in conditions like this."
Paul Mahoney on Watson's amazing play in the rain:
After his round, Watson looked like he had just driven through a car wash and forgotten to roll up the windows. Soggy Sandwich, anyone?

"You just love to see us pros suffer, don't you?" Watson said with a laugh. Just how bad was it out there? "It can tear you up and spit you out," he said. Not Watson, it didn't. Not this time. "I enjoyed that," he said, sounding like the Marquis de Sade after a particularly demanding party. "It was fun. There were some great escapes out there."
The Americans Are Back!! (At Least Through 54 Holes)
Rex Hoggard on the might Americans, who've been sensational through three rounds.
The leaderboard at the 140th Open Championship has more American flags than a Fourth of July celebration. All total, six of the top 10 are American, including primary contender Dustin Johnson who powered his way through a throat infection and over much of Royal St. George's pitfalls for a day's-best 68 which was matched only by fellow American Rickie Fowler.

"Apparently the death of American golf has been greatly exaggerated," Joe Ogilvie tweeted from half a world away.

There are no guarantees that the United States can get off the grand slam schneid, particularly considering Clarke's commanding performance, but there is reason to be optimistic.
Jim McCabe with an enjoyable look at Gary Woodland's up and down last two days.
Woodland drove it up against a steep face of a pot bunker at the 12th and made bogey, then drove it right at 13 and was left with a bad angle to the hole and three-putted from about 35 feet over a ridge.

What came next were the woes at 14, but first, a little levity needs to be introduced.

Standing to the right of the 13th fairway with caddie Jon Yarbrough, Woodland stared past the 13th green and 14th tee to golfers at Prince's Golf Club. He nudged his caddied, pointed and laughed.

"I was shocked," Woodland said. "There's no way that we'd be playing in this back home in the States."

It was starting to come down sideways, flagsticks were bending in half, umbrellas were impossible to open . . . and still, as Woodland looked around, people were playing golf, watching golf, cheering for golf.

"These fans," he said, "are unbelievable."
Quietly lurking at even par is Phil Mickelson, who sounds optimistic.
Of the players ahead of Mickelson — Miguel Angel Jimenez, Lucas Glover, Rickie Fowler, Thomas Bjorn, Dustin Johnson and Darren Clarke — only Glover has won a major championship. Mickelson has a chance, and he knows it.

"I'm very excited," he said, and his smile seemed to back it up. "There's nothing more exciting than having a chance Sunday in a major. I know that I'm not leading, but I'm right there.

"I've got to do something really good tomorrow. I'm so excited. It's fun to come over here and have a chance."
Others
Andy Farrell reminds us not to overlook Thomas Bjorn, but there is that whole business with having your own bunker named after you that looms over the final day.
Bjorn has steadfastly refused to talk about the events of the fateful afternoon when he led by three strokes with four holes to play. He dropped a shot at the 15th and then hit his tee shot into the bunker to the right of the green at the short 16th.

It is rarely good when a feature on a golf course is named after a player. Duncan's Hollow, the dip to the left of the 18th green, commemorates the Scot's failure to get down in two shots and so lose the 1922 Open to America's Walter Hagen. Sandy Lyle also got a bogey from the same spot in 1985 but it turned out all right when nobody beat his score.
Duncan had already won an Open at Royal Cinque Ports, the course to the south at Deal, two years earlier.
Tom English is also keen on Bjorn Borg.
A Bjorn victory would surely bring the grandstands to a state of delirium given his own tale of woe at St George's in 2003, his three shots out of the bunker on the 16th hole of his final round and his gifting of the Claret Jug to Ben Curtis.

For other reasons, Bjorn is a Cinderella story. His beloved father passed away only two months ago and he only made it into the Open on Monday evening when Vijay Singh withdrew. "This place suits my eye," he said last night. Bjorn is to be watched this afternoon.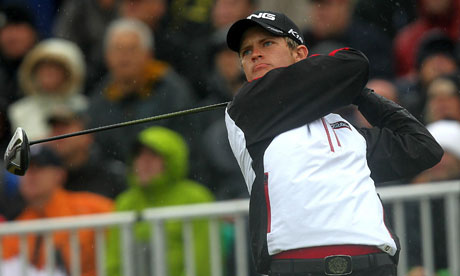 Donegan on how Tom Lewis, vying for low amateur Sunday with Peter Uihlein, settled on IMG as his agent. Will they handle the rest of the Walker Cup teams' shirt and hat deals too?
Five of the most powerful agents in European golf traipsed in for their 20-minute shot at the prize, and five traipsed out. But it appears there was a clear winner – with Lewis himself indicating he will sign with the International Management Group when he turns professional. As part of the agreement with IMG, there will be an advisory role for Daniel Field, the local club professional who has been looking after Lewis during his amateur career, according to reports.
Course And Conditions
Monty, through his Telegraph ghost, did not hold back about the conditions:
The conditions yesterday introduced a random element, which is a shame. You don't mind a challenge. It was a challenge on Friday. The course was very dry but it was playable, you could work the ball around the course in a links way. Yesterday it became a bit of a lottery. I hate to use that word but I'm afraid it was the case. I only hope that we get a winner that justifies The Open Championship. Not someone who has benefited from random events. Rain is fine, wind is fine, but not together. Not like this. It was cold and horrible and militated against good play.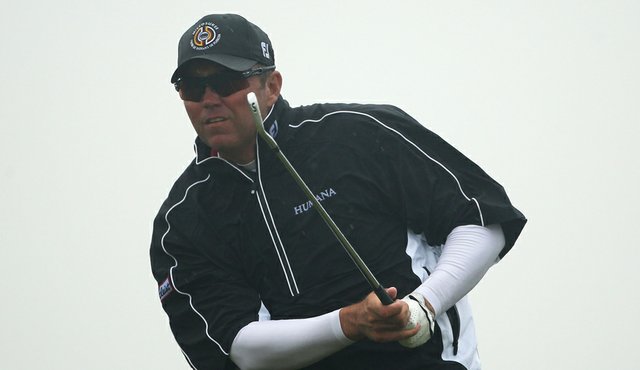 Alistair Tait rounds up the player comments on Saturday's conditions. Just one of many worth reading:
Defending champion Louis Oosthuizen (74) "They moved the eighth (tee) up about 40 yards and I couldn't get there with driver, 3-wood. I got to the front edge. In the practice round we were hitting 3-iron, sand wedge. If you didn't hit the fairway, you had to lay up and you're looking at a 140-yard third shot into the rain and wind."
Gene Wojciechowski reviews the weather in his always engaging style.
Lawrie couldn't reach the fairway on the par-4, 469-yard fourth hole -- and that's with the tees moved up nearly 30 yards. That's how hard the wind was blowing against him.

"Only about three or four people in the field that can hit the ball 250 in a howling gale," he said.

Edoardo Molinari hit driver, 3-wood on the hole and ended up 45 yards short of the green.

"I think [the course] was playing stupidly difficult," said Molinari, who shot 76. "Even if they moved some tees up, I think some holes were just a joke."

Oosthuizen, who went through four gloves and four towels, figured par was more like 74 than the actual 70. And that's what he shot, 74.

"I've never played in anything like this," he said.
Martin Dempster says the fourth hole bunkers got some action Saturday and has more of Lawrie saying the R&A did not move tees up far enough to make the hole playable.
"I thought the fourth tee was really poor," said Lawrie, the water dripping off the brim of his baseball cap. "They have only got the tee up about 20 yards. It is about 250 yards to reach the fairway. Into a howling gale and pouring rain you can't get there. You are aiming in the left rough. I hit it in the bunker. They could have put that tee much further up. There are only three or four people in the field who can hit it 250 yards into that wind in this rain."
The SI Gang asks whether Royal St. George's is a worthy venue and several noted figures stick up for it.
Alan Shipnuck, senior writer, Sports Illustrated: I love it. It demands a lot of the players but also gives them a chance to showcase their shotmaking. And it played fair in both 75-degree weather and a near-hurricane.

Jim Herre, managing editor, SI Golf Group: The awesome leader board says it all about RSG. What a terrific mix of generations and playing styles.
And this from Bamberger:
Michael Bamberger, senior writer, Sports Illustrated: RSG is a true links golf. It's outstanding in every way. The only thing that's better in southern England is the course next door, Royal Cinque Ports.
Speaking of Deal, they have a train station in legitimate walking distance of the Royal Cinque Ports clubhouse. Something to keep in mind as the London-to-Sandwich train experiment is working until spectators are dropped off at the course, reports the Mail on Sunday.
The Kent tourist board have been promoting the 'excellent' transport links between London and Sandwich for golf fans — especially the high-speed train service that slashes journey time by 55 minutes.

Unfortunately, it was also taking spectators nearly an hour to walk from the station to the course due to overcrowding on the narrow path and queues for entry.
Media And Images
A Mail on Sunday report says the BBC has apologized for Mark James's political commentary Saturday:
Bluff Yorkshireman James was responding to commentator Andrew Cotter's view that the province could retire as a sporting nation if Open contender Darren Clarke followed his compatriots Graeme McDowell and Rory McIlroy in winning a major.

James's retort - 'Perhaps they'll even stop fighting each other' - was met with silence. Within 15 minutes, presenter Hazel Irvine said in a voiceover: 'We'd like to apologise for any offence caused by a remark in commentary at the end of Darren's round.'

James, Europe's 1999 Ryder Cup captain, said later: 'I acknowledge this was not the right thing to say and I apologise for any offence caused.'
John Strege's media watch column with a roundup of the best of Twitter and television, with lots on Paul Azinger's erroneous observation about major champions and practice putting strokes.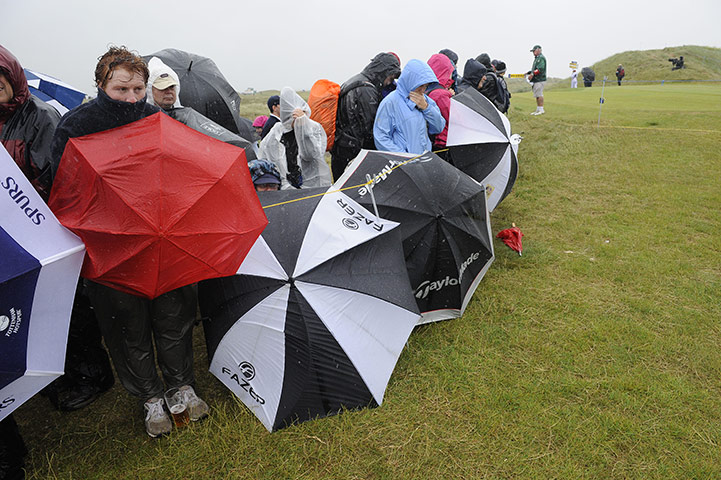 Tom Jenkins selects favorite images he shot for The Guardian. Check 'em out, you'll love it if you are anywhere resembling a temperate climate.