It does get a bit tiresome to hear athletes now asked about drinking or doing God-knows-what with a coveted trophy, so in reading Karl MacGinty's excellent account of Monday's Open aftermath at Royal St. George's, how refreshing to learn Darren Clarke showed restraint.
So what had Clarke and his fellow revellers supped from the Jug ? was it the black stuff of which he is so fond or did he wash out the after-taste of ladybirds with champagne?

Actually, not one drop was allowed to sully the silver.

"There's been nothing in it overnight at all," he explained. "I'm a little bit of a traditionalist. I love the thought of whatever being in the trophy but I'm a bit of 2-iron as opposed to rescue-that-sort-of-guy.

"I feel a bit funny about putting stuff in the Claret Jug that shouldn't be in there, so I'm a bit more reserved as to what I should do," added Clarke.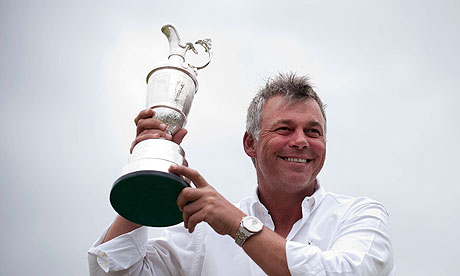 Meanwhile in Lawrence Donegan's write-up of Monday's press conference with Clarke, the winner was revealed (by agent Chubby Chandler) to have considered quitting in April. Clarke was asked about that his talks with Bob Rotella had started up last week after a long absence. The content of the talks was off limits, at least for Clarke.
"No, I won't," Clarke said when asked to explain what he and Rotella had spoken about. Fortunately, the psychologist was not so shy. "Darren had been getting more and more frustrated with his putting and that was affecting his whole game," Rotella said. "I told him, 'You are going to have to go unconscious'. I told him I didn't want him to think about technique. I just wanted him to look where he wanted the ball to go and hit it – like he did when he was 12 years old.

"I used to work with stammerers: 98% of them could talk when they were in their bathroom; it was just that little doubt in public which tied them up. He had the skills – he's a talented athlete; it was a question of freeing them up."
Derek Lawrenson's write up includes several photos from Monday and this from Chubby on where Clarke may be cashing in:
Clarke received a £2 million sponsorship bonus for claiming the Claret Jug and there will be plenty more where that came from. Asked how much this win was worth,
Chandler replied: 'It will be lots. He's very popular in Japan, for example. Darren's always smiling and you're going to be a wonderful ambassador for The Open when you can speak like he did afterwards.'