From Philip Reid's story, it sounds like R&A Secretary Peter Dawson is just quieting the building speculation as to prevent an all-out riot over Royal Portrush's prospects for an Open Championship rota return.
"We'll take a closer look at Portrush," said Dawson, adding the rider: "What it doesn't have, I don't know yet until we've had another look at it. But I have agreed to look. The usual mixture of a great course and plenty of infrastructure combined with a prospect of commercial success is what is needed. There's no doubt about the golf course, the other two are what we have to look at." He added: "I don't want to start a hare running on this, other than we are going to take a look."
Of course a Northern Irishman winning an Open or U.S. Open's should have no impact on future venue selection, as Dawson himself has said. Hopefully they are just looking at it because it's a great course and they have a few venues that are not nearly as good.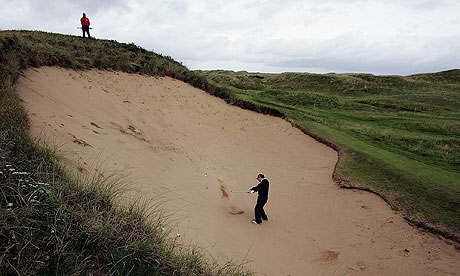 Darren Clarke sounded more like Peter Dawson than Peter Dawson when asked about it Monday:
Clarke understandably voiced his support for Portrush to host the Open but admitted there were potential drawbacks. "That is where I would like to see it. From a personal point of view, I would love to see it going to Portrush because it is every bit as good as any Open venue that is on the rota right now.

"But until the R&A have a look at it – the logistics are huge. This week we have had unbelievable crowds – we have had 180,000. Do they think they will get 180,000 through the gates in Portrush? I am sure they would but they have to look at other aspects outside of that to make sure the tournament works.

"The R&A have been doing it for a very long time and they know what is required."