There are a lot of issues to digest from the week, with ramifications for the ongoing dicussions about course setup and distance advances along with new discussions about the PGA's worthiness as a host for one of golf's biggest championships.
But like the aftermath of one of those really misguided award shows, it would be disrespectful to the winners to feast on the foibles, so we'll stick with the cheerleading overnight coverage for now.
Ledes - America The Beautiful Edition

Steve Hummer for the hometown Atlanta Journal Constitution:
So, this is the great American golfing hope, the one who would break the foreign stranglehold on the majors and make us all forget that Tiger Woods has left the arena?

A player who is only the second most famous golfer in his own family – behind his aunt?

One who played in that college football factory of St. John's?

A callow PGA Tour rookie who before this week had played in exactly as many of golf's majors as Charles Barkley?

No one saw Keegan Bradley coming. Not this year. Not this week at the PGA Championship.
Doug Ferguson for the AP:
A rally that ranks among the best. A collapse hardly anyone saw coming. There was even a guy in a red shirt Sunday, pumping his fists with each clutch putt in the final, frenzied hour of the PGA Championship.

In a major filled with unfamiliar names, Keegan Bradley delivered an unforgettable finish.
Keegan Bradley never lost hope — not surprising since the New England native is a devoted Boston Red Sox fan and grew up learning about his favorite team's agony of trying to win a World Series for the first time since 1918 when Babe Ruth was pitching at Fenway Park.

But playing in his first major championship, Bradley delivered a wicked comeback, charging back from a four-shot deficit with birdies on the 16th and 17th holes and a gutsy par on the 18th in regulation, then winning a three-hole, aggregate-score playoff by one shot over Jason Dufner in the 93rd PGA Championship at Atlanta Athletic Club.
Larry Dorman for the New York Times:
Keegan Bradley, who seemed to be out of chances, out of birdies and out of luck with three holes left in the P.G.A. Championship at the Atlanta Athletic Club on Sunday, came roaring back with two birdies to tie a faltering Jason Dufner and then prevailed in a three-hole playoff to become the first golfer in eight years, and just the third in history, to win a major championship in his first appearance.
Ledes, Home Of The Riots Edition

Kevin Garside for the Telegraph:
For a moment there they had us going. Luke Donald and Lee Westwood sounding bugles around the turn to threaten an unlikely charge at the 93rd US PGA Championship. In the end they and the field had to bow to a pair of A N Others fighting it out to become the first American since Phil Mickelson at the Masters last year to win a major.

Come on down Jason Dufner and Keegan Bradley, the former winless in 10 years on tour, the latter a rookie playing his first major.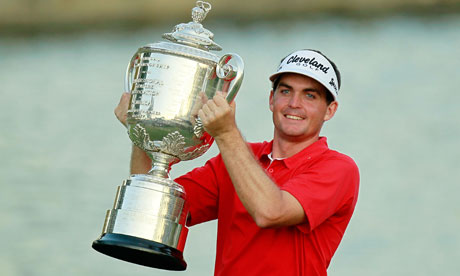 Lawrence Donegan, The Guardian:
God bless America, land of the free and home of a major champion – finally. European domination and the longest major championship drought in the modern history of US golf, came to an end here on Sunday when Keegan Bradley walked away with the 2011 US PGA Championship trophy.
James Corrigan for The Independent:
America at last has another major champion champion to hail, although absolutely nobody in this vast country would have suspected that a Tour rookie would be their man. Young Keegan Bradley became just the second player since 1913 to win a major on his first attempt when prevailing in dramatic circumstances.
The Weird, Wacky, Wonderful Week
Jeff Schultz on the weird week:
The PGA Championship this week at the Atlanta Athletic Club was bizarre. Tiger Woods blew up on Thursday and flew out on Friday. Phil Mickelson never was a factor. Nor was Rory McIlroy or most recognizable names on the Tour. If there was a bridge in Johns Creek, a television executive was jumping off of it.

So it sort of figured that the tournament came down to two of the biggest obscurities in the field: Jason Dufner, who had never won a Tour event, and Bradley, a rookie playing in his first major and largely was known as Pat Bradley's nephew.

The ending: Perfect.
Rich Lerner compares Sunday's finish to this year's epic Masters (nearly equal?!):
It may not quite have been Hogan against Snead, Jack against Arnie, Tiger against Bob May, but Bradley against Dufner turned out to be far more electrifying than a starving-for-stars public and press figured when they drearily woke up this morning.

We don't always need famous golf people to satisfy. Magnificent golf shots will do.
Steve Eubanks says it was one of the most exciting majors of the year. Considering there are only four of them and two were epic, I guess that's something.
For those who looked at the leaderboard of this PGA Championship and gave a singsong cry of "boring," the joke's on you. Yes, for the casual fan, this looked like the Nationwide Tour's Wichita Open for a while. But by the end of Sunday, it was one of the most exciting majors of the year.
Robert Lusetich believes Sunday capped off a great year for the majors.
But even if Keegan Bradley doesn't become a star, Sunday at Atlanta Athletic Club offered a reminder of another truth.

As much as it's the sport's big personalities that draw us, it's ultimately the golf that satisfies.

And in that sense, the four majors this year — Charl Schwartzel's birdie barrage to win the Masters, McIlroy's triumph at the US Open, Darren Clarke's popular victory at Royal St George's and the thrilling finish to the PGA — have shown that golf is as strong as ever.
David Whitley said the two unknowns put on "as good a show as anything Tiger Woods or Phil Mickelson ever managed."
Good Lord, if Tiger and Phil had done what the No-Names did, guys like me would have been comparing it to Ali-Frazier or the Lunar Landing.

I still think golf would be better off with a leading man than a bunch of capable supporting actors. But when the actors perform like they did at the Atlanta Athletic Club, it reminds you how bafflingly enchanting golf can be.
Jason Sobel offers the PGA of America and Rees Jones some brochure blurbs:
Maybe the no-names were Rees Jones' fault, his dastardly redesign of the Highlands Course leveling the playing field to the extent that nobody held an advantage. Maybe it was the PGA of America's fault, setting up the course so long and fierce that the world's best had their talents negated. Maybe it was Mother Nature's fault, her scorching temps melting away the elite players.

The truth is, it was nobody's fault, because there was no blame to be had. Instead, we should be crediting the aforementioned parties for showcasing a theater that provided a thrill ride, both of the positive variety and the negative.
Chris Stevenson says penal design is the recipe to cure the evils of the modern game.
The fact is, the guys playing golf today are so good that the only way to make the game interesting, to bring bogeys or the "others" into play, is to make it stupid hard.

I know how great golf architecture should be about layers and angles and options, but every now and then there's nothing wrong with the only option being a relatively straight shot with little margin for error in major championship play.
Keegan Bradley
Vermont isn't a golf state, St. John's University isn't a golf school, and the long putter isn't what great players win major championships with.

Oops! Check that. Tour rookie Keegan Bradley, playing in his first major championship, proved all of those statements wrong here Sunday when he won the PGA Championship.
Your winner of the 2011 PGA Championship left his rented townhouse Sunday with a batch of peanut butter and jelly sandwiches made fresh by his mother, Kay. Just before he drove away, Keegan Bradley told her, "I'm gonna do it, Mom."

"I know," she said. "Yes, you are."

And then he drove to the Atlanta Athletic Club, teed off at 2:30 p.m. local time, overcame a five-stroke deficit with just three holes left to play, somehow squeezed his way into a playoff and made the kind of golf history that lasts forever.
Scott Michaux on Bradley's rise:
With two victories including a major in his rookie season, Bradley is an unknown no more. Among the things he did Sunday was become the first golfer to use a long putter to win a major.

Though Dufner will have to console himself with replacing Charles Barkley as the most famous golfer from Auburn, Bradley will have to contend with being cast as a future star after joining Ben Curtis and Francis Ouimet as the past three golfers to win a major in their first attempt.

"Ever since I was 10 years old, I've kind of flown under the radar, I guess you could say," Bradley said. "I had what I thought was a pretty good college career (at St. John's). I never really got noticed. Same in junior golf and kind of the same out here.

"I've been having a good year, and that's just the way it happens with me, which is fine. I was happy with it."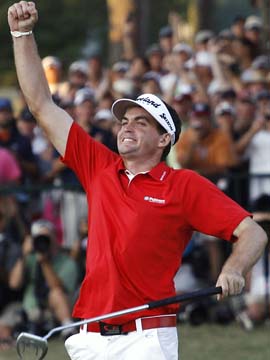 Steve Elling on the dramatic turnaround in Bradley's final round.
In the span of an other-worldly hour, Bradley's chances of winning at brutish Atlanta Athletic Club ran a completely unforeseeable gamut, morphing from impossible, to inconceivable, to improbable, eventually giving Bradley one of the unlikeliest wins in major championship history.
Seemingly dead in the water -- literally -- after bashing a pitch shot into a pond on the 15th hole to result in a triple-bogey, Bradley pulled off the greatest golfing Hail Mary in decades, playing the final three holes of regulation in 2 under and then winning a playoff with Jason Dufner.

"This guy is the gutsiest player I have ever worked for," caddie Steven Hale said, his voice cracking with emotion. "There's no quit."
John Huggan on Bradley's influences.
As always when someone emerges as a winner, there are people to thank and Bradley was quick to pay tribute to, amongst others, psychologist Bob Rotella, "my idol" Phil Mickelson and, of course, his Auntie Pat.

"I grew up going to Pat's tournaments and totally idolizing her and wanting to be like her out there," he recalled. "I remember watching her. I remember as a kid going to her tournaments and literally staring her in the face. I'm her nephew and she was so into it she would not even recognize me. I thought that was cool. I always wanted to be like her.

"It's unbelievable to think that two and a half years ago I was playing on the Hooters Tour grinding for survival to keep playing. It's amazing what comes with winning a PGA Tour event. I have no idea with what comes with winning a major right now. But it's an amazing feeling."
Michael Whitmer finds out what Keegan's PGA pro dad Mark Bradley was doing Sunday. Working the member-guest.
With his son in position to win the event that his organization runs, PGA of America club professional Mark Bradley considered taking an early-morning flight from Jackson Hole, Wyo., to Atlanta, knowing that history - family and golf - might be made.

Duty called, though. There was a member event at the Jackson Hole Golf & Tennis Club yesterday, so he felt obligated to work on a busy day. Well, sort of work.

"Keegan had just birdied the first hole when I was sending the groups out, so I announced that and everybody cheered,'' Mark Bradley said by telephone last night, after his son captured the 93d PGA Championship in a playoff over Jason Dufner, winning in his major debut. "I told them I probably wasn't going to be there when they got back in, because I was going home to watch.''
Steve Hennessey talks to Keegan's college coach at St. John's.
The college coach was at a loss for words as he talked about the Vermont native's PGA Championship win. He recalled the blue Ford Fusion that Bradley would drive around on the Hooters Tour from tournament to tournament, and how much that fueled his passion for being successful.

The biggest difference in Bradley from college to now? Well, of course, it's the long putter.

"The long putter has helped him more than anything," he said. "He's got tons of confidence with it, and he's been putting with that for a while. He was always a streaky kind of putter, but now he's been more consistent and he's just making things. He's driving it an absolute mile, and now it's a bit straighter, too. Believe it or not, he drove it a bit farther in college, too."
John Paul Newport reminds us that Bradley was in contention last week before melting down again. And he also reminds us about the worst part of Bradley's win: the dreaded attention seeker Jim McLean will be in the spotlight again.
Last week, at the WGC Bridgestone Invitational in Ohio, Bradley was in contention until the back nine on Sunday. That's when he had a major meltdown, posting four bogies and a double bogey in the last seven holes to finish T15. He three-putted the 12th hole and then lost it. "It crossed my mind out there on the back nine today, you know, here we go again. But I put it behind me," Bradley said.

He credited his work in the last week with McLean and sports psychologist Bob Rotella.

"I told him he couldn't expect everything to go great all the time," McLean said earlier this week. "I said you've got to get in there and be in contention, and sometimes you win. And if you screw up and don't win, you still have had a great tournament."
Bill Pennington analyzes the golfer-from-the-northeast angle for the New York Times.
Bradley is going to be a popular new draw on the PGA Tour with his classic good looks and a Hollywood leading man's cleft in his chin, but Yankees fans may not like to hear what Bradley did in the days after the Red Sox' record-setting comeback seven years ago.
"I wore my Red Sox cap all over Queens," he said Saturday. "I mean, that was historic."
Helen Ross of PGATour.com says Bradley is now part of the Player of the Year discussion.
The victory put Bradley squarely in the conversation as the PGA TOUR's Player of the Year and propelled him 20 spots to No. 4 in the FedExCup. The odds-on favorite for Rookie of the Year is now one of just five players with two wins on TOUR this season—and more importantly, the only one with a major championship among them.
Stephanie Wei gets Aunt Pat Bradley on the phone and posts a Q&A with the Hall of Famer.
Q: What was your reaction when Keegan triple-bogeyed the 15th?

PB: I can see it, I understand it — he'll do whatever it takes to learn, to get the job done. I have to tell you, I watched very intently today on TV. I was by myself. I watched every shot. Keegan's eyes told it all. He never lost a moment of wanting the championship. It was in his eyes on every shot — he was not going to be displaced by that triple-bogey. I saw it in his eyes. I knew it was going to be OK.
Jason Dufner
Dave Kindred on the runner-up:
At a press conference later, Dufner was asked the obligatory set of how bad-does-this-hurt questions, the first framed around the history of players who've lost when they seemed to have victory in hand. Will this loss be how we remember Jason Dufner?
"I'm not a history buff as far as golf goes," he said. "I know the media tries to define careers on certain players, you did this, you didn't do this. I'm not into that. I just play golf. I love playing golf. I love the competition. And I want to be as good as I can be. If that's 20th in the world with no majors, or first in the world with 10 majors, or never to win a Tour event, I'll be fine with it.
Bob Harig puts Dufner's year in perspective, talking to Duffner's fiance, Amanda Boyd, who is just happy that her man is set for next year.
What fate awaits Dufner after his playoff loss to Keegan Bradley on Sunday at the 93rd PGA Championship is, of course, unknown, but as he embraced Boyd and walked toward his future, the hurt oozed, even as fans cheered his name and congratulated him on a job well done, despite blowing a 5-shot lead with four holes to play.

And then Boyd put it in perspective, and perhaps unknowingly shed some light on why it is so hard to capture major championships, to win on the PGA Tour, period.

"He's just happy to be here, really," Boyd said. "Now he has next year. He's always worried about keeping his card and having next year locked up. He's got his schedule set for next year. He's got a lot of pressure taken off him. Maybe he'll win one of the playoff events. You never know."
The So-Called Telecast
Martin Kaufman unleashes on the CBS telecast and says "The PGA of America has some explaining to do." This is just stunning, even if you've through previous CBS-PGA fiascos.
• I documented 70 minutes of coverage starting at 4:07 p.m. Eastern time. During that 70 minutes there were 46 minutes, 49 seconds of live action. On the surface that doesn't sound so bad. But let's drill a little deeper.

• During that time CBS showed an even 100 shots – 44 full shots or chips, 56 putts. During that same period CBS aired 60 commercials, including 17 promos for various network shows. So viewers saw three commercials for every five golf shots. Or put in a worse light, we saw more commercials – 60 – than drives or iron shots (44).
Lorne Rubenstein says it was a thriller, in spite of the telecast.
The PGA has come alive. The course has way too much water, but the water hazards are creating the hyped-up atmosphere and the stomach flutters. Many people don't think much of the PGA Championship as a major, but the players sure do, and that's what matters. And CBS's announcers don't get their minds all twisted over regular PGA Tour events.

Nick Faldo was so tongue-tied that he said after Dufner three-putted 17 for bogey, "You just can't believe that Keegan and Bradley make a six and a five," referring to Bradley making a six on the par-three 15th and meaning to refer to Dufner making a five on the 16th. Understandable. This was major championship announcing pressure, although Faldo and Jim Nantz had plenty of time to think about what they wanted to say, given the endless and bang your head against the wall in frustration commercial breaks.
USA Today's Michael Hiestand didn't mention the commercial disaster but instead focused on the CBS team's hard sell of the unknown names atop the leaderboard.
During the playoff, CBS' Nick Faldo suggested for Bradley "to win his very first major is a fantastic story" and Baker-Finch noted that Bradley being the first player to win a major with a long putter could be a game-changer. And as CBS' Jim Nantz discussed how some had "pooh-poohed" the lack of stars on Sunday's leaderboard and wondered what it meant for the state of the game, Feherty said golf needs a new slogan: "These guys are all good."

That's putting the best spin on things. But, given how sports usually build audiences through stars, that sounds like a tough sell.
The Course
Rex Hoggard writes that "instead of creative we got carnage. No, this was definitely not a golf course problem, this was a set-up problem."
He makes a strong case for the 18th as a par-5 on the list of several things the normally reliable PGA got wrong, with a consistent theme being a lack of attention to detail. And he didn't even get to the worst of them all: 5 inches of sand in the bunker faces!
This goes beyond typical Tour pro nit-picking and cliché claims that "they all have to play the same course." This is a question of intent, as in did Jones & Co. intend the closing hole to be played 4-iron/4-iron, the way Mickelson did earlier this week? Or the par-3 15th hole played to effectively the same yardage from two different teeing areas?

Mickelson said modern architecture is to blame, but in the case of the PGA it seems a lack of vision is the culprit.

"(No. 18) would be an awesome par 5," Ryan Palmer said. "What is wrong with par 71? Why are entertaining par 5s so bad? If I'm a fan have guys hit a driver and have a rescue wood in. That's exciting."
Images
GolfDigest.com posts a mix of AP and Getty photos from Sunday.
Golf Channel with 16 top photos from the week.
Golfweek's gallery of Getty Images from Sunday.
And finally, the hometown Atlanta Journal Constitution's gallery of final round images.