Apparently in Captain Jose Maria Olazabal's eyes, the rules forbid a player from conceding a putt!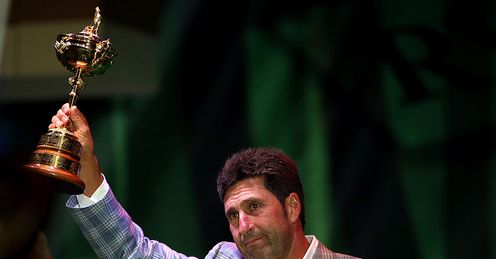 At today's London press conference, Ollie said that he will not captain in 2014, that he's received congratulatory messages from the likes of Rafael Nadal and the King of Spain and that three of his four cart drivers are in line for Captaincies (The Mechanic was not mentioned after McGinley, Clarke and Bjorn!).
But most curious of all was Olazabal's rationale for insisting Francesco Molinari finish the final match even after (A) the Cup had been retained (B) the chaotic setting was not conducive to proper golf and (C) young Molinari had the class to recognize this:
"I said to Francesco 'you have to half this match'. There's a huge difference between tying and winning the cup. I know some people might think Francesco should have given Tiger that short putt, but at the end of the day the rules are the rules. It was important to finish the match."
Yes, the rules say you have to finish all of the matches, but that does not preclude a player from conceding a putt. Or maybe those famous concessions from the past violated Captain Ollie's Merely Retaining The Cup Is For Losers.
Imagine an American captain saying "rules are rules" in an identical situation?
Fleet Street couldn't file those "Ugly American" columns fast enough!