I can't imagine Kingston Heath looking better than it did during the Talisker Australian Masters.** Dare I nominate it as the best looking and best playing course we saw in tournament golf this year?
The golden natives grasses weren't as lush as they were last year, the greens were slick but remained playable (even with some decent winds), and the bunkers appeared to play and look like genuine hazards. With all of this, along with splashes of sand in the roughs and galleries allowed to fold in behind the leaders, the entire spectacle was quite good. And for those asking about the bunkers, here's a club video telling more about them and how they ask golfers to rake them.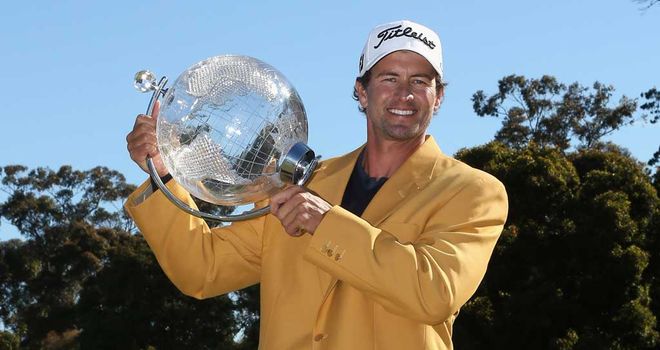 Also, what does it say about the quality of the course when the two best players in the field and two of the best this year--winner Adam Scott and runner-up Ian Poulter, separated themselves so decisively from the rest? I believe it's the ultimate compliment to both design and setup that elite players are rewarded.
As for the yellow blazer? A fine tradition no doubt and a lovely shade of Melbourne mustard at that, but seeing Scott put on that ill-fitting jacket makes you realize just how great it is that the Masters winner always seems to have a perfect fitting green jacket.
Thanks again to Golf Channel for bringing the coverage from Down Under. There's nothing quite comparable to seeing a world class Australian design in warming spring weather while we have so many reminders here of winter looming. But it also makes me wish we had more big time golfers in the Australian tournaments.
**Ok, I wouldn't be heartbroken if a Tea Tree fungus caused the opening up of a bunch more vistas and elimination of some of the lost ball situations.
****PS anyone who went, why do we see so few run up shots there? Not firm enough or do the players just not play them even on a course like Kington Heath?