Bob Harig looks at the even more-motivated Keegan Bradley who is taking some mild Twitter bashing along with the anchoring ban to have more reason to win tournaments, starting with the World Challenge at Sherwood.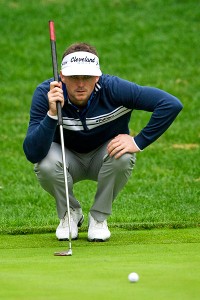 Some will not like this comment, but I think his point is correct when you consider how the governing bodies have cited the last 18-24 months of golf as driving the decision to act, even if many of us think it's the right action.
"I feel like the USGA has really put an X on our back and really shined a light on us, and I don't know if that's exactly fair," Bradley said. "I just hope that people look at us for the type of players that we are and the accomplishments that we've had and not because we use a belly putter and now the USGA says it's going to be illegal.

"When we started putting with it, they were legal, and they still are. It's a sticky situation, and I hope people can see through that."
**Morning Drive's segment focusing on Bradley and Webb Simpson is worth watching as you can hear how they express their admiration for (and disagreement with) the governing bodies.