If you've taken a lesson in the last twenty years, there's a pretty good chance your instructor was inspired by or a disciple of Jim Flick.

The AP story on his passing at 82 of pancreatic cancer.
Tim Rosaforte wrote about Flick for Golf World Monday.


Golf Digest's Roger Schiffman, who worked closely with Flick, remembers his friend.
Jim Flick was a teacher's teacher. For all the years I knew him -- and it was more than 30 -- I never met someone more dedicated to one cause. In Jim's case, that was teaching golf -- not just to tour players, but to anyone who tried holding a golf club. Nothing pleased Jim more than to see an average golfer's weak slice turn into a strong draw. He would rather watch a beginner hit 20 more shots until the ball got airborne than take a break for lunch (and he missed a lot of lunches).
Jim Achenbach spoke with Flick in his final days.
"I'm at peace," said the 82-year-old Flick, speaking on the telephone from his home in Carlsbad, Calif., "and my thoughts are entirely with my kids. We're taking steps to make sure they keep learning the game the way it's supposed to be played."

Flick always has referred to his young students as his kids, just as he formally addresses adults as "Mr. Tom (Lehman)" and "Mr. Jack (Nicklaus)" and so forth.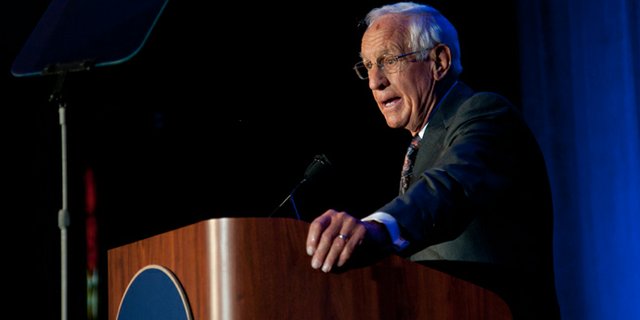 Randall Mell talked to friend Bob Toski about their longtime partnership.
Toski and Flick combined to write the definitive instruction book, "How to Become a Complete Golfer." They taught a simple system of "swing, turn and shift."

"Jim deserves a lot of credit for the schools' curriculum and the success of the schools," Toski said. "We became like family, traveling and teaching all over the world together. We went to England, Scotland, Spain, France, Germany, Japan, the Philippines. You name it. We taught everywhere but the moon."
And GolfChannel.com posts a nice roundup of the reaction from the golf community on Twitter.
**Jack Nicklaus issued a statement:
"There have been only a handful of people in my life, who I can say with conviction influenced me both inside and outside the ropes. It's been well documented how Jim and I forged a special relationship at the 1990 Tradition, when his keen eye and his knowledge of the game--and my game--helped me find myself that week and led to my first senior victory. It was at that point after Jim first worked with me, that he came to me and said, 'Jack, you have got a legacy in the game of golf, and don't you think that legacy should be documented and used?' And I said, 'Yes.' Jim then took it upon himself to be the messenger of that legacy. So we started the Nicklaus-Flick Golf Schools, but more important, a close friendship that has lasted for decades. The word legacy is fitting for Jim, because he cared about teaching young people as much as anyone. As an ambassador and caretaker of the game of golf, Jim loved the sport and simply wanted to share it with the world. He has not only touched my life and career, but he has influenced hundreds, if not thousands, of people over the years.

"Jim should be remembered as one of the all-time great teachers. He is one of the few who you could say really 'got it.' Jim was someone who understood that the game of golf was played with the golf club and not the body. He was a great teacher, a great man, and a great friend. Barbara and I will miss him a lot."