You have to hand it to the PGA of America, this was no Friday news dump. The coverage was extensive considering we are talking about an event 21 months out on foreign soil.


The media reviews for the media-friendly Tom Watson were, not surprisingly, raves. Just a few of them...

Ron Sirak for GolfDigest.com:
Give the PGA of America -- and Bishop -- credit for this: They are trying something different. Clearly, picking a player to be captain who was looking for something to do while biding time between the PGA Tour and the Champions Tour was not working.

Look for Watson to be loaded with bold innovations and a dynamic managing style. Look for a radical new approach to how the U.S. side treats the Ryder Cup.

"Well, I really haven't thought much about changing the approach," Watson said when asked what he would do differently. "I'm going to probably do the same things, try to make it easy for the players. The PGA of America does that." OK, let's hold that innovation thought for now.

One thing we do know is that Watson will spend the next 20 months until the Ryder Cup being asked how things are going with Tiger Woods, whom Watson tweaked a bit post scandal by saying he needed to show more respect for the game.
Michael Bamberger at golf.com:
Watson will be 65 at Gleneagles, by far the oldest U.S. Ryder Cup captain ever. A bunch of the players will be half his age. There will be gaps between their lives and their interests and his. But if the players are smart, they will look at the example his golfing life provides and take a page from it. How he embraced bad weather, bad bounces and an often crooked driver. The only current American player who is really cut from the same mold is Tiger Woods.

They are not friends. Watson has said various high-and-mighty things about Woods over the years, including that Woods "needs to respect the game more." (Who made Watson chief of the respect police?) Watson was nothing but conciliatory at Thursday's press conference.
Larry Fine on Watson saying his "relationship with Tiger is fine," which is the best way of saying that can't stand each other but will put on a good show in 2014 or wherever else they are forced to act conciliatory. Thankfully they have 21 months to get to know each other better. I suggest someone pair these lovebirds paired together at the Masters and Open Championship!

Kevin Garside on Thursday's hatchet burying.
Watson responded in kind. "He's the best player maybe in the history of the game. And if he's not on the team for any unforeseen reason [via automatic qualification], and I'm sure he will be, you can bet that he's going to be No 1 on my pick list. My relationship with Tiger is fine. Whatever has been said before is water under the bridge. No issues."
The Guardian's Ewan Murray on the bond Watson has with Scottish galleries.
Watson is so closely linked to the Scottish golfing scene that many in the small nation would consider him one of their own. The feeling is mutual; Watson adores Scotland. During a famous career Watson claimed four of his five Open Championships in the country. In 2009 he came within an Open play-off of writing one of the most epic chapters in sporting history. Once again the drama took place on Scottish soil.

Watson's own country has called on him to defy age one more time, in turning round a pretty dismal Ryder Cup run.
Martin Dempster touched on the issue of Watson's age (65) in 2014.
While Watson's age for such a role – he'll be three years older than Great Britain's J H Taylor (1933) and eight older than American Sam Snead (1969) – has been called into question, especially with the whole scale of the Ryder Cup having grown since he was last involved in the event, his answer to that was as straight to the point as he has always been.

"The responsibility is a challenge but I've been there before and I welcome it," he added. "The idea of being captain for a team of youngsters will be questioned. Why is Watson, an old guy, being the captain? I deflect that very simply by saying: 'We play the same game'. I play against these kids at The Masters. I play against them at the British Open and the Greenbrier Classic. We play the same game – they understand that.
There's some fun stuff from the SI/golf.com gang kicking around the press conference and announcement.
Herre: Agree that the Scots love Watson, but I'm more concerned about how the U.S. players feel about him. No matter what Woods and Watson say, they are not close and never will be. I keep thinking back to 2004 and Hal Sutton and his assistant, Jackie Burke Jr., and what a disaster that was. There was a lot of "time to stop losing" and "just play better" talk back then, too.

Shipnuck: Exactly, Jim. The old-school hard-ass act doesn't work with these players, as Sutton/Burke proved. Then again, what does work? All sorts of different personalities have failed as U.S. Ryder Cup captain. Let's not forget that the Ryder Cup is showbiz, and Watson gives us tons to have fun with over the next two years, whereas the vanilla Toms was going to be death to sportswriters. So if the PGA wanted to create buzz, this pick is already a home run.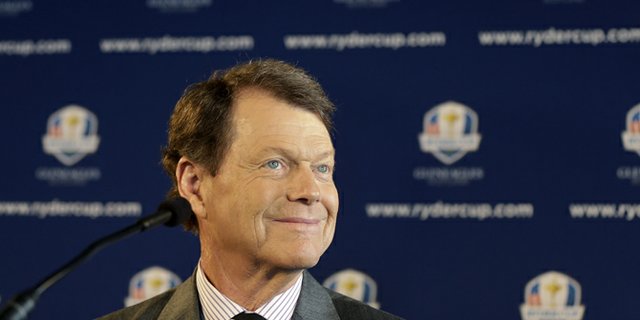 And finally, Alex Miceli does a nice job reconstructing the backstory of Tom Watson's surprise selection by the PGA of America and specifically, new president Ted Bishop.
Bishop started with former Ryder Cup captains. Tom Lehman became an early advocate of the pick. But maybe the more interesting discussion occurred with a non-captain.

"I called Steve (Stricker) – I think it was in February – and he was at home, and said I want to talk to you about some Ryder Cup things," Bishop said, recalling the discussion. "We talked, and I brought this thing up about the captain and being a former major-championship winner, and I'll never forget this, just totally unsolicited, he said, 'I don't know why the PGA of America doesn't bring one of the older guys back, like a Tom Watson.' "

Bishop had his man. As he talked up his idea with former captains and PGA officials, a consensus developed.

A couple of weeks after the Americans' stunning loss to Europe in the 2012 Ryder Cup at Medinah, Bishop made the trip to Kansas City to visit with the Watsons to make certain that they were on board.