Dare I say my friend Brian Curley has spent a few too many nights at 38,000 feet traversing the Pacific Ocean?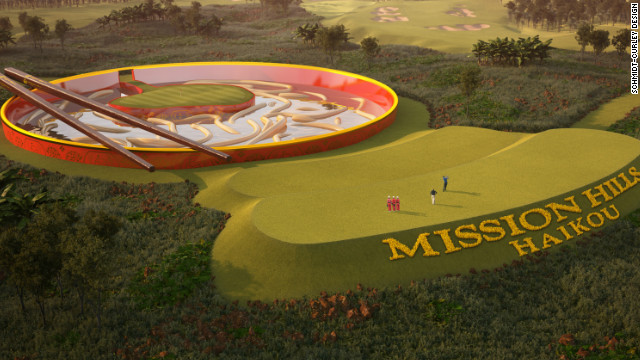 The golf architect to China's Mission Hills is building their latest course and I'm afraid he has gone Desmond Muirhead on us, as CNN's Paul Gittings explains the new places Curley is taking golf architecture with "a putting green swimming in a giant bowl of noodles and chopsticks, the Great Wall of China for a hazard, a fairway threading through Mayan ruins and a panda-themed hole."
"Traditionalists will probably hate it," says design guru Brian Curley, principal partner in Schmidt-Curley, the company behind the 22 courses that make up the Mission Hills complex in Hainan Island.

"But this is real golf, with real clubs on real fairways," he told CNN.
Oh boy...
Mindful of the impression that there is a "sameness" to the courses being churned out in their droves in the fastest expanding golf market in the world, Curley and his team wanted to come up with something that he felt would appeal to the wider Chinese public and other visitors to the resort.

So instead of bunkers, rough and trees, the players will be faced with a replica of the Great Wall of China winding its way the length of a 400-meter par four hole.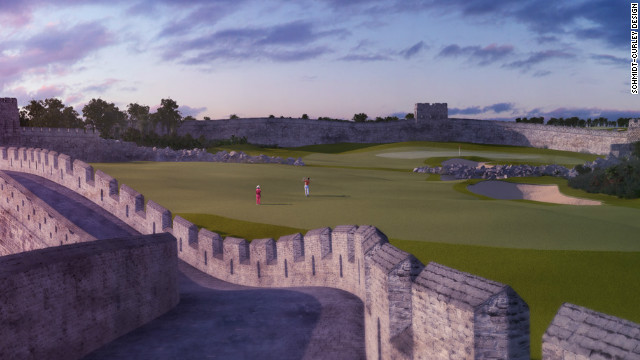 This ought to be interesting...
Curley is promising the addition of "man made" gale force winds on each tee, adjustable depending on the standards of the players and available by hitting a red button.

There is a par-5 threading its way through Mayan ruins, while another green is created in the image of the "Birds Nest" Olympic Stadium in Beijing. Another hole is styled after China's favorite animal, the panda bear.

On a conventional golf course, the degree of difficulty is often dictated by which tee the player chooses to play from. Leading professionals play from the tees furthest from the hole, while higher handicappers can opt to hit their first shot from much closer.