Look, I know a lot of you are upset that this is the last Q-School ends the dream of every aspiring player who wants to write a check and have a shot at the PGA Tour, quite possibly ending one of the coolest dreams in sport.
Even more of you were upset that the Golf Channel didn't televise all or part of the event as they have in the past. And one can imagine a scenario where Commissioner Corleone wasn't too heartbroken over this scenario.


Better yet, you can be sure that there is a silver lining in the sad ending to this one-of-a-kind sporting event: for not televising the final Q-School, Golf Channel has the privilege of losing gobs of money televising the four-event Web.com/PGA Tour Non-125er playoffs through 2019!
Just imagine the ratings for those late summer/early fall playoffs where legions of close friends and family will be watching.

Always looking for the positives!

Doug Ferguson's game story on medalist Dong-hwan Lee, horror story Loar and other storylines, reporting that "amid this familiar contrast of emotions, a sense of nostalgia swept across the California desert late Monday afternoon."

John Strege was on site and noted that Camilo Villegas and Patrick Cantlay did not earn cards while listing the final grads.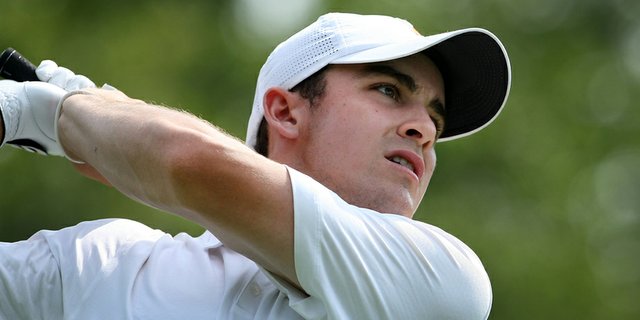 Golfweek's Sean Martin with capsules on all 26 grads.

Martin's "five things" declares the final Q-School another great success in the drama department. There was also this impressive little factoid about four players:
Four players advanced through four stages of Q-School to earn PGA Tour cards: Derek Ernst, Si Woo Kim, Donald Constable and Henrik Norlander. That feat required 17 rounds. Ernst celebrated his PGA Tour card by flying to Thailand on Monday evening for the Thailand Golf Championship, which begins Thursday.
Brian Wacker on two-time heart transplant recipient Erik Compton and other great stories, including Pepperdine great Jeff Gove regaining his PGA Tour status and a 17-year-old earning a card he won't be able to use until June when the 2013 season is starting to wind down!

Rex Hoggard also tells us about the final day for several players, including the great story of Patrick Reed whose fiancé caddies for him and who was a Monday qualifying machine this year.
GolfChannel.com did not post Ponte Vedra favorite John Feinstein's on-air essay paying tribute to Q-School, but they did post highlights centered around Edward Loar's tragic conclusion. And what a stud Loar is to have done an interview. You really feel for him watching it.

And the final leaderboard. RIP Q-School.