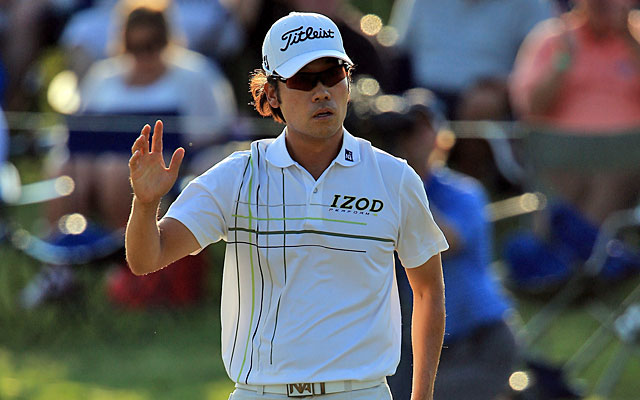 From Doug Ferguson's game story, which opened with talk of slow play instead of the tournament at hand: The Players, Presented By The First Tee!

Anyway, Kevin Na leads and those comments from Commissioner Denial look so funny after Saturday's debacle. (And the irony of doing this with notorious slow poke Zach Johnson is rather delicious.)
Kevin Na is slow to pull the trigger, and quick to make fun of himself.

In what made for painful viewing Saturday in The Players Championship -- for fans at the TPC Sawgrass and those watching from home -- Na took hundreds of waggles as he set up over the ball, backed off the shot if he didn't feel comfortable and a couple of times purposely missed so he could start over.

The only number that mattered was a 4-under 68, one of only three bogey-free rounds on a dangerous golf course. Backing off only once in the 18th fairway, he hit his approach to 15 feet for birdie and took a one-shot lead over Matt Kuchar (69) going into the final round.

"There's so much on the line that I just have to sometimes back off," Na said. "Or I'll force myself to take it back, and on the way down I'll pull up and go over the top (of the ball). As ugly as it is, and as painful as it is, believe me, it's really tough for me. And I'm trying."
Shouldn't he be trying, oh I don't know, maybe at home? In practice? And not on a stage like The Players Presented By The First Tee?
Note the sarcasm in Garry Smits' Florida Times-Union game story.
"As ugly and painful as it is, believe me, it's really tough for me and I'm trying," said the native of South Korea and a naturalized U.S. citizen. "I get ripped a lot. I know TV, Twitter and fans are tired of me backing off. But bear with me — hopefully we get that [Sunday] round in."

If Na falters in the final round or somehow never finishes, there's a long list of contenders ready to add to a streak of five consecutive tournaments in which the Players champion came from behind on Sunday.
This guy makes Ben Crane look like a bullet train. On the sixth tee, for example, the tally for Na went thusly: five practice swings, 24 waggles, two back offs and one "Sorry, Zach."

Na and playing competitor Zach Johnson were put on the clock on the 10th tee and taken off on the 17th tee. In between, Na got a bad time when hitting his second shot on No. 16. Two bad times in a round call for a one-stroke penalty, though the PGA Tour hands those out like man-hole covers.
Cameron Morfit notes that the media fell for Na's one-liners after the round:
Na may be slow, but he was quick to get the writers on his side. He's clearly tortured by his problem, so much so that it would have surprised no one if he'd begun crying in the interview room. The laughter broke the tension.

"Just bear with me," he said, "and hopefully we get that [Sunday] round in."

Na and the writers cracked up. Get the round in? As hard as Sawgrass is, and the way Na is fighting himself, no one was taking it for granted.
The PGA Tour Censors Rightholders Protection Unit will be working overtime Sunday since the "waggle problem" was mentioned but left out of the third round highlight package. So just to help them get a head start on the censoring, I thought I'd post the best of the Na swing yips.


And...


And...


And my favorite, set to a most appropriate soundtrack...
Some of the comments from the NBC/Golf Channel gang were interesting.
First, from the telecast:
Dan Hicks: He is struggling, this is amazing.

Roger Maltbie: And then just rifles it in the center of the fairway.

Peter Jacobsen: That is just unbelievable.

Hicks: I don't get it, I just don't get it.

Johnny Miller: I feel bad for him. I mean really, it is embarrassing to him. It's not like he wants to do this.
Huh? If he apologizes for it before the round to his playing partners, then he knows he's going to be doing it. And if he knows he is going to be engaging in conduct unbecoming of a professional, he should stay home. Na?
And from Golf Channel's Live From the Players, where in this video they dissect many more of the weird moments:
Brandel Chamblee: "We hear guys talking about needing swing coaches, sports psychologists, fitness instructors or changing managers. He needs an exorcist. I half expect winged bulls to fly out of his head when he is standing over a shot. I'm not sure if Sigmund Freud were alive he could figure this one out. But the fact is he hits marvelous shots. It is almost like all of the angst is unjustified."

Frank Nobilo: "It is such an unusual rhythm and a round of golf. You feel for the guy doing it, but you want to say, 'Come on, let's just go,' and the guy can't move."

Roger Maltbie: "It is so amazing to watch him struggle to get the club back from the ball and make a backswing. And then you will hear him yell at himself and all of a sudden he just stripes it. He hit so many good quality shots after having to call off the shot – so to speak – a number of times. I don't know how he is doing it, I'll be honest. It is amazing."

Gary Koch: "I certainly can't remember anything like it. Obviously you see players back off shots when they are uncomfortable but they tend go back to their pre-shot routine, whatever that may be. The interesting thing to me about Kevin Na was how he was able, in midstream, just get back over the ball and continually hit good shots. You would think the results would not be very good."
**Gene Wojciechowski's review:
The man who leads the so-called Fifth Major is harder to watch than a circumcision. At an IMAX theater.

Kevin Na plays slow. He plays so slow that his five o'clock shadow doesn't show up until midnight. Glaciers ask him for his autograph.

Did you see him Saturday during the third round of The Players Championship? He shot a 4-under-par 68, was one of only three players who didn't record a bogey and ended his day with a walk-in birdie on No. 18.

It was an amazing performance, mostly because I never thought I'd see Charles Barkley Jr. take a one-shot lead into the final day of this tournament.
To put it mildly, it's painful watching Na play golf.

Fingernails-down-a-chalkboard annoying.