Jeev Milkha-Singh won the Scottish Open in a playoff and gained a spot in next week's Open Championship.
"Hoping I'll finish top three or top-5 and take the confidence from there," he said after his round, completed 90 minutes before the final group.
With more wind Sunday the golf course played much more difficult, an early 67 allowed him to catch Francesco Molinari, who he eventually beat in a playoff.
It was an eye-opening weekend for me, as I could not be more impressed with the European Tour-run event. A nice-sized gallery turned out Sunday and the overall flow and operation were seamless despite the one-lane roads leading to the course. And as for Castle Stuart, it exceeded my expectations in every department. No hole better captured the essence of strategic tournament play than the 12th, featured in two images below. Also included are some shots of the excellent village on site for shopping, eating, wagering and promotion of local golf elements, highlighted by the Scottish Golf Union's outreach efforts. No mention of core values anywhere, either.
Lytham here we come!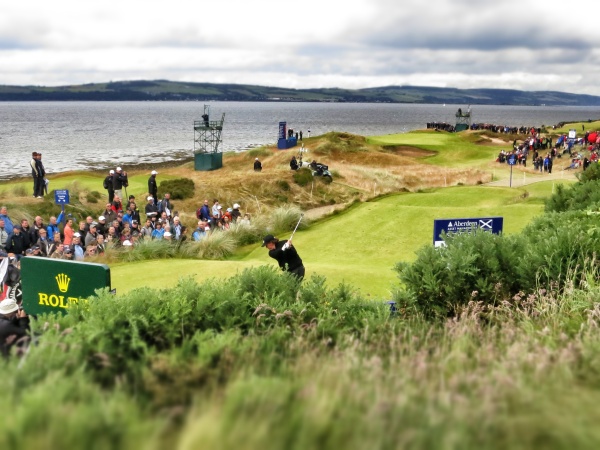 **John Huggan saw a big difference in the setup of Castle Stuart this year compared to last year. And he didn't like what he saw. And I must say, compared to early photos I had seen of the course, the defined fairway and rough look was a shame.
And yet, when the European Tour's finest -- plus welcome guests like Phil Mickelson, Kevin Na and John Rollins from across the pond -- returned to the Inverness area for the second year in succession, they arrived to find Hanse's concepts diminished by a narrowing of the fairways, the growing of rough and the addition of length on many of the holes. Clearly, the low scoring in 2011 -- when Luke Donald won the weather-shortened championship with a 19-under par aggregate for 54-holes -- had convinced those in charge that the course was "too easy." And that something had to be done to make it "more difficult."

Trouble is, all of those changes to the course made little difference to the proliferation of red numbers on the scoreboard. Like every links, Castle Stuart needs hard, fast conditions, firm greens and at least a breeze to make it play its best. So it was that, in almost perfect scoring weather, eventual runner-up Francesco Molinari of Italy led after three rounds on 17-under par.